Like last year, we decided to split the fourth of July week into a short Cali visit and a short Anniversary trip. This time, it was destination, Vancouver, because why the hell not?

We flew in on the fourth and stayed in the Wedgewood spa and hotel, springing for the upgraded room, which had a Jacuzzi tub / bathroom adjoining the bedroom and a completely separate bathroom and sitting room with a patio that looked out over Robinson Square.

And, of course, a dozen roses and chocolates waiting for us!



The first day, we visited the Vancouver Art Gallery, which was just down the street. It had a number of rotating exhibitions. Several of them were contemporary, the other two featured actual art (insert small snicker here). The two "real" art exhibits included one on Monet that focused on the gardens in Giverny he spent his last year in, but had a fascinating and remarkably broad set of paintings that spanned his entire career. This is, I think, the first time we've seen Monet paintings that were not part of his "light effect" paintings or his water lily paintings, and it was interesting to see how things progressed during his life, and how they became more and more abstract as he developed cataracts. The second was a local Vancouver artist from the early to mid nineteen hundred, Emily Carr. The contemporary stuff... well, there are some examples below.





Nothing says "this is art" like throwing a dead fish in the air while taking a picture
| | |
| --- | --- |
| My art, made of a picture of a picture of art, titled "self-referential" | The "EMILY CARR: INTO THE FOREST" exhibit was actually quite good |
| There was a guard making sure no one touched the "art" | I kid you not |
| | |
| --- | --- |
| Performance art, or a real wedding? We were making bets | Of course. How obvious. |

Vancouver Art Gallery had a program for renting or buying art from the local artists, proceeds of which support the Gallery. During our honeymoon, we purchased some original art of the Rio Grande Gorge outside Taos, where we stayed, and it seemed like it would be nice to do the same thing here. There were some pretty amazing paintings and with the exchange rate, they seemed like a good buy and a nice memento of the trip; we ended up with five pieces in total. The VAG thoughtfully contacted the artist to get descriptions of locations the art represented and why the artist painted them, two of which are included below!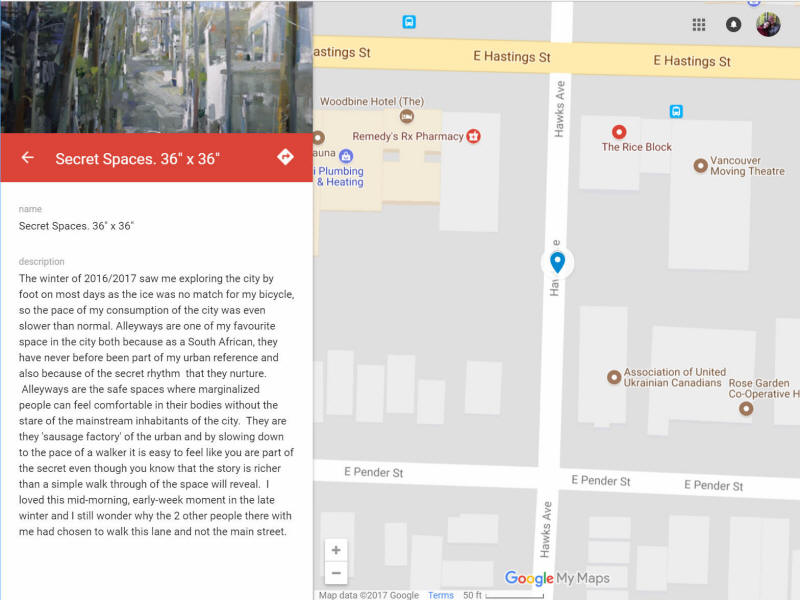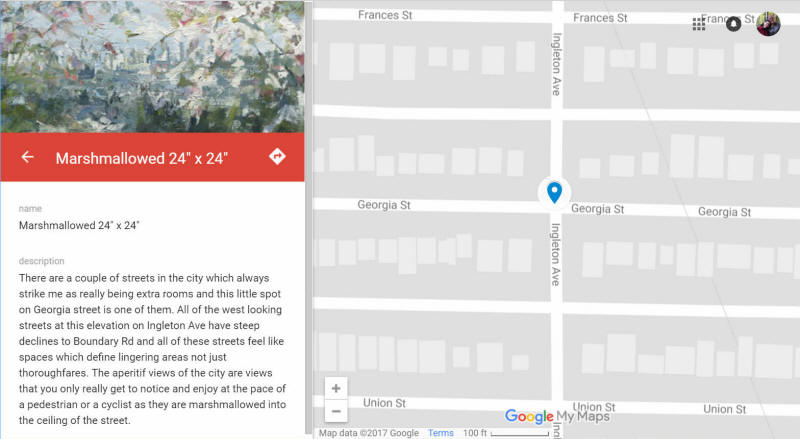 Afterwards, we did a long couples massage at the spa, and while we have done that before, this one was a unique experience for Dave, who thought maybe Vancouver was a little less body conscious than the US (the post massage comment was "I don't know why they even bothered with the sheet"). Then we did dinner in the Wedgewood's restaurant, the Baccus, where we scored extra deserts and free wine for our anniversary!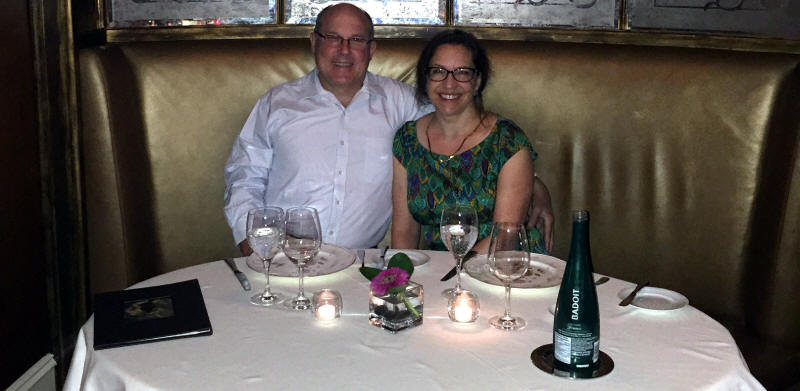 The next day was walking day; the weather was gorgeous, and we decided to walk the perimeter of Stanley Park, which is almost as big as Downtown, Coal Town, and West End combined (The peninsula that is part of Vancouver proper).

On the back end, we walked down the beaches and took one of the small ferries that run across the appropriately named False Creek (it's really an inlet) to inappropriately named Granville Island (it's really a peninsula). From there, we walked back across to the hotel, the total circuit around 13 miles in total.

Stanley park includes the world's longest uninterrupted waterfront path. The 28 km Seaside greenway is an uninterrupted pathway, including the Stanley Park Seawall. Walkers (like us) and bikers have different paths, which was convenient. The area that curves around the Vancouver shoreline has spectacular views of the city, along with marinas mini-parks, and sea planes. Sea planes seem to be iconic in Vancouver.

One thing about Stanley Park and Vancouver in general is that it's a very clean city. We're not sure if that's just the nature of the people that live there, or if they have a very efficient city service, but the sidewalks were always clean, the small grassy parks perfectly mowed, the trees stately and well trimmed.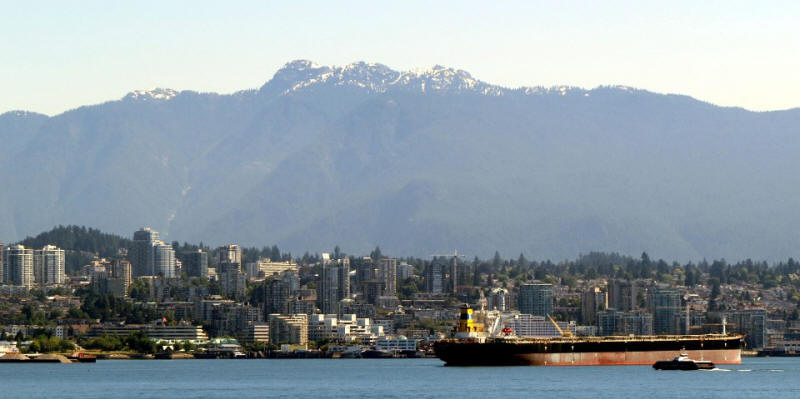 The back side was more wildlife and coastline (although you could see West and North Vancouver across the bay), with a huge number of sea fowl, bridges, one statue called "The Girl in the Wetsuit" which seemed a little sexist, and as it turn out, was very controversial, huge tankers slowly sailing by, and the iconic Siwash rock.


| | |
| --- | --- |
| | |
| | |
| | Got a frog in your throat? No, a fish! |
| | |
| --- | --- |
| | We had no idea star fish where edible, particularly when they are swallowed whole |

| | |
| --- | --- |
| Siwash rock | Siwash rock |

Granville Island was a large shopping area with a farmer's market, a lot of local artists that did ceramics and weaving, and whale watching and sightseeing tours. We returned to downtown Vancouver via the Granville Bridge, which had both fantastic views and was rather exciting; you get about a quarter of the way across when there's a crosswalk with no lights that goes across a four lane highway you have to make it across.


| | |
| --- | --- |
| The False Creek Ferry | View from the bridge |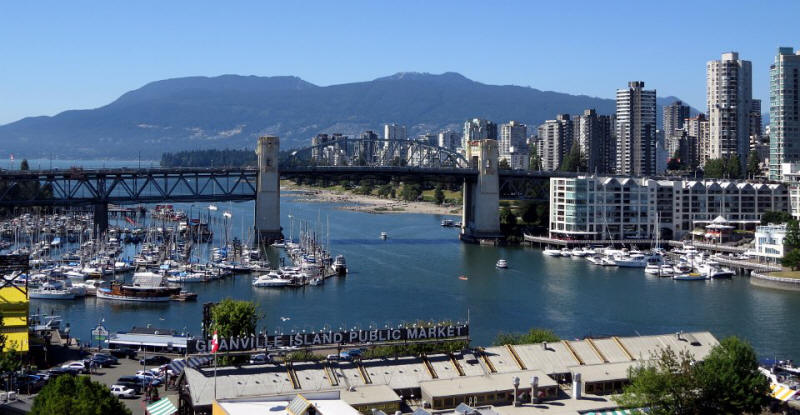 We went back down to the seafront area near Stanley Park later that evening to see what it looked like in the evening; there was a full moon and the view was spectacular.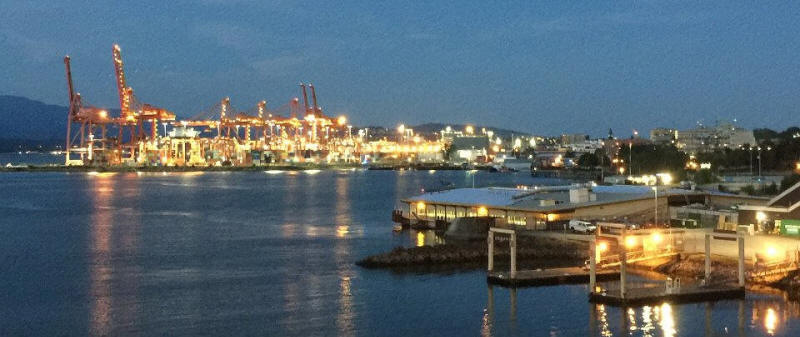 The next day we went to the Museum of Vancouver. The MOV is the largest civic museum in Canada and the oldest museum in Vancouver. It is also the location of the H. R. MacMillan Space Centre, which is probably why it is guarded by a giant metallic crustacean from outer space. Fortunately, Alison was able to secure our passage by the ancient "dance off" ritual from "Guardians of the Galaxy." The Space Center was fun, mostly oriented toward children, and had a few interesting displays (did you know there was a Russian version of the space shuttle called the Buran that flew once and then was converted into a restaurant in downtown Moscow?). But the MOV was very interesting; sort of a combination of pop art and history lesson with a lot of philosophical musing thrown in. One common thread in all of Vancouver, however, was anti-bigotry, with frank descriptions of several historical incidents where Asians, Musqueam indians, and Muslims were targeted by the European settlers.




So then, there is one other thing to mention, which is Bauhaus, a restaurant we picked because it was ranked number one in Vancouver by TripAdvisor, which is normally pretty accurate.

It started as one of those "is Tripadvisor steering us wrong?" type of moments, because Bauhaus is in a dicey location in Gastown, where we were literally walking past homeless people with the haunted, vacant look of heroin users. Plus, it's billed as German cuisine, which doesn't sound all that inspiring. Walking in, the decor is nice, but not spectacular. The service was superior (which is one step down from "exemplary," which I've seen at one or two places).

Then you start in on the food.

We just came back from two weeks in France and ate at some of the finest restaurants in Provence and Paris; this beat them, hands down. And you rapidly realize that the staff is truly passionate about what they do, and they love having people that recognize the skill that went into the preparation of the dish. The presentation was top notch as well; they served each dish in a bowl or plate that was selected to match the colors and texture of the meal. We ended up coming back the next night to try the six course meal and wine pairing... and this is the only time I've ever said that not only did they all work together perfectly; the wine was so good I'm going to go try to find it at the local wine shop when I get home. It was, without question, the best meal I've ever had. We are really thinking of going back to Vancouver simply to eat at this restaurant again.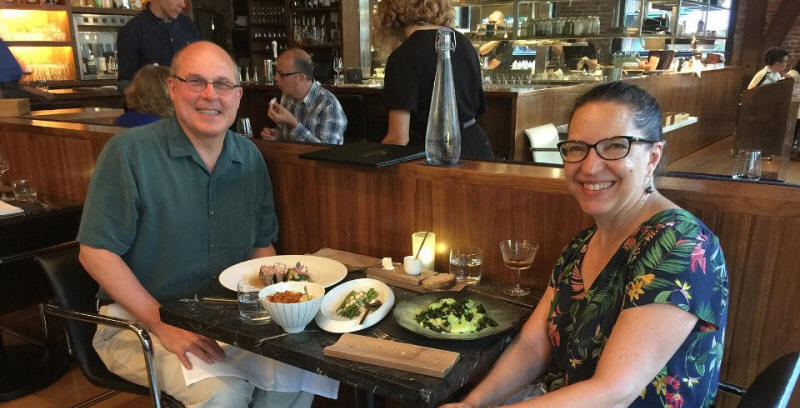 | | |
| --- | --- |
| | |
| | |
| Bauhaus round 2! | Ok, this is actually breakfast at the Wedgewood hotel, which was included; they made their own smoked salmon and corn beef hash on premises! |

We flew back on July 8th, with a little howl at the moon with a local wolf to send us on our way. Well, ok, at the sun. In the airport. With a big stuffed animal. But the coffee was good.