From mid October to November, we travelled. We travelled a lot. But there were a few local activities as well. Below, Meredith (who came up for a visit from Baltimore) joined us to see Charlotte, who was still working for the city of Medford and organized an alternative energy fair.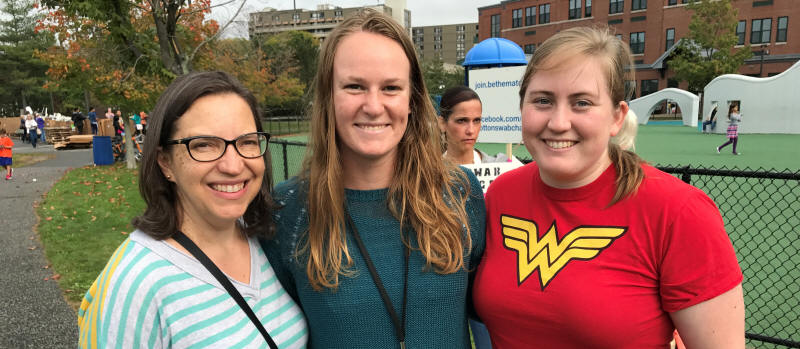 Then there was the second cocktail class at No. 9 Park ("LEARN AND TASTE THE SECRETS OF MAKING WORLD-CLASS COCKTAILS"). This one was a class around making cocktails that used vermouth, sherry, and other fortified wines. Like the first class, it was fun and informative (although I think we will be sticking with the classics). It also lead to another similar kind of activity, dinners at Stir (more on that in a bit).
Having just returned from Canada, it was now time to head in the opposite direction and fly down to Jacksonville (which was underwater until recently) to attend Brad and Kathleen's wedding.

We decided to make a weekend of it, and on Kathleen's suggestion, we stayed at the Ponte Vedra Inn & Club, a beach and tennis resort that smelled like old money. It was pretty swanky, and other than getting a double queen instead of a single king bed, it was very nice.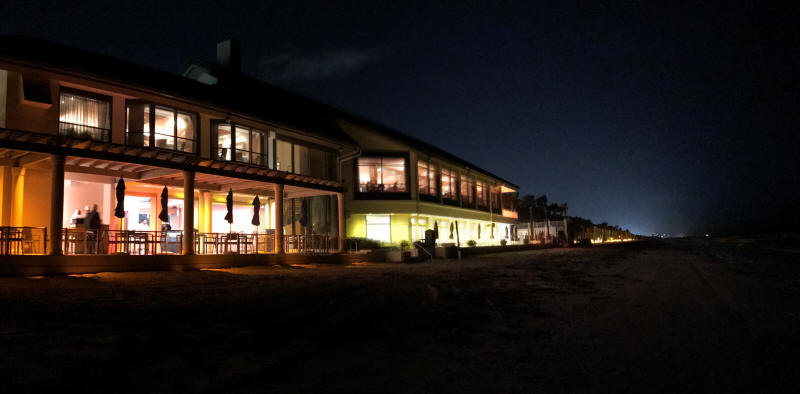 We visited with Brad and Kathleen at Brad's house, but had plenty of time for walking on the beach and enjoying the club's restaurants and bars. We also had a chance to hike around the Theodore Roosevelt Area, a 600-acre natural treasure of hardwood forest, wetlands, and scrub vegetation. It has miles of thickly wooded nature trails that feel like something from "Pirates of the Caribbean," with trees covered in Spanish moss, vast grasslands, ancient piles of discarded oyster shells which yield clues about an extinct culture, and the legacy of preservation bequeathed to all by this property's last private owner, Willie Browne. Willie was an interesting character who lived in a small cabin with no water and no electricity (only the outline of which still exists). He donated the land well after Florida became a retirement haven and could have been rich enough to make out like a bandit under the new Trump tax plan, but instead died poor to leave it as a conservation area.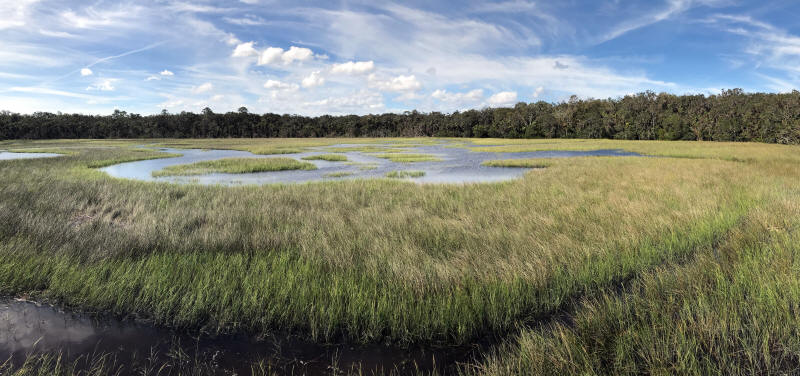 The main attraction was the wedding ceremony, which was lovely on many counts. Kathleen put a lot of thought into everything, from the gifts for the guests to the piles of books on each table, half of which were clearly picked out by Brad (Rendezvous with Rama), half of which were clearly picked out by Kathleen (Pride and Prejudice). The ceremony was held at Jacksonville Naval Air Station (which is almost large enough to be a city in its own right) at the Officer's club. The best thing about it, however, was the pure joy that radiated off of Kathleen. It was a pleasure and a privilege to be there.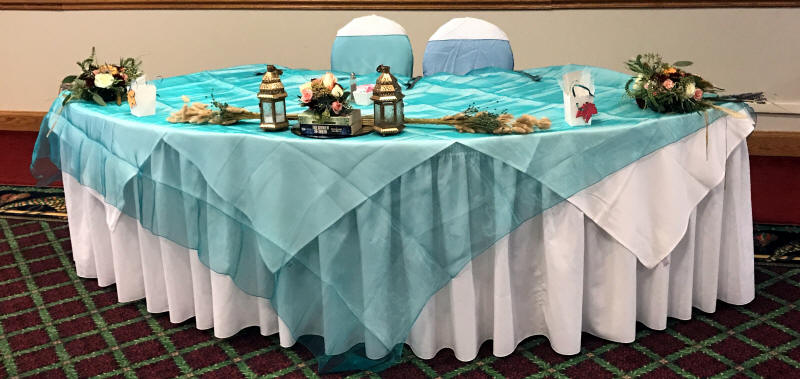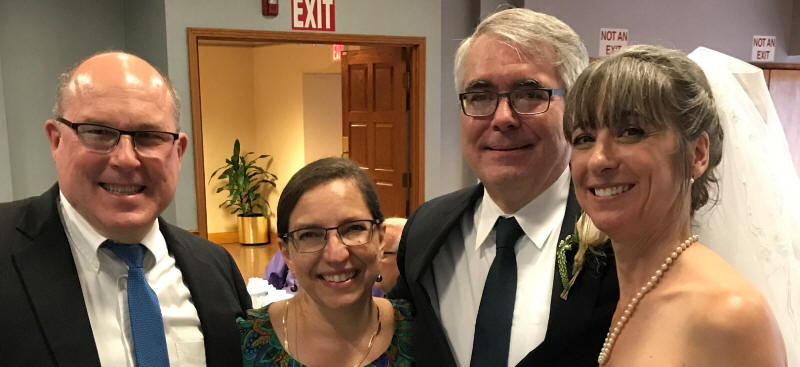 Next up (the next weekend), we headed for NYC to see the play where Alicia (spoiler alert!), Noah's now-fiancée-then-girlfriend had a major part.

Before the play, we went to visit the Guggenheim Museum, which started off looking good with the one permanent exhibition of the standard old-school famous painters, Gaugin, Renoir, Monet, etc (we're getting to the point where we actually recognize the artist before we read the caption). Then it turned into contemporary art, by which we mean "mostly junk." There was one sign that said "all art was contemporary at one point," which is true but ignores the fact than most of the crappy stuff ends up on the garbage heap and what's left are things that actually took skill and ability.



After the Guggenheim, we went to see Alicia's play with her mother and aunt (neither of who Dave had met before). The play was an adaptation of "Tartuffe" and was impressive. Alicia played Mariane, was in most of the scenes, and did an awesome job. Pictures were not allowed, but somehow Dave's phone accidently took a snapshot during the ending bows.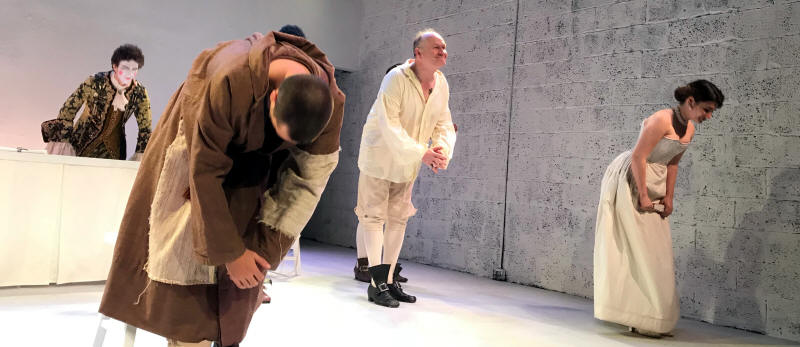 Next weekend, we flew out to San Jose (in the San Francisco bay area) to see Alison's niece Ashley and her new beau, Varik, Alison's nephew Kevin and his new girlfriend Suki, Ashley and Kevin's mom, Jane, and Alison's cousin Pam, her husband Chris, and her son Matt.

We did have one adventure, hiking at Flaghill Trail At Sunol Regional Park, which featured awesome views and flat, packed dirt trails. Packed dirt, that is, until it started raining, when it turned into mud. Not just any mud, the kind of mud that sticks to itself like taffy, so you end up with an inch of gooey, sticky, heavy mud glued to the bottom of your feet. I literally threw my shoes away at the end. But it was a tremendous amount of fun.

Otherwise it was mostly visiting and eating, all a good time.


Left, Kevin and Suki, right, breakfast at Jane's
Visiting with Pam, Matt and Chris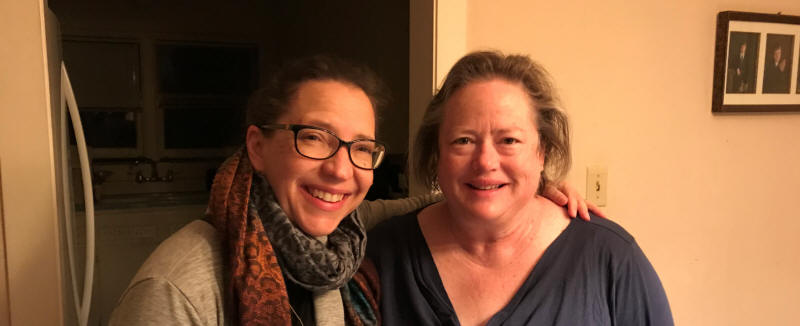 Finally back in Boston, our next adventure was: Déjà vu déjà vu. Those may look like the same photo below, but they were actually two different sessions at Stir. Stir is Chef Barbara Lynch's demonstration kitchen and cookbook store:a space for her team and guests to eat, drink, gather and —of course —learn. Barbara owns a half dozen of the best restaurants in Boston, including Mentons, which is probably also the most expensive restaurant in Boston and master of the "swoopy service," with more waiters than customers.

Stir is very cool because it's ten people gathered around the table where the master chef is cooking, while a … mmm… handler, let us say, describes the food and wine in great details. It's kind of wild to see how finicky high order cooking is. For instance, Dave loves scallops, and the big, thick ones, you saute in a pan, flipping them so the outsides are just a little brown and the middle is still close to raw (medium rare of the seafood world). Here the chef did that same thing… except he had two pans, and when he flipped the scallops, he put them in the pristine second pan to make sure both sides were cooked exactly the same.

The first dinner was the "seven deadly sins" and had dishes inspired by each (I will say most of the connections were a little tenuous, but it was Halloween night and trick or treaters kept staring in the window so that kind of balanced it out).

The second dinner was the White Truffle Fair of Alba, named after a famous fair in Alba, which might be France. It featured truffles brought back from the fair, which are probably the only white truffles that are going to set foot on this side of the Atlantic because it's apparently been a really, really bad truffle year. Fresh white truffles are pretty fascinating; their odor is strong (but not unpleasant) and they are used very sparingly (we got an average of half a small mushroom per dish, which seemed a tad miserly). But the food surrounding the thin truffle shavings was pretty awesome too (with alternatives for the scallops for Alison, who lumps anything that comes from the sea in the "not eating that" category). All in all, it was a fun experience and we are undoubtedly going back again.



And then we have the many faces of Dobie, hereby coded: Startled, Angry, Curious, Suspicious, Sleepy, and Ninja-like.

And we finish off with the incredible awesome fantastic totally cool news that Noah and Alicia are engaged!!!!