So the obvious question is, why only half of August? The answer is … GenCon! To be precise, the GenCon gaming convention ("The Best Four Days of Gaming") held annually in Indianapolis – and this year is the 50th anniversary, with all four days of tickets sold out. That amounts to something like 75,000 people attending? More on that in the next newsletter; in fact, I fully expect GenCon to be its OWN newsletter, so I thought I would just get the last (very hectic) six weeks done ahead of that. Most of our July and August time thus far has been about people: immediate family and extended family and friends. That and, oh, me starting a brand new job!

First, the job. The Board of Harvard Management Company (HMC), for reasons you can find in various Wall Street Journal articles, decided to divest itself of its internal portfolios and outsource almost all investment activity to external money managers whereas before they did it themselves. That meant HMC didn't need large trading and accounting systems, which meant it didn't need the people that support them, which meant they didn't need me (and ultimately more than 100 of my former HMC brethren). So I went looking for a job and landed at Acadian Asset Management, reporting to Pete Noll, who was the first person I ever worked for when Kate and I moved out to Massachusetts in 1993. Acadian is a stone's throw from the Federal Reserve Building that houses HMC, so my commute is pretty much exactly the same, and it's a financial asset manager, so the job isn't that different. But they are doing very interesting things and it's a very people-centric company; I've really enjoyed the three weeks I've been there so far and it is great to feel challenged again.

So, moving on to the much more interesting people part of this newsletter, first up is Taylor Fieux. No sooner had Alison's friend Elizabeth Fieux moved across the country to live with Rick Morris (we introduced the two at our wedding and feel very delighted about their coupledom!) than Elizabeth's daughter Taylor followed suit. It was a short lived stint in Boston for Taylor though: she has already landed a job with ESPN and has moved down to Connecticut after getting less than two months in nuclear familyland with Rick, Elizabeth, and Rick's two children. Below, Will and his friend Rachel came out to visit and had dinner with us, Taylor, Elizabeth, and Taylor's dog JJ. Elizabeth also befriended our new family room addition, Clarence the Studly Rooster.
Next up was Alison's private birthday dinner (meaning, me and her alone and romancing), starting with a couples massage at the Langham and ending with a six course, wine paired dinner at Menton's. Menton's is home to what we fondly call the Swoopy Service, with more waiters than diners so that they swoop in a herd to hand everyone at the table their food at the EXACT SAME MOMENT then swoop out again, and it has a reputation as a nouveau cuisine powerhouse. We couldn't help but compare it to our favorite restaurant of all time, Bauhaus in Vancouver. Menton's came up short; the wines were not as good, and while the food presentation was very good and the dinnerware was tailored to the dish, it was all variations on white, whereas Bauhaus had as much variety in dishes as they did in food. Which may seem like nits, but at the high end, it's what you have to judge the places on because the food is going to be good no matter what (or at least it should be). Although Menton's did arrange for a torrential downpour, thunder and lightning during the dinner, which was a nice touch (and managed to hit just after we arrived, and stopped just before we had a limo take us home … the limo because with cocktails followed by six glasses of wine, neither of us was going to driving!). Below, pics from the Menton's dinner, including the cozy weather.
And next, we have flowers.

These gorgeous lilies at the end of the driveway always amaze me with their color and variety.

They were Kate's favorite flowers, and each year they remind me of her.


Alison, around here, did a overnight with Elizabeth and Carol, staying at a house on Plum Island looking over the water.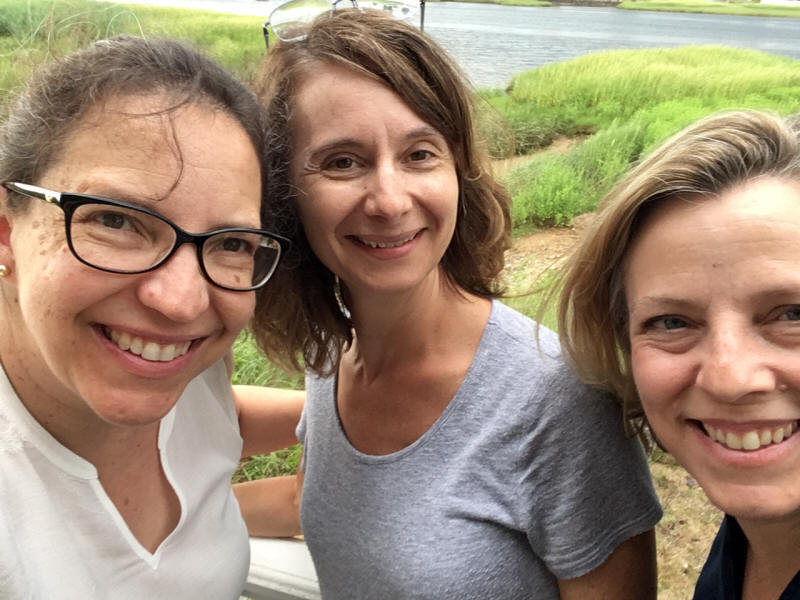 Next was the RPI Bob Willis Memorial Reunion at the Union … the RPI student union.

This is the eleventh year we have gathered to raise a glass in memory of Bob Willis, the once and future King of the Science Fiction and Fantasy Games Club when we were all RPI students and game club members.

This year, Brad Johnson flew up from Florida with his fiancée Kathleen (Brad's first wife tragically

passed away from, of all things, avian flu a few years ago), and they stayed with us for a few days before and after the trip out to Troy and the RPI campus.

Eric Haines carpooled with us and after lunch and the ceremonial raising of a toast to Bob at Brown's, we spent the day playing games in the Student Union and wandering around the campus.

Eric wore his traditional "Bob was here" shirt.

It is always interesting and a little nostalgic to visit the campus, and it's amazing how RPI continues to groom its lawns, gardens and buildings.

I hope it's not to the detriment of classes!



And in case you are wondering where Alison was, she went to Walla Walla, Washington to visit Maddy over the weekend.

Maddy is spending the summer on the Whitman College campus, doing research with one of her chemistry professors and experiencing the joys of 100+ degrees heat (and no a/c in her house) on the vast majority of days. Alison doesn't take as many photos as I do, but here we see the Marcus Whitman hotel with the bat-symbol flashing it it's upper window!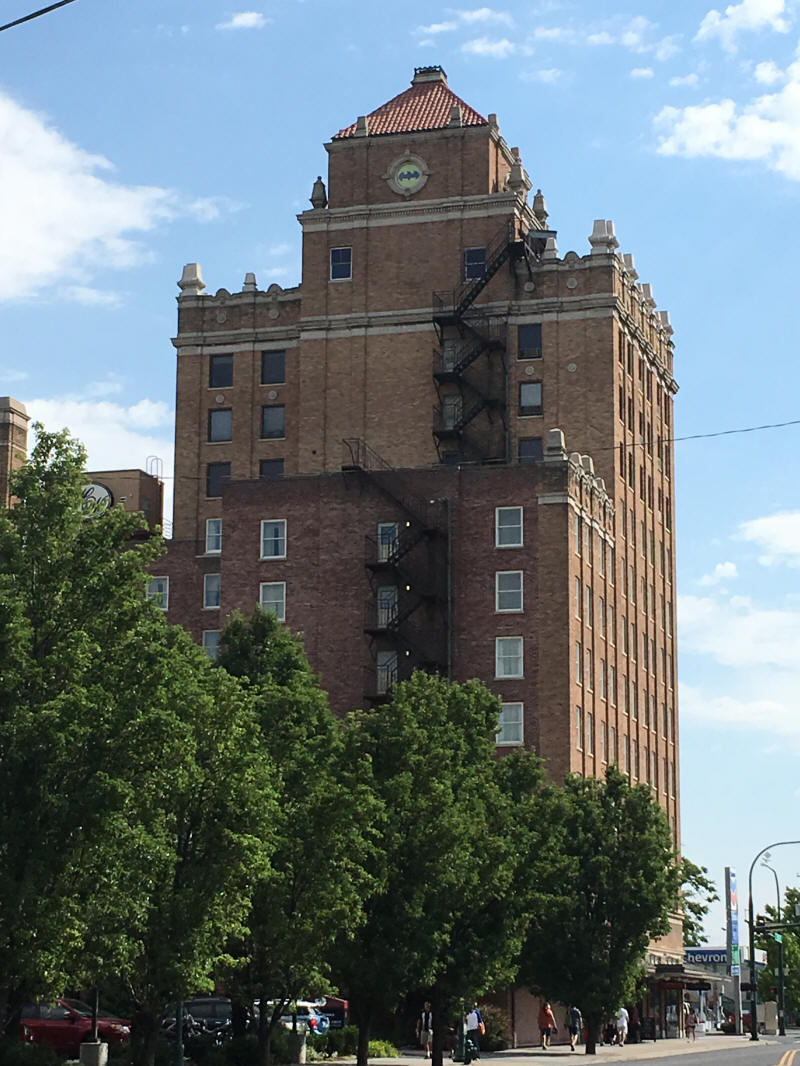 Then there was the sad departure of Tasha, one of our Corgis. Patric, our first dog, is living with Will after it turned out he and Bear (Alison's 100 pound Burmese Mountain Dog that transplanted from Cali to MA and turned out to love the East Coast) were not getting along. Tasha stayed with us, but starting having cognitive problems and seemed lethargic; normally, once the yard gates were open, she would keep a careful watch and when your back was turned she'd scamper off exploring the neighborhood, returning on her own after an hour or so. She stopped doing that, and even stopped really wanting to go outside although she was still eating normally. After many visits to the vet with no obvious "smoking gun," she suddenly had a seizure and was finally diagnosed with a brain tumor. Brie and I took her to the vet (Alison was still in Walla Walla) and we helped her on her journey to the Green Fields of Endless Romps, Toys and Much Food where she can explore, eat and get belly scritches to her heart's content. Although she was 13 years old, it was much harder than I expected. And I expected it to be hard.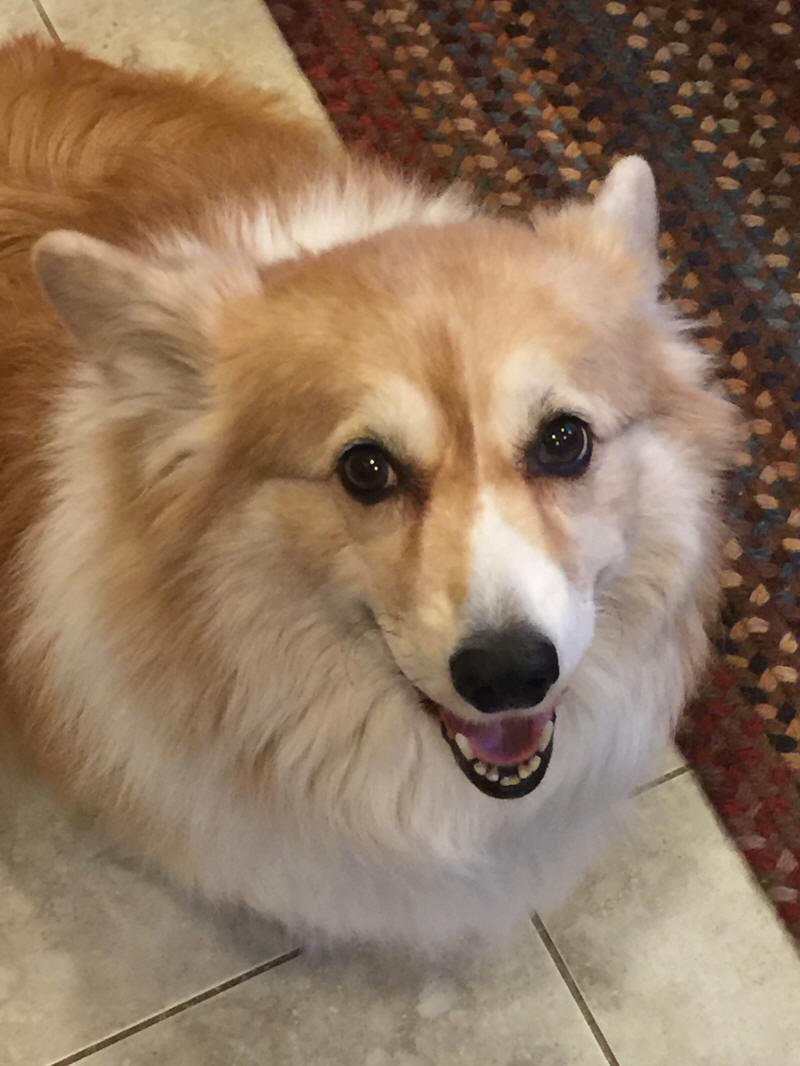 But on to happier things. We had Birthday Party II for Alison, which was also a joint party because Brie and Meredith (Alison's niece – actually Alison's cousin's daughter, but "niece" is the easiest shorthand!) both have birthdays on July 19th while Alison's was on July 13th. Meredith is staying with us for a couple of months over the summer, having graduated from MIT and wanting to stay on the East Coast until she starts her job in Baltimore at the end of August (Alison flew down with her for a couple of days at the end of July to help her find an apartment). So we did a Three Birthday Dinner at Da Vinci, inviting Brie, Aidan, Will, and Charlotte (who calls us her "East Coast Family" now … she stayed at our place while between apartments at Tufts University, and Alison helped her move and go shopping for business wear when she landed an internship with the City of Medford). Charlotte's birthday is also around the same time, but we saved that for Birthday Party III!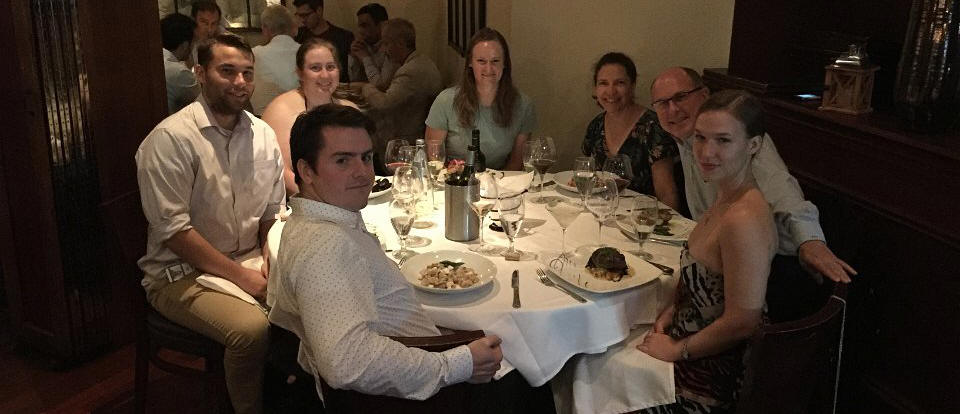 Next up, Mount Watatic for a three mile trail with Bear, who needed the exercise just as much as we did. We weren't thinking about how vertical it was in places, and weren't sure Bear was going to make it but he was a trouper and stuck with us the entire time (getting adoration from a number of children who were out with their families for the hike). The view was awesome, but we also saw some pretty amazing mushrooms along the way!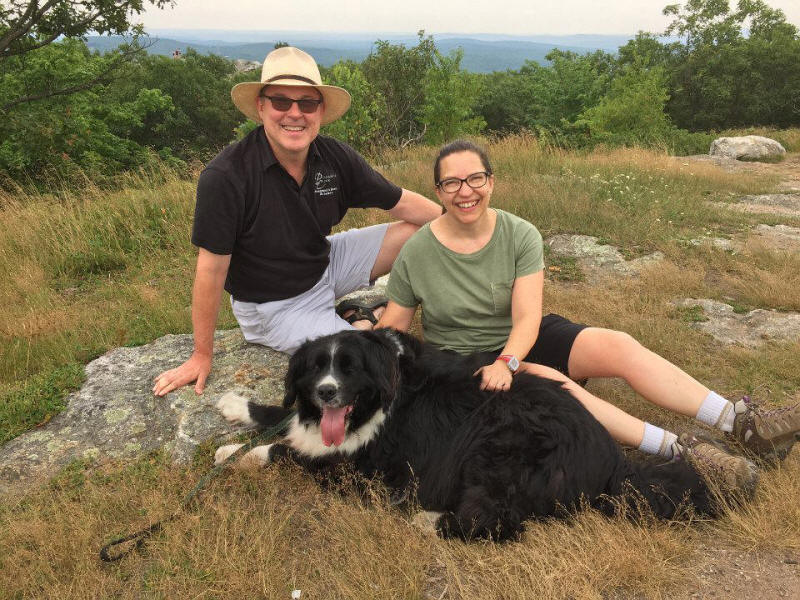 We also had a few visits from friends along the way! Alison's friend Sunnie from California (mother to Maddy's good friend Lauren) and Sunnie's son Harry were out doing the college tour thing so we met them for dinner in Cambridge. And on the next weekend, Gaelle, Charlotte's mom, arrived to visit for Charlotte's birthday (which was on July 25th). Thus, Birthday Party III, this time celebrating Charlotte's birthday in style at Harvest, a restaurant in Cambridge! Alison also took Gaelle, Charlotte, and Meredith to the Museum of Fine Arts (MFA) for dinner, where I joined them at the Bravo restaurant. Afterwards we saw a special screening of a French film called Slack Bay as part of the MFA's French Film Festival. Bravo? Recommended. Slack Bay? Not so much – I think you had to be French to really get it.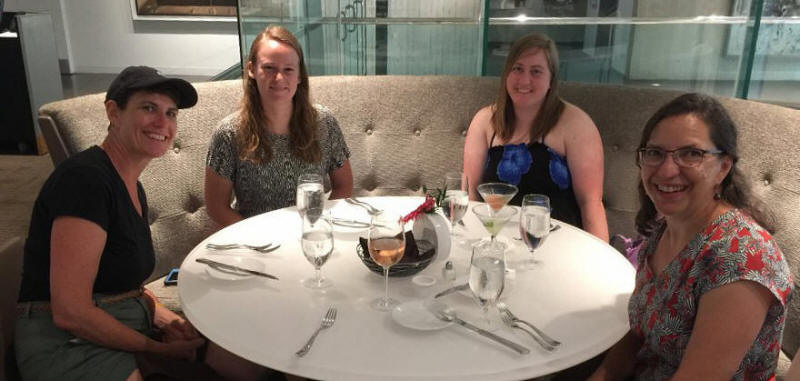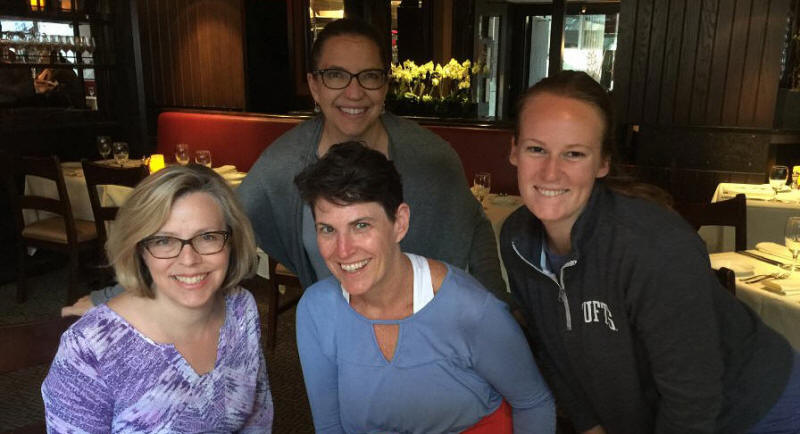 Next on the list of visitors was Maddy, who arrived at 11:58 p.m. on July 31st for a visit before returning to school for the fall semester of her junior year. She spent two and a half weeks with us, and just flew to California for a week (leaving the same day we left of GenCon) before she goes back to Whitman.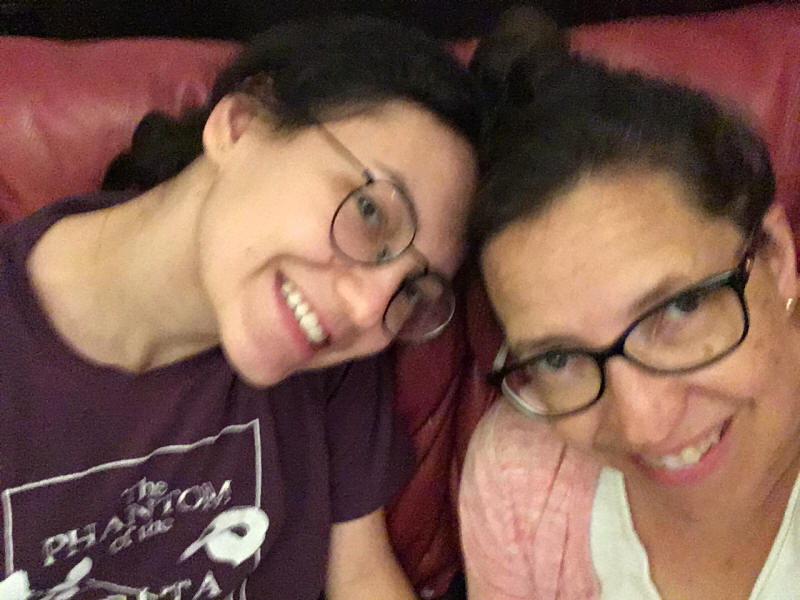 Of course, we needed to get Maddy and Noah together, so we also took a trip down to NYC over the first weekend of August … but then Maddy and Noah's Aunt Liz decided to fly up to Boston for a week and a half to visit friends and do the trip to NYC with us. Then the Grand Uncle and Aunt (Raph and Dorothy) also decided to come to NYC, and Cousin Beryl joined in, and suddenly it was a very wonderful family party! Alison, Maddy and Liz drove down in the car on Thursday, while I took a train down Friday night (not having the vacation to go earlier), with the sunset painting the sky in glorious colors on the way down. We met for breakfast Saturday morning with everyone at Katz's Deli, a NYC icon, and walked several miles to the Whitney Museum of American Art. Personally, I think it had more impressive views than art, but at least did not have the word "contemporary" in the title.
The following week, Alison and I went to a "Concert in the Courtyard" at the MFA with Meredith and Maddy, watching Banda Magda, a group that combines South American rhythms with jazz improvisation.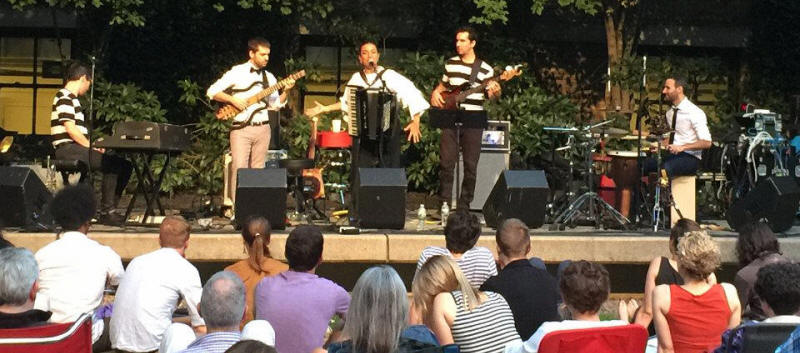 Then, the second weekend in August, Noah and Alicia came up to visit us for the weekend, bringing Orwell the Hypercute and Hyperenergetic Puppy along. Orwell interacted with our pets in various ways: Bear strongly objected to Orwell's "in your face" approach to friendship, Oreo was studiously neutral, and Dobie was delighted with his new plaything (something his size but who was not a cat). Dobie would lie on his back, tummy exposed, and when Orwell came rushing in, would lazily swat at him with a paw, making Orwell dance back and bark excitedly. Apparently, this was great fun for both of them because they kept at it for long periods of time and had many such encounters during the weekend.

Liz (who came back with us from NYC but stayed with a friend in Boston the following week) came out for Saturday night. Brie and Aidan also stopped by for dinner, leaving very little time for me to play the board game Scythe with Noah and Maddy which was a shame. But Maddy and Alison (with an assist from Noah) did get to spend many hours on the Playstation 4 with "Kingdom Hearts," a Disney themed action-adventure game.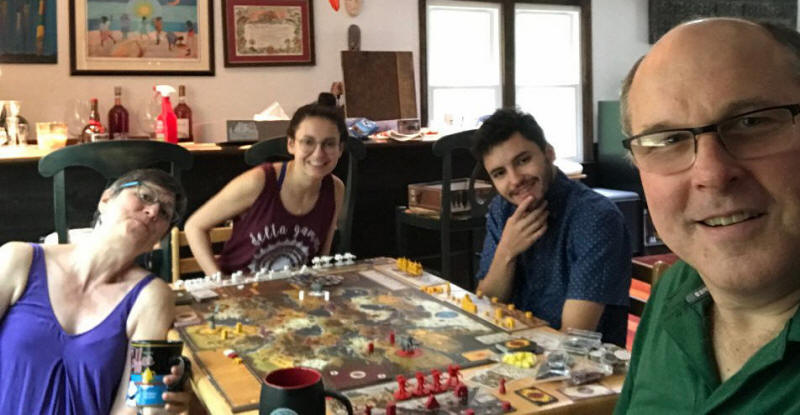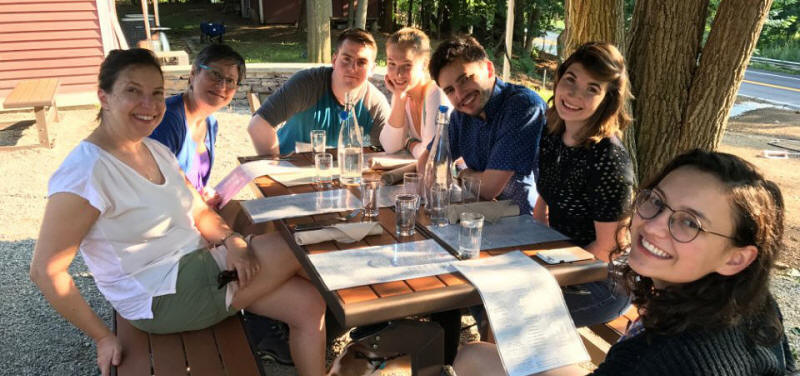 And that's a wrap for the last six weeks.

Next newsletter… GENCON!