January started (as always) with New Years Eve. Maddy was visiting during college winter break, and Eric, Cathy and Evan Haines came over to play games, watch a fire, have dinner and ring in the new year. Brie and Will were doing their own New Year's Eve parties that were supposed to somehow be "more fun" than playing board games. As if. But Brie did come over the next day to enjoy a latke dinner cooked by Maddy! Then Alison and Maddy returned to Cali to get Maddy packed up for her next semester at Whitman, just in time to miss the balmy one (1) degree temperatures in Acton. They sure were sorry!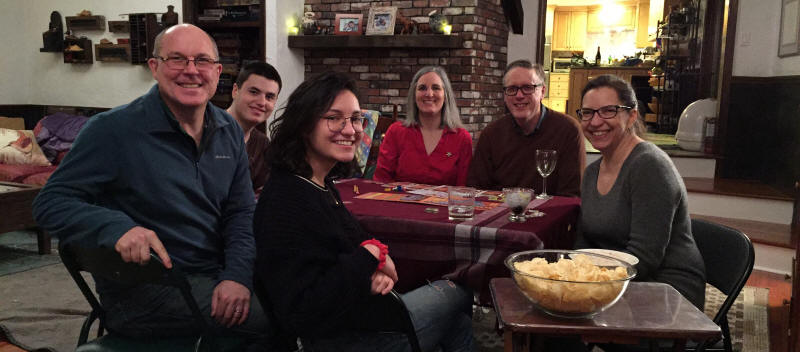 My birthday rolled around and oddly enough, after several years of "ho hum, another year older," they are starting to be really fun again! Will surprised me last year with an impromptu games night for my birthday and this year we went out to the pistol range. Brie and Aidan hosted a games night their new apartment plus Brie made Grand Marnier soufflés for dessert (my favorite). I spent my actual birthday with Alison, Rick Morris and Elizabeth Fieux at the Trapp Family Lodge in Stowe, Vermont. The Von Trapps are the family immortalized in "The Sound of Music." They fled Austria during World War II rather than sing at a party for Trump. I mean, Hitler.

The lodge is actually a 2,400 acre resort with a variety of buildings and many activities available. Alison was flying in from Cali that afternoon, so I picked her up from Logan and we did bumper to bumper traffic out of Boston, but the rest of the ride was easy if a little longish. Saturday, we tried cross country skiing, despite poor conditions… it had been raining two days earlier, and while it had turned colder, it was mostly ice with a light dusting of man-made snow on top. We did the x-country shuffle thing along a two mile flat run before we finally hit a three foot dip you could actually ski down. I turned around and said "now comes the fun part," lost my balance and fell over, which everyone else found very funny. Rick and Elizabeth turned back when we hit the uphill section, but Alison and I forged ahead, onward and upward. I tried to "skate" uphill, which takes some serious leg muscles, and was graceful as a swan. Alison called it more like "a duck waddling uphill." Our goal was a mid-mountain cottage where you could eat lunch. But it became clear we were not going to make it in time, given the return trip and a very important 4 pm wine tasting at the lodge we had signed up for. So in light of the conditions we actually hiked back down the hill; cross country skis are not as stable as downhill skis and it was very icy.

At the lodge, we tried a set of Argentinian Malbecs in the Von Trapp wine cellar, then headed out to "Prohibition Pig," a famous Vermont barbeque spot for my birthday dinner; Rick paid for a limo as my birthday present. All in all, a really fun trip and a great birthday!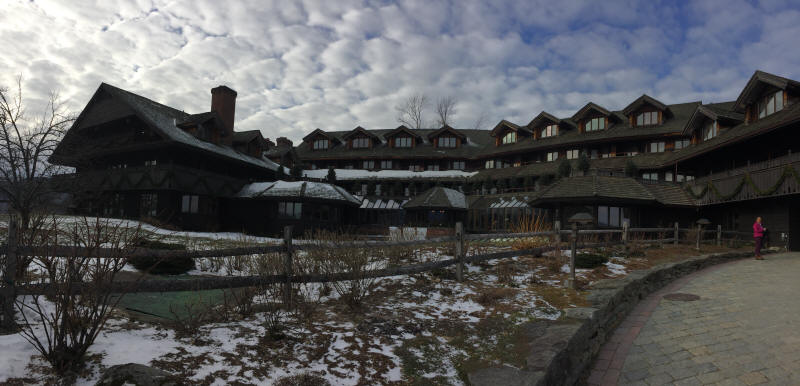 Below, games and souffles at Brie and Aidan's apartment; on the range with Will

One other thing we finally got around to doing this January was visiting the Harvard Museum of Natural History (and the adjoining Peabody Museum of Archaeology and Ethnology). It actually includes three research museums — the Museum of Comparative Zoology, the Harvard Mineralogical and Geological Museum, and the Harvard University Herbaria. The most well-known exhibit is from the Herbaria, a collection of glass flowers created around the turn of the 20th century, over a fifty year period, by Leopold and Rudolf Blaschka, German glassblowers. There are over 800 different specimens rendered in glass and wire. It was impressive, but a bit repetitive (really, they should have spent more space and time on the people that made it happen, as there's only so many flowers you can look at and go, "wow, made of glass, look at that!" before you get tired of it). The mineral collection was actually much more interesting to me, and the dinosaur and other zoological exhibits were all very cool as well. The Peabody was a little duller; it was laid out well, but most of the exhibits are models, not real artifacts. It was still interesting to wander through. One fee covers both museums. It's not expensive, and if you want a way to spend four hours, it's a fun place to go.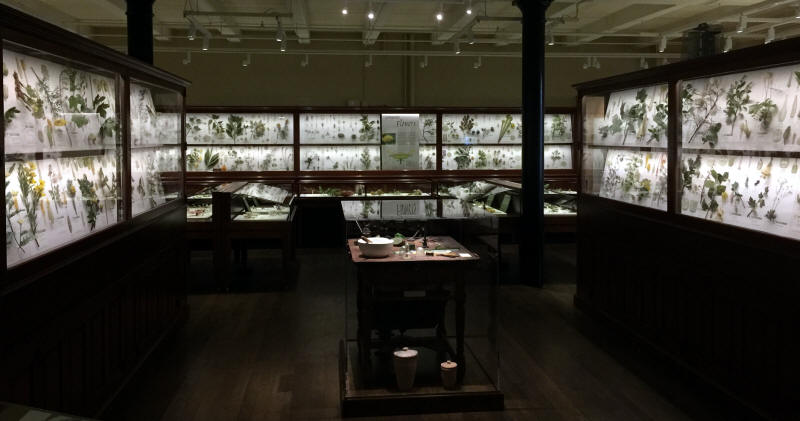 Below, the Peabody Museum

And finally, we have the pets, which I haven't had in a newsletter for a while. Patric is included even though he's at Will's apartment (I go over and walk him sometimes). I think Dobie's expression says it all!