February started off with a dog. Specifically, a puppy named Finn. Finn is a rescue dog that Brie and Aidan adopted from Arkansas. Finn turned out to be about as cute and cuddly as a puppy could be, has a sunny disposition, and Brie and Aidan adore him.


Next stop, another Harvard Museum, this time the Harvard Art Museum (which is apparently actually three museums, the Fogg, Busch-Reisinger, and Arthur M. Sackler Museums, but it only seemed like one building, so that's a little confusing. On the other hand, we didn't get off the first floor of the one building (out of six floors) because the stuff on the first floor was so awesome, with some "that can't be a real Matisse/Picasso/Van Gogh/fill-in-famous-artist that I can reach out and touch with my sweaty hand" thrown in for good measure. They have guards in the rooms, but I still wonder how they can have originals out without so much as a glass cover to protect them.

One thing I think is kind of funny was the self portrait of Van Gogh, which I swore I'd see before with Alison on our trip to Chicago at the Art Institute of Chicago ... but it turns out there's more than one. Many more. Vincent van Gogh painted over 30 self-portraits between the years 1886 and 1889. His collection of self-portraits places him among the most prolific self-portraitists of all time. And the creator of the original "selfie." He even had a stick with a mirror on the end he used when he was painting himself (ok, that last one was an alternative fact).

But they also had an entire display on the evolution of art in Germany between World War I and World War II and it sounded so… logical, demonstrating an entire chain of events that led from painting style to painting style down through the years. I don't know that it was accurate, since my uneducated view has always been that painters are like uranium atoms… you never know when one is going to go off and produce a gamma ray that might cause mutagenesis of Lambda Phage and Prophage in a cI repressor gene and cause you to develop super powers like the X-men. Or in the case of artists, a slightly less dramatic spreading of paint on canvas resulting in some rich patron going "I will pay you a lot of money to paint more of these." But, essentially, a random process, in case that point wasn't clear.

They also had an ancient Chinese art exhibit that was pretty amazing and had a tea kettle that looked like a duck (which is significant because Alison and I have been watching for ducks ever since we found out what the word "Anatidaephobia" means). And a modern art section to mock. And… lots of other things. The building was pretty interesting as well (there's a shot below), a funky mix of gothic and glass-and-aluminum modernistic.


Next stop, the blizzard of '17. Like every natural catastrophe, there were winners and there were losers. That is, those who enjoyed the snowstorm and those who did not. Although in this case, maybe those that did not were the winners. You can try to guess what category everyone fits in by checking out the photos below (with Dobie doing the "popcorn and a movie sounds better than cold, wet snow" routine).

Next stop, New York City, where Noah and Alicia live in student digs near NYU. Bragging a bit, Noah ended up with terrific grades last semester and is near the top of his class at a top-10 law school. So it was only natural that we come down while he was visiting a friend in the Washington, DC area. But at least Alicia was in town when we arrived, at the airport waiting for her flight to LA (where she was headed to have some minor surgical procedure done to her shoulder). So we missed both of them.

But we were in town for Lauren Stahl's 50th birthday, who, by following the very convoluted Aronson/Stern family tree Alison made for me at one point, is related by blood to Alison ... sort of not at all. But family is who you hold in your heart, and Alison is all about family. I'd actually met Lauren at a Bat Mitzvah in 2016. Libby, Raph and Dorothy, Bat Mitzvah Bella and her siblings, mother (Lilly) and father (Rich), and a few others that I'd met at various times attended as well.

The party was over Valentine's weekend, and we decided to make a V-day celebration out of the trip, so we stayed at the Langham (we've been to the Langham in Chicago and Boston, were married at the one in Pasadena, and have a bucket list item to stay in every Langham hotel in the world (there are 34 of them, most in other countries)). We sprang for the upgraded room, which was "yuge" … you could fit a bowling lane in it, which I posted to facebook. Leading to the following exchange with Alicia



It was nice. We dined in Ai Fiori, the hotel restaurant, as our Valentine's day dinner (even though it was the 12th), which was very good.

We also took some time to shop Macy's Herald Square, formally known as the R. H. Macy and Company Store, the flagship of Macy's department stores, and billed as "the largest store in the history of mankind" or something like that, checked out the spectacular New York Public Library, which was mostly empty, and became members of the Natural History Museum, which was very crowded. Those are all in the randomly placed set of shots below.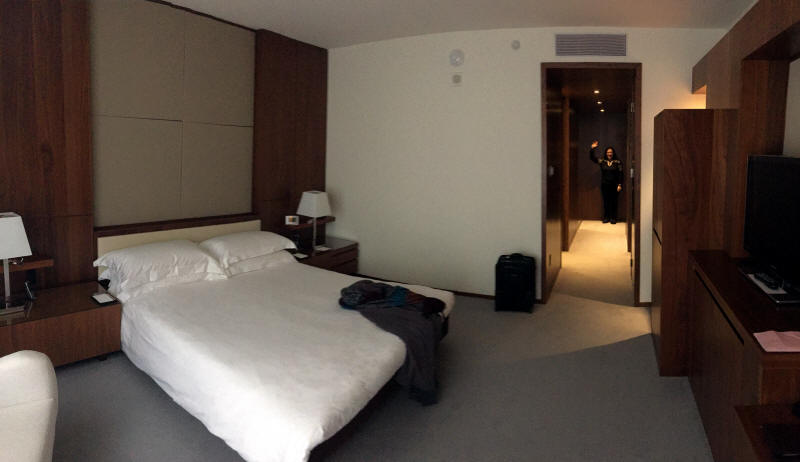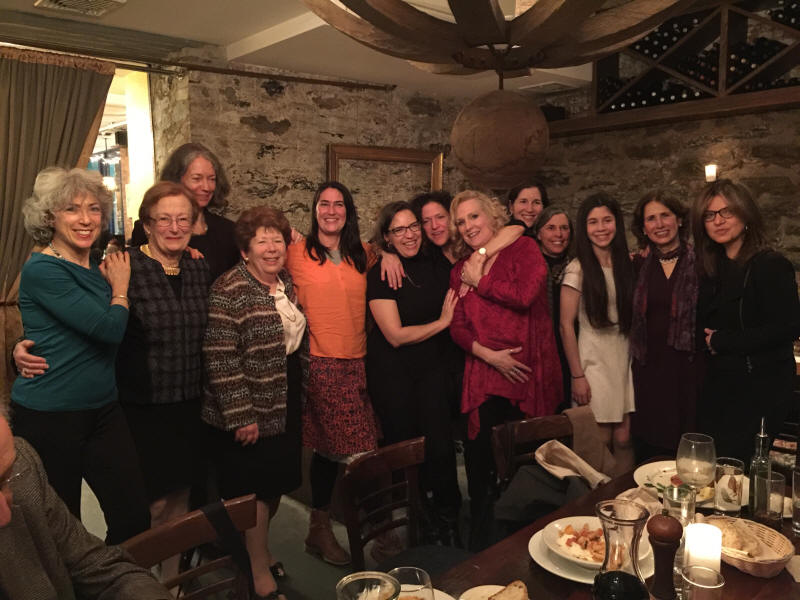 There was a brunch Sunday morning after the party, but having read the weather reports of an impending and fairly major snow storm, we headed out early, allowing us to drive home in an impending and fairly major snow storm.


Having had it with bad weather, we decided to head out to Cali in time to hit… bad weather. More on that in a bit.

We had some fun at the Huntington Library, Art Collection and Gardens in Pasadena, CA (we are members, of course), which is probably one of the best and most underrated attractions in the U.S. There's always something you haven't seen before. Sometimes it's just a plant (which you may have seen before but now it's flowering). This time it was the Garden of Flowing Fragrance, aka the Chinese garden, which is undergoing a major expansion, the Virginia Steele Scott Galleries of American Art, and the strange but whimsically scientific Orbit Gallery, a conical aluminum structure with speakers that generate sounds based on the position of earth observations satellites passing by (which will be very quiet when the EPA takes them out with anti-satellite missiles as part of their new mission statement).

The Virginia Steele Gallery was very cool (despite having some modern art), partially just because the building had a feng-shui vibe that rivaled the Smithsonian National Portrait Gallery in general awesomeness (although the Smithsonian had a lot more of it).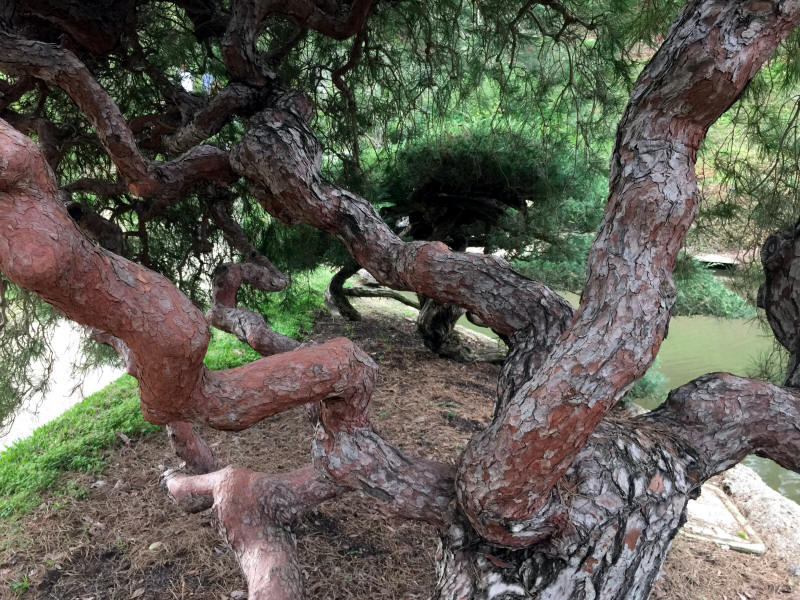 We also had a chance to visit a few people; Alison went out with Elizabeth while I went up to Jeff Goldsmiths for drinking, gaming, and general shenanigans with a few of his regulars (including DJ). We visited with Bill and Janet Garber on Saturday, having been rained out on a Friday visit, and Lisa and Bruce happened to visit the same day, so we had a chance to chat with everyone. We also had brunch with Heidi, who was about to embark on a deep sea adventure as part of her JPL job, helping with a deep sea submersible sample gathering trip off of Monterey Bay (the photo is a selfie she sent Alison since I forgot to take a picture of her and Alison together).


So, the bad weather was "rainageddon," the unprecedented amounts of rainfall that "could wash much of the LA basin into the Pacific," (quotes like "this" means "things I'm making up but want to sound more like real news"). But it did pour historic amounts of rain in LA on Friday when we were supposed to head down to see Bill and Janet. In fact, I've been out in Cali three times in the last few months, and it's rained every time. Welcome to Global Climate Change (and let's hope the EPA doesn't come arrest me for spreading false news about that as part of their new mission statement). The result of all that wetness is green hillsides, which I don't ever remember seeing during the eight years I was living in Cali.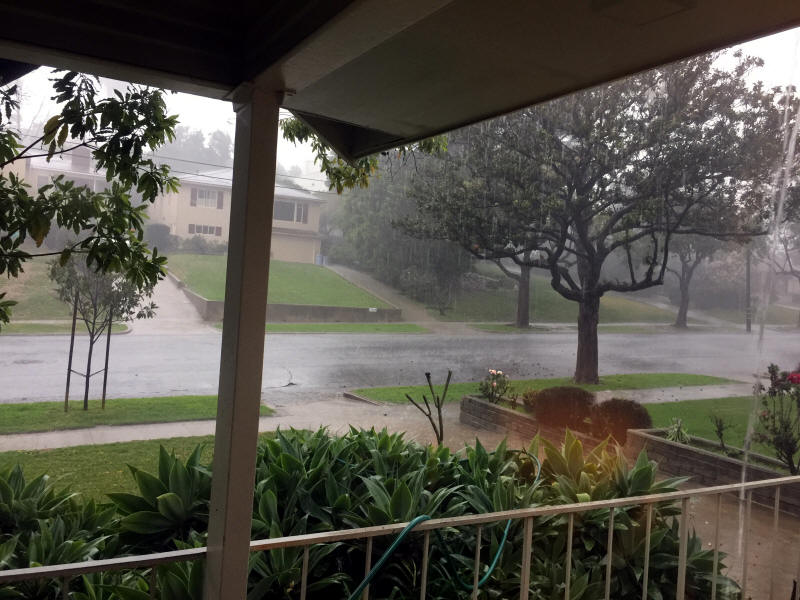 The main purpose of the Cali visit was to go to the multi-day extravaganza that was Henry Winkelman's Bar Mitzvah. Liz Stern was supposed to attend but got hung up at work. Lee Winkelman is actually an old high school friend of Jeff and Liz's, which meant I didn't know anyone at all. But it was a nice group of people and a great event.



Will moved to his new digs in February, and we visited the last weekend in February. He's splitting it with a co-worker, but it's three times the size of his old apartment at half the price (instead of the 20% increase the Watermark was trying to stick to him). His new place is in East Boston, near the airport, and has the most spectacular view of the Boston skyline you'll find!.




And last but not least, a visit to Historic Concord to visit the Alcott house and the Concord Museum, neither of which I've been to in many years. We parked in Concord center and walked, passing the interesting combination of verizon store, historical structure with minuteman widow shutters, and nuclear bomb shelter pictured below... talk about having it all! Concord center had it's mix of boutique shops with unique and interesting objects (to mock), although we spent the majority of our time at the Concord Bookstore. The Alcott house was the main attraction; Alison loved "Little Women" when she was young and it was a fascinating glimpse of life back in those times. The Concord Museum (pictured below) was small but well laid out and gave a rundown on life in just-settled New England, plus a pithy summary of some of the more memorable characters that populated Concord over the years.

And that's a wrap on February!