It was the best of times. It was the worst of times. It was the age of wisdom. It was the age of foolishness. It was the year 2016. Because rather than Dicken's famous novel, this was about back to back graduation ceremonies in Walla Walla, Washington and Troy, New York on the last two weekends in May. Noah earned his BA in Economics from Whitman University, Will a BS in computer science from RPI. Will actually finished his degree last December, but went back for the walk (or the partying, it wasn't completely clear from the 1.75 liter bottle of Bombay Sapphire he grabbed from the liquor cabinet at the house).

Between the two processions, Walla Walla was first in line, with ceremonies held on May 22nd. Alison and Dave flew through Seattle to Portland, where they met up with Libby Stern, Jeff's sister. We all did the Columbia Valley drive together; four hours of driving, but very scenic and with that many people in the car the miles rolled by effortlessly. Maddy was still hanging out with her roommate, Ally, along with a few others in the almost empty freshman dorms. Alicia, Noah's girlfriend, had already flown up from LA (Noah had flow down to LA the weekend before to go to her graduation from USC). Noah, of course, was at the frat enjoying his final week at Whitman.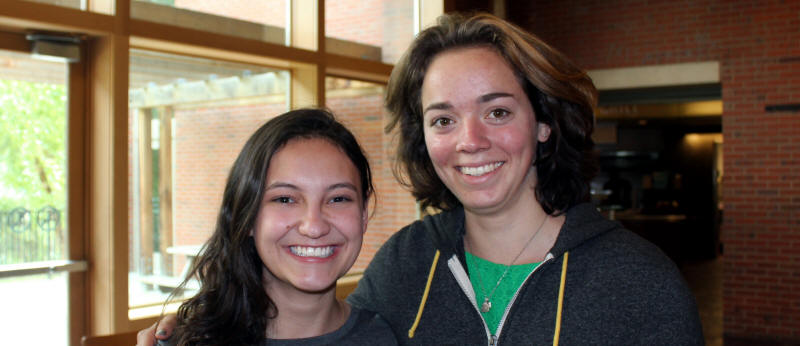 Walla Walla was as quaint as we remembered, the 1950s era downtown meticulously preserved like an insect in amber. Without all the bug parts. Or the amber. The day before the ceremony, we did the main street stroll, visited Pioneer Park, played a few rounds of "Splendor," a board game, and then met for dinner at the Marc, the restaurant at the Marc Whitman hotel. Marcus Whitman is the missionary that the school and the hotel are named after, a man famous for inciting the local Cayuse Indians to riot and dying in the resulting Whitman Massacre (which interestingly enough turned out to be a fabrication by a Cathlolic priest; in fact Marcus was the unfortunately recipient of blame for a measles epidemic introduced to the Cayuse by white settlers).


The ceremony itself was out on the lawn in front of the bell tower, the most distinctive building on campus. It was a wet, chilly morning when we arrived at 8:30, when seating was supposed to open. This was two and a half hours in advance of the actual ceremony. But we had nothing better to do, and while with a graduating class of about 400, it wasn't like it was going to be crowded, we still thought better early than late. Of course, it turned out that people had paid students to arrive at 7:00 and stake out seats with blankets, strips of tape, 8x11 pieces of paper with family names, caltrops, claymore mines… whatever it took. We ended up with decent seats anyway, about half way back. The ceremony was nice , but the sun popped out, turning the damp chill into a muggy heat. The main speaker was a member of the Washington State Supreme Court, and there were two graduating students that did an extremely funny dialog around their experiences at Whitman (the sound system was poor enough that Dave could not really hear what they said but everyone else was laughing, so it must have been good). The president of the University said all the standard things, people marched across the stage in alphabetical order, and it went as you'd expect it to.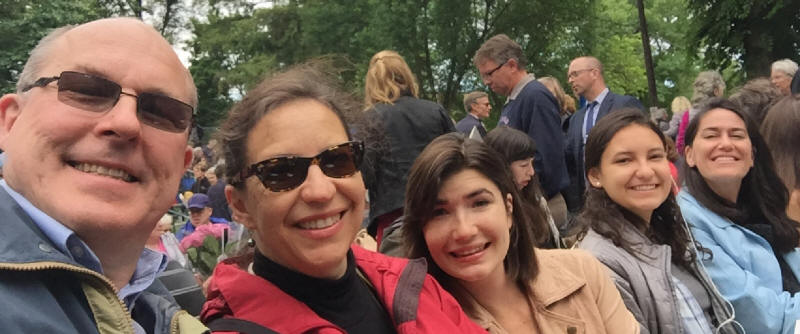 Afterwards, we met Noah's debate team partner and friend Kyle, whose family had done the Air BnB thing and had a house, for an impromptu get together of Noah and Kyle's inner circle.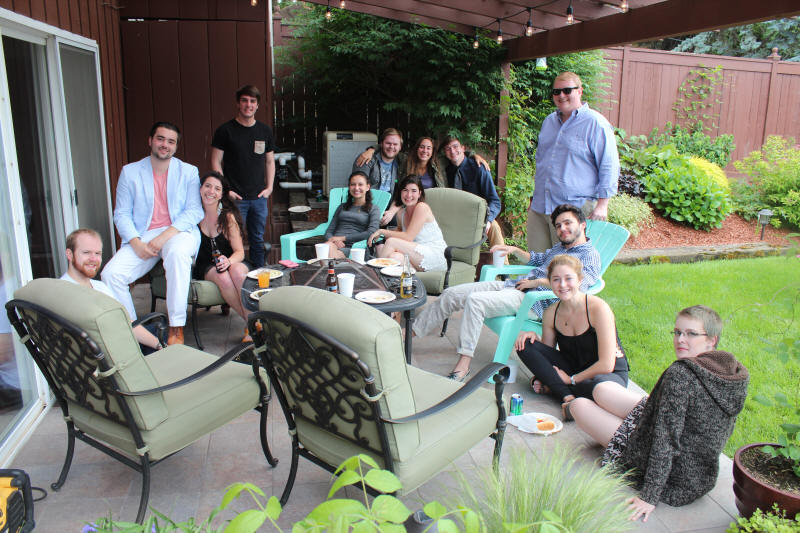 In the evening, we all had dinner at the Whitehouse-Crawford restaurant, an open, airy restaurant in a renovated 1904 sawmill. There Alison had the good taste to announce she was going to do something in dreadful taste, namely re-gifting someone else's gift to someone else in front of the person who gave the gift in the first place. Which sounds more confusing than it should. But the point is that, while Noah was the center of attention, Maddy did get a copy of the Ruth Bader Ginsburg coloring book (the only woman on the U.S. Supreme Court) that Libby and Jay had originally given to Dave, who didn't know who Ruth was and therefore did not deserve it. Although the nose-shaped pencil sharpener went to Maddy as well, and that hurt a bit. Noah received his gifts and we had a fine meal.


Noah and Alicia stayed for another couple of days of the high life while Dave, Alison, Maddy and Libby left bright and early the next morning, dropping Libby off at a nearby airport then heading back to Portland. On the way, we passed through Umatilla, home of the Umatilla Army Chemical Weapons Depot (if only that jerk Hussain had one, George Bush would haven't have been horribly embarrassed at getting into a ground war for no real reason; we should share with other countries more). Making it a bit more exciting than seeing a bunch of sand dunes with bright white doors leading into them (total camouflage fail), there was a wild fire that put a nuclear-bomb-style plume of smoke in the air; we drove through it with ten foot visibility from the dense, acrid smoke, actually seeing flames less than a hundred feet away. The army claims no chemical weapons of mass destruction were compromised in the fire, which is why all the paint blistering off our rental car was due to something completely different. And if any of us ask you where you store your axes, don't tell us; the schizophrenia (also due to something completely different) will pass eventually.


Half an hour outside of Portland, we took a slight detour to visit Multnomah Falls, a spectacular six hundred foot waterfall along the historic Columbia River Highway. At the Portland Airport, Alison and Maddy parted ways from Dave, heading for SoCal, while Dave headed for… SoCal, but only for a stopover at LAX (Maddy and Alison flew into Burbank) before taking a red eye to Boston and going directly to work from the airport (low productivity day alert).
The next weekend, it was a riff on the same theme. Alison flew in to Boston after spending a couple of days in LA. Janu, Will's girlfriend, joined us and the four of us drove across Massachusetts and into New York together. Keeping in mind the constant news flashes during the prior week that Memorial Day traffic would rival the zombie apocalypse in turns of creating mass chaos, we headed out from Acton at rush hour, the worst possible time… and hit almost nothing. It was almost eerie… but welcome.

We hit Albany three hours later, arriving at our hotel, the Morgan Statehouse, which advertised itself as an inn, which you'd think, in essence, would be a hotel. But it's not, it's more of a bed and breakfast, albeit a big one, with restricted check in times (that we missed), long, narrow staircases and no elevator (we were on the fourth floor), tiny little bathrooms with old style showers (meaning "inconsistently heated water in quirky plumbing attached to a tub high enough off the floor that you needed to pole vault into it"), and parking that was far enough away from the place that it would have been a pleasant walk if we weren't in a neighborhood that looked like it advertised for muggers.


Which is being a little unfair; it was a nice, historic old building in a marginal neighborhood, and clearly going for the turn of the century, quaint, home-away-from-home feel to it. But, having stayed at the Olde Judge Mansion in Troy, which is the same kind of place, I have to say that the Olde Judge Mansion is all that, with better breakfasts, and is half the price. Although the Morgan State house did have a very nice courtyard where we breakfasted on Sunday morning and didn't stick an extra "e" on the end of "Old," so it's only a marginal victory.

In any case, we dropped Will and Janu off at Will's old rented house, where his friend Willing was last man standing (everyone else had moved out), managed to get into the Morgan State House to drop off our luggage, found a local wine bar with a limited selection of wines but a very friendly and funny bartender, and generally made an evening of it.

The graduation was the next morning at the East Campus Athletic Village (ECAV), and we already knew it was going to be ninety degrees and muggy, which doesn't make for a great four and half hour event (Will's class was something just short of 2000 people with grad students, about five times the size of Whitman, which stretches out the timeline), but … no controlling the weather. It was well managed for all that; they did a lot of things to let activities happen in parallel so it didn't hold the procession up too much. The actual handing off of the diplomas was a masterpiece of modern process engineering to keep a line of people moving across the stage as fast as you could walk while still seeming like it was special when they shook the president's (Shirley Jackson) hand and were handed the bright red cover containing a note that said "your diploma will be mailed to you within two weeks." There were three speakers, a Nobel Prize winner, the current head of the Smithsonian Museums, and Whoopi Goldberg. Well, not really, she looked and talked like Whoopi, but she was the US representative to the United Nations and ran the UN World Food Program, which apparently is a 15,000 strong organization. They were all reasonable eloquent and the first two were cracking jokes about elementary particle physics, which is kind of what you'd expect for an RPI graduation. Shirley, who has had a rather tumultuous relationship with the students due to her "bow before me" aristocratic behavior, was polished and convincing as well. The student speakers were all eloquent but boring; unlike Whitman, entertaining the audience was not encouraged, and they were all "dear old RPI" kind of speeches. Given the several thousand people in attendance and the full football stadium size of the procession, the sound system was amazing and even Dave could hear everything clearly; one of the advantages of graduating from an engineering school.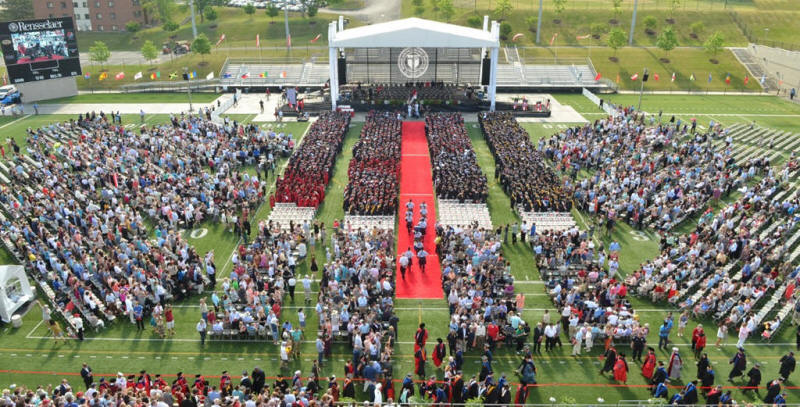 We joined up with Will after the ceremony. With heavy black robes mixed with sitting in the direct sun for four plus hours, he was soaked with sweat and took no time giving Janu a big bear hug. He told us that three students near him had minor heat strokes and had to be escorted off the field. We had arrived in the area just before they blocked off all the roads (having had the advantage of having done this before with Brie we planned ahead), so we were parked near the event; it didn't take long to get back to the main campus where there was a massive picnic for the grads and families. Will hooked up with his frat mates and Willing and, seeing that he and Janu were fully occupied with friends, Dave and Alison did the sensible thing… went back to their room and took a nap.

We all reunited for dinner at Angelo's 667 prime, a favorite steak house in downtown Albany, along with Willing and his family, where they did their usual fine job at providing amazing food and drinks.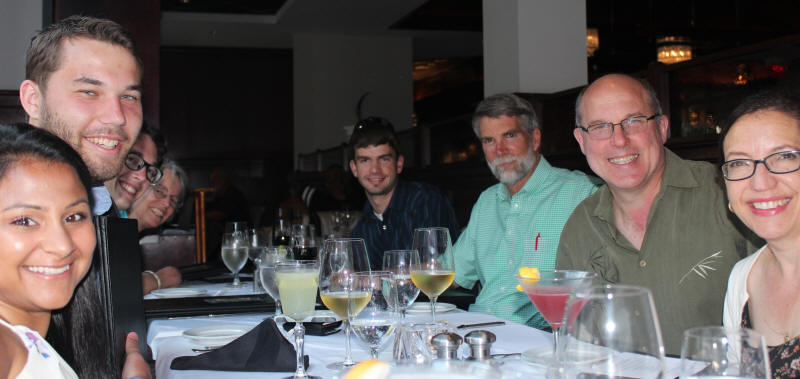 The next day, we picked Will and Janu up at his old house, said a final goodbye to Willing and family, and headed back to Boston.