Holiday travel was a little complicated this year. Maddy flew to Cali on Sunday. Alison flew Monday. I flew Tuesday. Alison's brother and sister-in-law flew Tuesday. Brie flew Wednesday. Alison's niece and nephew flew Wednesday. Will few Thursday. Noah flew Friday. I drove to South Pasadena and stayed with Alison and Maddy when I landed. Alison and Maddy drove to San Diego the day after that to join her parents, brother, sister-in-law, niece and nephew. I drove down to Playa Del Rey and rented an SUV and a hotel room. I overlapped with Brie by a day and Will by a few hours, picking them up at the airport (which took three hours for Brie, who landed and sat on the tarmac for two hours, and a couple of hours for Will, who was originally scheduled to arrive at midnight but landed at 2 in the morning). After a couple of hours of sleep, I took the Surfliner coastal Amtrak train to San Diego (technically, San Marcos, just northeast of San Diego, where Alison's folks live), and then went with Alison to pick up Noah at the San Diego airport, which took three hours. Alison's niece and nephew flew out of San Diego on the morning of Christmas Eve. Brie and Will drove down to San Diego for Christmas Eve dinner then back to LA the same night. Alison and I drove back to LA Christmas day. The next day, Alison's brother and sister-in-law flew out of San Diego airport, Alison drove back to San Marcos / San Diego to get Noah and Maddy, and I dropped off Brie at LAX and headed for South Pasadena. Alison, Noah and Maddy met me there, and she, Noah and I visited with Jeff Goldsmith that evening. We then headed back to LAX the next morning to fly to Sun Valley (Noah) and Boston (Alison, Maddy and I). Noah's flight was much earlier than ours, so we stayed in the Admiral's Club for four hours. Which was actually kind of relaxing! We flew back to Boston and took a limo home, arriving about midnight.

It was schleppy, fun, great to see everyone, and worth every minute!

Below: While Brie was stuck on the tarmac for two hours waiting for a gate after a seven hour flight, I tried to send words of encouragement.



And more travel photos: Boarding the Surfliner from LA to San Diego, and having some fun waiting in the San Diego airport for Noah.



Wednesday, when Bill, Janet, Matt, Cindy, Brie, Lisa, Bruce and I all went to a Mexican restaurant where we managed to fit eight people around a four person table.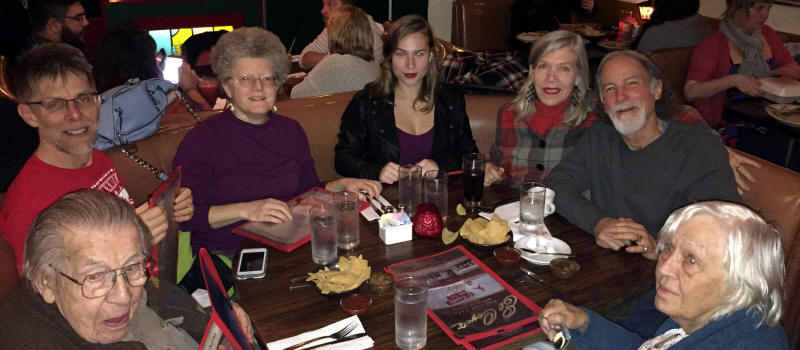 It rained last time I went to LA, and it rained this time, for several days. I don't think they bother waterproofing the garage structures at LAX.




Too cute not to take a picture of: in a stranger than life coincidence, a set of Xmas ornaments that exactly match our pets from Rick Morris and Elizabeth Fieux! Feels like an episode of Dr. Who.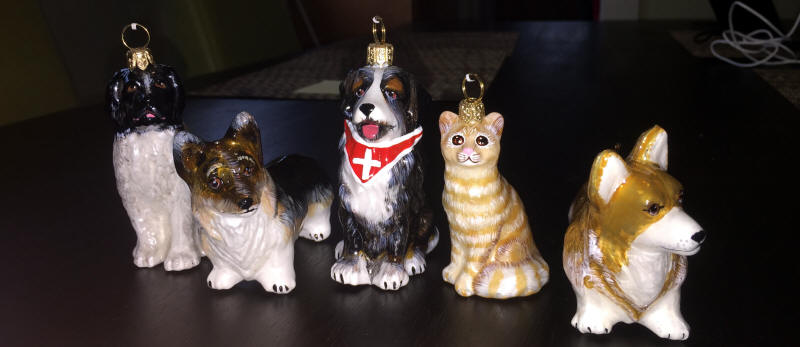 Christmas Eve dinner at Alison's folks' house, and Christmas Day dinner in LA at Bill and Janet's. Bill and Janet's included Anna, one of the two full time caregivers in the house now to support Bill and Janet. She did most of the cooking for the entire dinner!





Standard massive quantity of Xmas gifts under the tree, and lighting the Hanukkah Menorah for Alison, Maddy and Noah.



Maddy came out to Boston for a week. We went to the Aquarium and had dinner with Will and Brie (and Will's friend Willing) in Boston. We had Eric, Cathy and Evan Haines over for New Years' Eve for games, hanging out, and watching a roaring fire in the fire place.



For all the general turmoil, international and domestic, 2016 was a good year personally. Brie and Will launched, Noah started law school at NYU, Maddy continued at Whitman and landed a research position at one of their professor's labs this summer as an internship. Alison and I celebrated our first full year together. We've spent time with friends and family, visited some awesome places, and had a lot of fun! Here is hoping that 2017 is as joyful and kind to us and everyone we know!