The second weekend in July we joined Eric and Cathy Haines in a trip to Tanglewood to see the Boston Symphony perform the Mozart's Symphony No. 25 and one of his final three symphonies, No. 39 in E-flat. The show was on Friday. The plan was to show up about the time it opened, set up a picnic dinner on the green, watch the show, and then stay over Friday and Saturday nights in order to explore the area. Cathy locked in a small cottage near Richmond Pond five or six miles away via AirBnB.
The forecast for Friday evening was thunderstorms, flash floods, and general mayhem, but it was sunny, with wide expanses of green grass, towering trees, warm breezes, and an alarmingly small number of Pokémon, according to Eric, who was very deep into the "Pokémon Go" craze.
Clearly, they had been scared off by the erroneously reported storm front.
So we sat and broke out the food and wine and chatted about this and that on the sun dappled grass and it was pretty awesome. And as is started to get darker and near the time the concert was supposed to start, the wind picked up and the clouds rolled in and it felt like we were on a movie set for the start of Noah's flood. The rain hit about half an hour after the concert started, and most people ran into the shelter of the main building, but we had (just in case) brought a number of oversized umbrellas, and we cowered under them until it passed as suddenly as it had arrived. And that was pretty awesome too.

After the concert, we joined the "traffic," although I don't know if you could call it that because basically no cars actually moved. More like "Stopfic." After an hour, we could finally get to the street where all the cars didn't move. Then we were forced off on a side road that looped us around in the wrong direction, circled back on the far side of Tanglewood to find one way roads that prevented us from getting to our turnoff, and finally drove about ten miles out of our way to finally join the road leading to the lake house.
The lake house, as it turned out, was not as welcoming as we might have expected. Mostly because it was on a dirt road, there were no lights, no driveway, no street numbers, and the description was "the white house," of which there were about twenty. We could eliminate one red house that appeared to be the hiding place of the surviving members of the Charlie Manson gang, or the source of evil mutants that were about to burst out of a hell gate to spread death and destruction across the lands. But eventually, after giving up trying to find it by driving up and down the road five or six times, we managed to find street numbers nailed to an old oak tree by wandering around on foot using our cell phones as flashlights (the numbers apparently had been a white wooden sign at one point based on the Google maps shot below but had been replaced with dark metal letters that blended almost perfectly into the wood). It was, of course, next door to the hell mouth.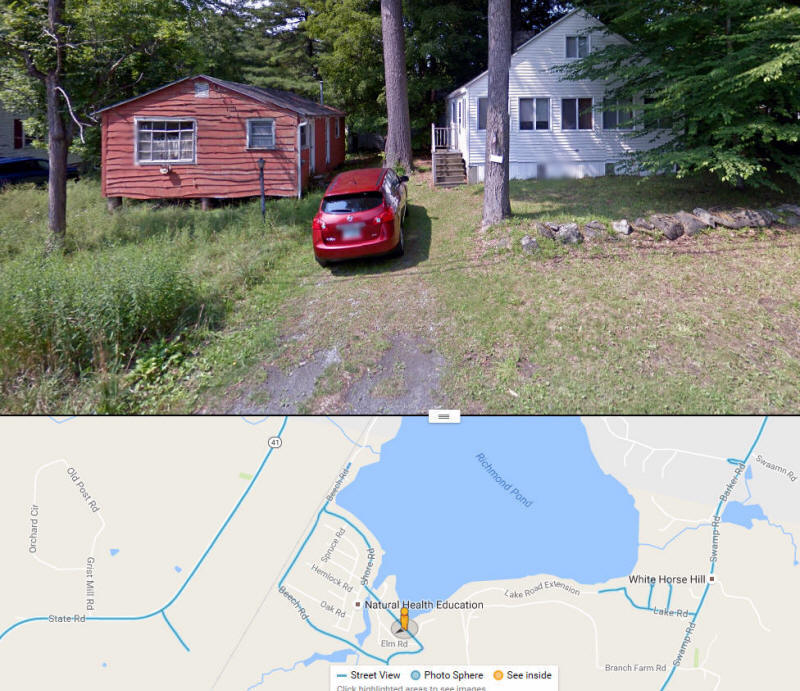 Yes, below, that's the good old Sienna van. We found all the doors open the next morning and satanic symbols painted on the inside walls in chicken blood.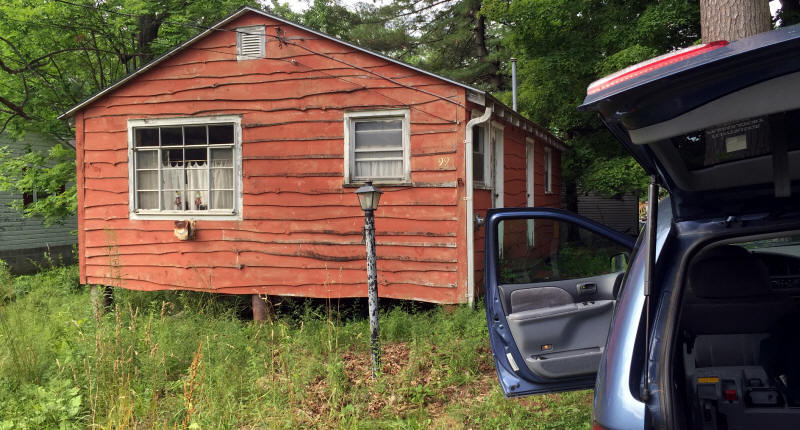 Saturday we visited The Mount, a country house in Lenox, Massachusetts, the home of noted American author Edith Wharton, who designed the house and its grounds and considered it her "first real home."
It was actually very cool.
Edith, as it turns out, lived an interesting life, as in the old Chinese curse "May you live in interesting times." With unrequited love for someone in the wrong social class, a resulting marriage to an older man that went, to put it delicately, looney tunes, an illicit affair with a bisexual never-do-well that ended up in blackmail, and a whole lotta money, it is destined to eventually turn into America's answer to "Downtown Abbey" as a made-for-TV series.
The house is well preserved, and there's plenty of information about what it was like to be wealthy gentry in that age, along with information about a fascinating women and her life. Even ignoring the Peyton Place end of things. Edith travelled constantly and was a major force in Paris during the first world war, setting up a number of charitable organizations for helping refugees, widows, and tuberculosis hospitals
And, she was, of course, an excellent writer. There are snippets of her works here and there, quotes and letters and other windows into a unhappy and tortured soul. Very worth visiting.