Grand Cayman
November 2013
I arrived on Grand Cayman a little after 12, but they had some sort of medical emergency on board and we had to wait while they offloaded someone that seemed mostly ok; then clearing customs (although since I had no checked baggage I was near the front of the line) and immigration took a little while, so I found myself walking to the Hertz rental place (the airport is that small) about 1 PM.

A short discussion on roundabouts (of which there are many on Grand Cayman, but then they have a giant picture of Queen Victoria up on the wall behind the customs counter, so go figure) and whether it was a clockwise or counterclockwise entry and I was off in a car for the "East End." Then it was learn-to-drive-on-the-wrong-side-of-the-road time (but if you just follow the guy in front of you it's not too bad). It took about an hour to drive to the resort, stopping a couple of places along the way to admire the view; it's probably 45 minutes at a straight shot (didn't know Grand Cayman was that big!).

Checked in, signed up for one tour, and stopped by the sports activity shack to buy sunscreen only to find out they had a "sail and snorkel" trip heading out in 5 minutes so I changed, sun screened up and went. About 30 minutes of sailing to a shallow reef, then drift-snorkeled (let the current pull you along, the boat just goes to the end of the reef and picks you there). It was nice, but not as good as some places I've been (Aruba and Belize), but it was great to be out doing something fun five minutes after arriving.
It took a lot longer to get back (tacking against the wind) but it was pleasant. Shower, grocery store run (for breakfast stuff), and grabbing a Subway sandwich (they have one in the resort that is just like it's US counterpart, and while it doesn't sound like that great a dinner, the lettuce and tomato and peppers were actually pretty fresh looking, unlike the produce in the grocery store, which they refer to as a "supermarket" but is more like a country store). Ate in my room but I went to the bar long enough to get a Grand Marnier and sat there for a while. Nice to sit out in the tropical breeze, nice temperature, no insects, but boring by yourself. So I went back to the room, settled in, read until I was feeling sleeping (and having gotten up at 3 in the morning I was pretty sleepy).
Friday
Friday I did two dives with Tortunga Divers at the resort next to the one I was in; they did a wall dive called "Pat's Wall" and a shallower dive in "Grouper Grotto". The wall dive was cool; they took you through a chasm that opened up to the deep side of the reef, which makes the entry onto the wall a lot more dramatic. There were a couple of six foot reef sharks roaming around, dangerous looking things but interesting to see. The visibility wasn't quite as good as Belize or Bonaire, but it was still a good dive. Grouper Grotto was, as it turned out, full of four foot Tarpon... sometime dozens of them, and they were not afraid to get in your face. I did another dive with the same group Sunday morning with the same format; this time, we did Lost Wall, swimming far enough to see one of the three pinnacles called the "Three Sisters." But visibility wasn't as good as the first wall dive. Second dive was Kelly's Cavern, which didn't have the Tarpon but had a large number of coral canyons and short caves that were a lot of fun to swim through. Here's a collage from all four dives:


Friday afternoon, I did the Mastic trail hike just to do something out of the water. It was a tough hike; out of the sun, but hot and extremely humid. The path was well marked, but it was mostly lava with sharp, jagged edges, tough to walk on even with the thick soled running sneakers I was wearing. On the drive over, I passed a couple of snowy egrets, a parrot with emerald, yellow, turquoise and neon red that was about the size of a bald eagle (well, it seemed big), and a short while later, a weird thing that looked like a cross between a rabbit and a pig (an Agouti, as it turned out), so I had high expectations about seeing all sorts of fascinating wildlife on the hike. The reality, not so much.
| | |
| --- | --- |
| Fortunately, I beat the mad rush for the two parking spaces | This is the biggest hermit crab I've ever seen |
| I did see this cool bird, which I think is a newly discovered species | And this cool butterfly. |
| And this is either the furry butt of a Agouti or a tribble | Another new species I discovered. Or a pigeon. |
Friday night, it was off to George Town, the largest city(?) on the Island, for a Pirate celebration, part of the week long set of "Pirate's Week" activities. I took the shuttle from the resort... parking was supposed to be difficult, and I didn't want to be driving back late anyway. This particular evening was supposed to be street dancing and fireworks. There were a lot of people dressed in pirate outfits, some of which were quite good:
There were street vendors providing authentic Grand Cayman cooking (I say cooking instead of "food" because like many Caribbean islands, Grand Cayman imports almost all of it's food), a bandstand, and a very crowded shorefront road that had been closed off by the police for the evening. They had a kids' pirate costume competition (which was cute) and a multi-island pirate-themed-beauty pageant (which was amateurish) and gigantic speakers all along the waterfront (which were loud). I think the idea with the street dancing was that people would just spontaneously begin moving to the music like one of those stunts they pull in crowded public buildings from time to time, but the street was too jammed and it was too hot. The fireworks were out on the water, and other than a couple of cargo cranes that looked oddly out of place in the rocket's red glare, were pretty spectacular. But afterwards, there wasn't much to do other than get cheap rum and cokes off of the street vendors, so it was kind of a mixed bag.
Saturday
Saturday was the big day; Stingray city in the morning and a wreck dive, the Kittiwake, in the afternoon. Stingray city was fun (although the Pentax Optima snorkeling camera leaked by the seals and is now a brick... plus smoked the SD card and everything on it; fortunately, I've been backing up photos to the laptop every day, so I only lost the Stingray City photos). But the attached photo (which I grabbed off the internet) might as well be one from my camera. The Stingrays swam out to meet the boat, and they rivaled Tasha for being pushy about getting food... they would deliberately bump into you to let you know that they were expecting squid stick treats... right now. One of them mistook my finger for a squid treat, and it was a bit startling to get a stingray hicky as it sucked my finger into it's mouth and tried to gum it to death (they don't have teeth). Afterwards, we did some snorkeling along the outer reef, where a shipwreck provided some entertaining debris along the bottom (fish swimming around in a toilet bowl, that kind of thing).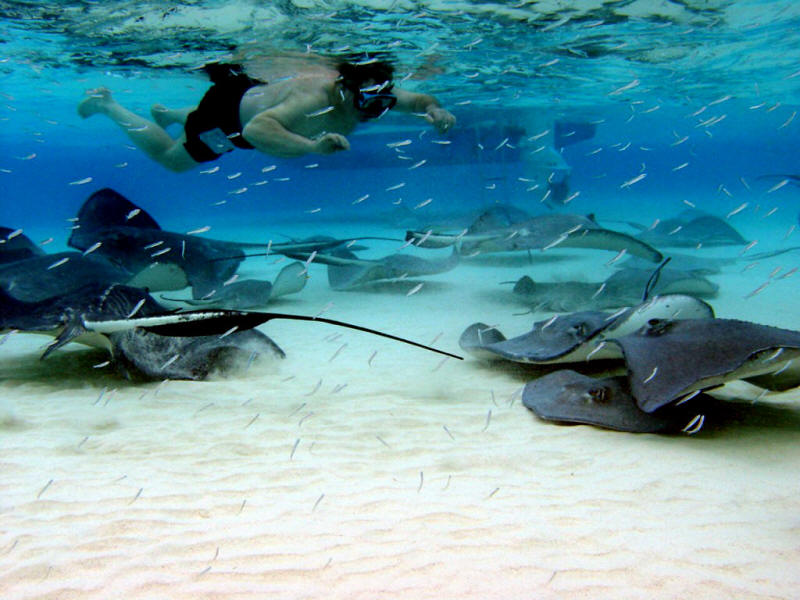 But the Kittiwake was the coolest thing I did. It's a 251 foot long, 42 foot tall US Submarine rescue ship that was sunk as an artificial reef and recreational diving spot, and it was specifically modified to make it fairly safe to enter, so with a dive master that's trained on the ship, you can do a "penetration" ... that is, go inside the ship. I dove with three other people and the dive master (the guy in the photos was one of the three).
Sunday, minus the morning dives I already talked about....
Maybe not quite as cool, but an interesting diversion, was the Queen Victoria II Botanical Park. I went to see the Blue Iguana habitat (despite thinking that it's some kind of trick... Iguanas change color... maybe they were just holding their breath?). It was closed, but there some wandering around the park so I did get a chance to see two of them. But the fun thing was more the vegetation; a variety of tropical plants that really brought home just how diverse our ecosystem really is. Plus, I saw a tree full of wild parrots (I noticed the unending streams of guano dropping out of the tree), and almost stepped a snake. It was only an hour or so, but it was more entertaining than I expected.
And, finally, a spectacular sunrise and...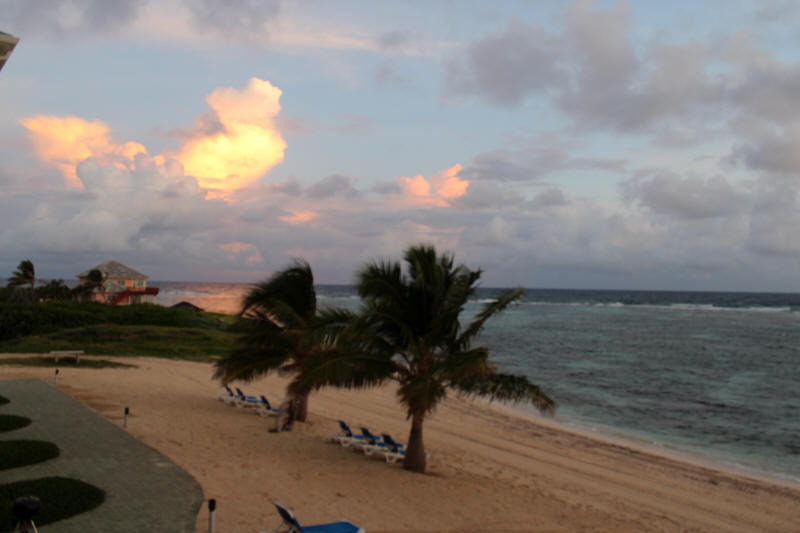 The view from my patio