Abu Dhabi
Dec 22 2013 - Jan 2 2014
see all photos here
;
Requires a username/password: guest/beesknees

The trip started with worst day of travelling ever. I cannot say enough bad things about British Airways. We were delayed out of Boston by a couple of hours for some weather related reason, and missed the connection from Heathrow. We were met by a BA greeter with a sign reading "Abu Dhabi" who had a forced smile and a tired look on her face, a look that said "my job is being nice to all the people who are totally screwed, but I don't get paid enough to make it convincing." She started walking away, not having said a word, not looking back, and apparently not caring whether anyone was following or not. She led us through the airport to a separate area in the terminal where she waved us (again, silently) to a long line of other unhappy BA fliers waiting to rebook their flights. Spent long enough in the line at the BA desk to get to reticketing that we couldn't make the next direct flight to Abu Dhabi, so they booked us throught Qatar on a different airline, saying the weather in Qatar was perfect, no chance of a delay, but forgetting to mention there was a massive storm hitting Heathrow. So we boarded the flight and sat on the runway for two hours because the winds were too high for the plane to take off. Missed the connection in Qatar as a result, but fortunately the other airline (Qatar airline, actually) was super efficient and had already booked us on the 2am flight and literally had less than 10 minutes in the terminal before we were heading to board the flight to Abu Dhabi (can't say enough good things about Qatar airlines, actually; from the elegant rosewood floor and draped entrance area to the remarkably good food to the professional, atttractive uniforms to the premium wine and liquor they served continuously, it was the nicest economy seat I've ever been in). Made it to Abu Dhabi (minus one bag, the one with Will's and my clothes in it, but I had a shirt and underwear in the carry-on just in case) almost exactly 24 hours after we left. It then took BA four days to find and deliver the missing suitcase to Abu Dhabi, and when it arrived, half the suitcase (lucky me, the half with my clothes in it) was soaking wet with ... something. Hopefully water.

We were staying with Bill and Sangok in their 47th floor apartment in Etihad Towers. The view was incredible, including the Emirate's palace hotel across the street and the Royal's palace, under construction. No one really knows what the Royal palace is intended for, apparently partially because of security, partially because things change rather quickly in Abu Dhabi.
| | |
| --- | --- |
| | Left, the Etihad Towers; top right, Emirates Palace. Bottom right, dinner in Bill's apartment; bottom, Royal Palace. |

Etihad Towers was as luxerious on the inside as you would expect, with sweeping staircases and giant sitting areas (decorated with Christmas themes, although don't ask me why Santa is dressed in emerald green), and marble everywhere (or, in one case, an entire wall of polished petrafied wood).

A few comments on Abu Dhabi itself, which I'll kick off by saying that Abu Dhabi is working on openning a branch of the Louvre, and someone I told said "how nouveua rich," which I would have said myself if I hadn't visited myself. I have to give the Emirates a nod on this one. These guys are Muslim, but they don't have the history of Egypt or any of the other older centers of civilization; really, they were nomadic tribesmen up until about 1950, when suddenly they had more money than God. Heritage village, "life before oil money," was a stone hut, a camel, and a small museum with artifacts like clay pots and hand looms. The guy who pulled the UAE together from the original seven tribes did things that were remarkable, like setting up a wealth distribution system that funneled enough money to the population at large that there is no poverty here (well, except for ex-pat laborers from really poor countries, but even that is more "work hard to make ends meet" than "can't put food on the table"). There's basically a huge middle class and a few really, really rich people, and the huge middle class is happy enough that the violence that plagues the middle east doesn't exist here. I left my camera in Bill's car at one point, and I reminded him to lock it, and he just laughed because there's no crime here. Which may seem off the point, but the message is that these guys may have urban planning issues because they are bootstrapping their entire culture into the 20th century, but they do have a vision that includes trying to figure out what to do when the oil money runs out. They're trying to balance traditional Muslim values … which makes for really lousy vacationing, no alcohol, no gambling, no sex… with enough western (and eastern … they are aware that China is becoming more and more of a financial world power) concepts that people will want to visit. It's a long way off, but I'm impressed that they are even trying instead of just driving around in exotic sports cars all day (not that there aren't a lot of exotic sports cars on the street). So borrowing brand names from other cultures to emphasize that it's not your mom and dad's middle-east-culture makes a lot of sense to me. I was really impresesed with everything I saw.

One of the most remarkable things in Abu Dhabi and the rest of the UAE are the buildings, where there's a huge one-upmanship to build ever more remarkable structures. Below, some of the buildings I thought were most striking, but this is just scraping the surface. Some of these are in Dubai, some in Abu Dhabi. Tell me that these aren't some of the coolest places you've ever seen.

And you can't talk about the UAE without talking about the million plus dollar sports cars people are diving around. Just at Etihad towers, there were a couple of Lamborginis, several Ferraris, and a Maclaran F1. Note the license plate on the Maclaran ... Licenses are numbered based on your rank in the Emirate hierarchy, with 1 being the crown prince.
The next day, we visited the

Burj Khalifa building in Dubai (the tallest building in the world); the trip to the top is a little like a Disney ride, long corridors with videos and descriptions of the building and facts and figures about it to keep you busy while you're queued up, but it was probably only 20 minutes or so before we rode the worlds' fastest elevator to the top. Views were spectacular. The drive in to Dubai was in some ways more interesting, however, as you see the results of a mega-city growing up haphazardly overnight created by people with more money than God and as much experience at urban planning as a Dingo. No slums, just big squares of crazy-architected buildings mixed in with giant industrial parts spewing think black smoke, a gorgeously designed light rail system with way stations that are works of art with huge raw girder monstrosities carrying power lines hither and yon past it, freeways and roads with odd turnoffs and merges with no markings, some of which go for a few hundred feet and then just stop. Awesomely crazy.

Beneath the

Burj Khalifa is a huge mall with an aquarium in the center and a large open area with a multiple-city-block sized pool with views of downtown Dubai.

After that we went nowhere. More specifically, took the bridge to nowhere. The Emirates built Hodariyat island to protect the existing coastland from erosion and other water damage from Persian gulf waves; it's a giant sand wasteland about the size of Rhode Island. And they built a eight lane suspension bridge to get over to it. But there's nothing there; the bridge just ends on the other side in dirt (with a warning sign that you can't be doing more than 60 KPH when you go off the road). Long walk going to the other side and back but it was good, eerie fun, like the group of people wandering around asking "where is everyone?" just before the massive horde of zombies begins to rise from the apparently barren dirt. It featured spectacular views of the Abu Dhabi coastline. Bill, Will and I went the first time, but Bill and I returned with Brie, who wanted to hunt for sea shells along the coast of Hodariyat, where they mingled in abundance with flotasm and broken pieces of concrete.

Below, a shot of the Hodariyat bridge from Etihad towers, then a more wide angle shot showing the north half of Hodariyat island. Below that, various shots of the bridge and island from our two visits there.



We went to the beach the next day, which was an odd sort of beach. Bill wanted to bring his dog, so we didn't go to the public beach (which looks somewhere between a new England beach and a Caribbean beach; water isn't quite that radioactive turquoise of the Caribbean but it's a lot less dark that the inky Atlantic). We went to … well, I guess it's part of the desert they haven't recovered yet that's on a shipping straight. It was sandy with some rocks but not groomed the way normal beaches seem to be (either because they were picked for a certain esthetic appeal or because countless beachgoers homogenize it). But the really strange thing was that it was shallow for a long way out… we probably went 100 to 200 yards out and it was still knee deep, barely touching my swim trunks. And then there was the dropoff to the channel, so it went almost instantly to 15 feet. But the water was colder than I expected (and Bill said that it was the coldest he'd ever seen it), maybe 60 degrees, cold enough that it felt freezing until you've acclimated. So Will and I declined to go swim in the channel, which Bill said was sandy on the bottom. But it was pleasant enough to wander the shallows and look for shells and study the sparse mangrove bushes growing out of the water and the like. And just before we left, I told Bill it was too bad there was nothing to see because I had my prescription mask with me, and he told Will and I that the sides of the channel were actually pretty cool because they'd had to dig through bedrock and you could see 3000 years of different sediment and enough shell fossils that you could find them everywhere. So Will and I went back out with Bill (who didn't jump in because he had no mask) and dealt with the shockingly cold immersion process and swam down, and of course, saw absolutely nothing but sand because the bedrock here is fifty to a hundred feet down, not 15, which I should have remembered. Bill was very pleased with himself.
We went to the Mubadala $250,000 winner-takes-all tennis semi finals and finals; semi finals featurning Nadal vs Ferrer and Jokovic vs. Tsonga. Nadal was the favorite (#1 in the world) and Brie was excited about being close enough to really check out his butt, but (pun intended) in a suprise upset, Ferrer won, with Nadal just not showing his typical get-up-and-go.
Djokovic beat Tsonga handilly, and he and Ferrer were pretty serious in the finals, given second place = nada. The first match went 7-5 for Djokovic … first set in the entire two days that didn't go to a tie break, but some of the best points we saw the entire time. Second set was good up to mid-match; Djokovic broke Ferrer first game, but it was close, won his game, but it was close…. Then Ferrer went from 40-0 to losing the third set and played angry after that, never a winning strategy.

The loudest sound in the two days of tennis was when Nadal was warming up and put a 180 KPH practice serve right into the crotch of one of the young kids that chase the balls and get them off the court during the game… giving the term "ball boy" a whole new meaning. Simultaneous sympathetic groans from every person in the stadium, but Rafa ran over and helped him off the court and he seemed OK and has a great story that I doubt he will ever tell anyone.


Tennis arena at Zayed Sports City
Below, from top left clockwise, Nadal, Ferrer, Tsonga, Jokovic (doing the Jokovic Lunge)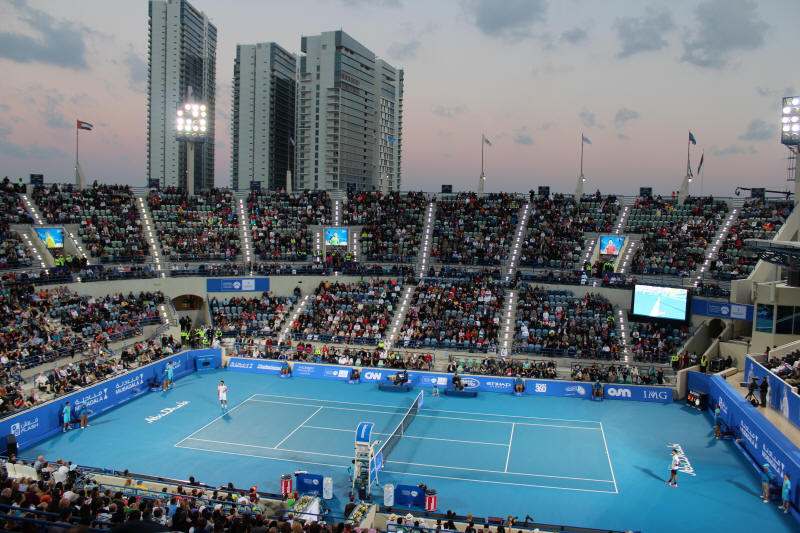 The next day was "dune bashing," which really was a combination of real dune bashing (high speed four wheeling over sand dunes in Land Rovers) and introduction to the original nomadic Emirate life, camels and falcons and houkahs and skiing down dunes on sandboards. Well, the first three at least.

The first couple of times we went over the top of a dune, sliding down the other side with the Land Rover leaning at what felt like a 30 or 40 degree angle I was really wondering if we were going to roll over. But it was a fun day and a little fear factor makes it a lot more memorable.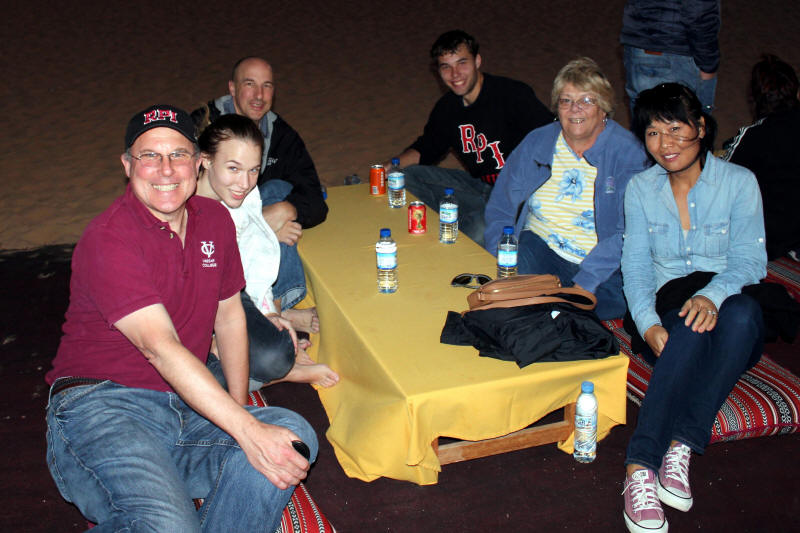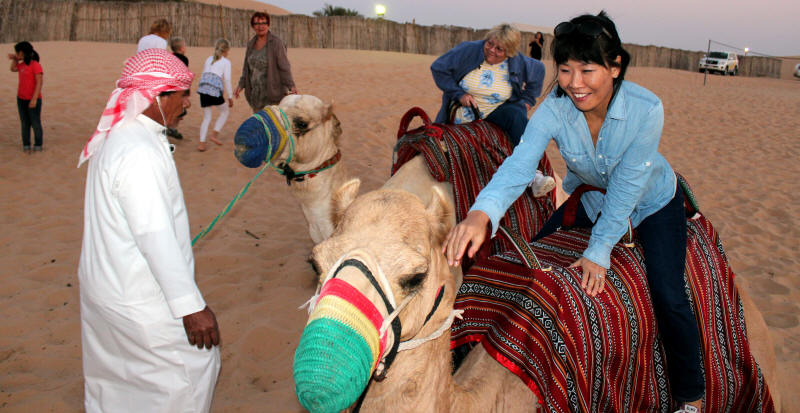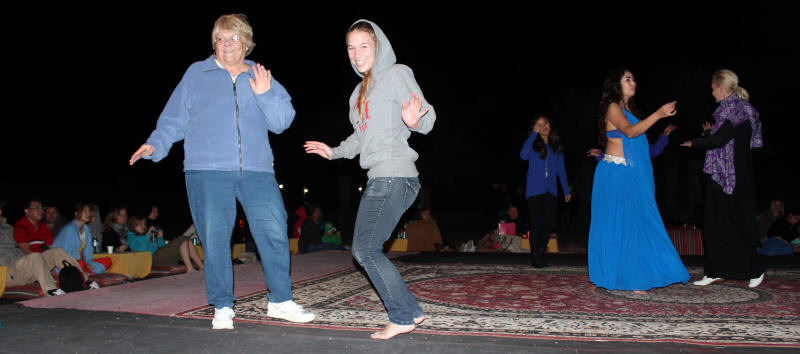 The next day we did the Abu Dhabi Falcon Hospital, the largest facility of it's kind in the world. It was actually very cool, with over fourty falcons of three different breeds that you could interact with. Will had the opportunity to feed one raw chicken, fascinating in a horrid sort of way.
Then we visited the Grand Mosque. The Mosque is one of the most visually stunning buildings I've ever seen. It's different from the Vatican; more homogeneous, which gives it visual appeal but doesn't give you that sense of the weight of history the Vatican does, but it's comparable in overall impact. Plus it's no where near as crowded as the Vatican, and you have plenty of photo opportunities without dozens of other people in the shot. The Mosque itself is clearly built to be the biggest … everything. Largest carpet in the world. Heaviest Chandelier in the world (and most crystals and a few other "mosts"). Largest single-piece dome in the world. Etc. etc. In some ways, it's almost too homogeneous, but no matter how you look at it, it's pretty impressive. Sheikh Zayed's burial site on the side of the Mosque, on the other hand, seems like a reflection of the man; simple and tasteful. The dress code for women is much stricter than for men, but you can get a abaya for the duration of the visit (and men can get a kandura and gutrah ... which I would have done out of respect if things had been set up a little differently, but the women's changing area and men's changing area are at different entrances and we didn't want to split up, not knowing the layout of the Mosque).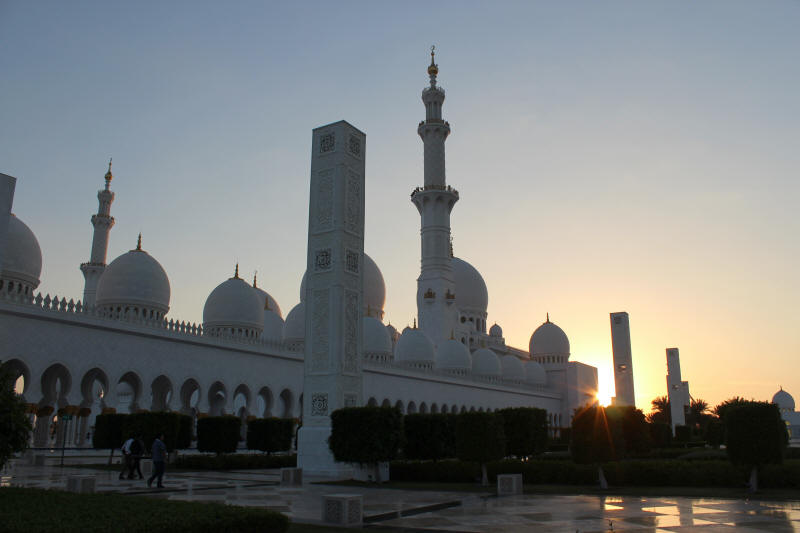 The next day, new year's eve, we went to Ferrari world, an amusement park. I like Disney Land and Universal Studios. I'm ok with Magic Mountain / Knotts Berry farm. Other than a sensible desire to avoid anything that spins in more than one dimension at the same time, I'm good with most rides. But the entire Ferrarri world started off on the wrong foot when they announced they were closing the ride entrance to the big rollercoster so when the current queue cleared they could do routine track maintenance (during open hours?), then shut it down when only half the line (not including us) had gone. Went from a 45 minute wait for a five minute ride to a 2 hour wait. Admittedly, the roller coaster was a rush; accelerating from 0 to 150 MPH in 5 seconds is mind blowing. But then we had hour waits for two other rides that weren't that good.
Then it was new year's eve, and fireworks were being set up at the Emirate's Palace across the way. At midnight, we were looking down on the spectacular show and drinking champagne with as good a view as you could possibly get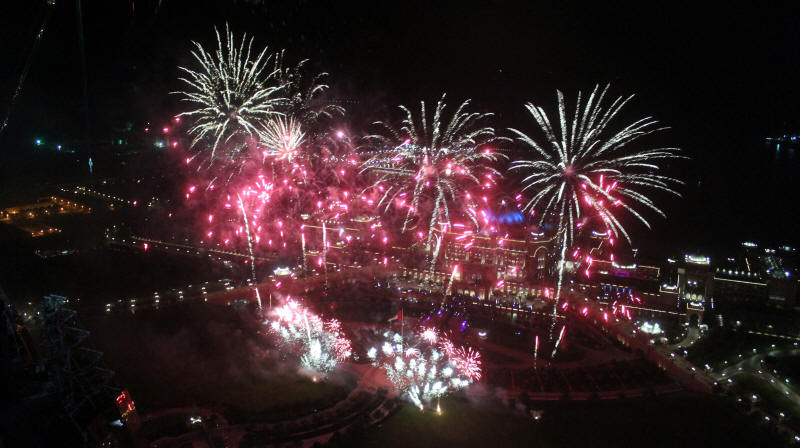 New year's day, we visited the Emirate's Palace, which is the only hotel I've even seen that has a gold bullion dispencing ATM in the lobby and thousands of items of art in displays along all the hallways that range from antiquities from before Christ to Faberge Eggs.
That night, we ate our final meal in the Rosewater Restaurant in Etihad towers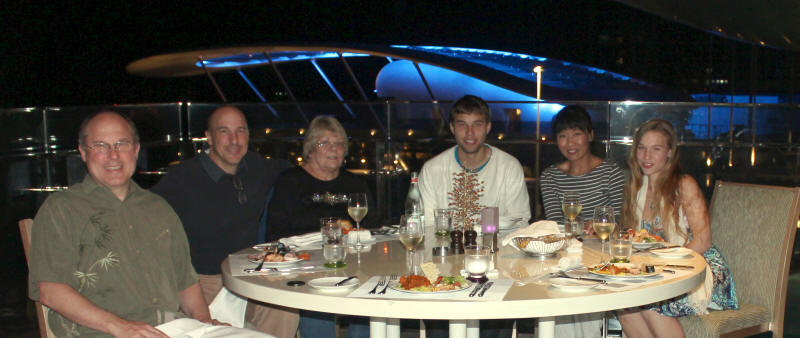 And, finishing out, I have to mention Jack and Gorgy, Bill and Sangoks pets, who kept us amused the entire visit, the crazy traffic laws that make overtaking someone in a truck twice as bad as Vehicular Homicide, and the glorious sunrise view from the exercise room I used many mornings.