Kate died 2 AM Saturday morning on September 29, 2012. Even though she was slipping away, it was still unbelievable how fast it happened. Friday morning, she was a little confused, but no more so than she had been the prior week. She had breakfast, chatted a bit. By noon time, she would respond if you said her name, but only to say yes, not to answer any questions. By dinner time, she was showing all the signs of a body shutting down and was unresponsive to anything but touch. Weird things go through your head at that point. All I could think about was that the Radiation Oncologist had said she had four to six weeks to live exactly four weeks to the day before. At 2 in the morning, with Patric at the end of the bed near her feet and me lying beside her, she stopped breathing.
It really had started two months earlier with an unexpected seizure just before we were heading out to California to spread the ashes of Kate's father at Catalina Island and visit with her family. Kate seemed pretty dazed and, unlike her prior seizure, didn't bounce back from it. I was on the verge of cancelling the trip; Kate said, in typical fashion, she'd rather die than not go. So we did.
Kate wanted the fastest, easiest way to Catalina for the four of us (her, myself, Brie and her sister Anne; Will was in Acton working and taking care of the dogs). So we rented a helicopter and flew from San Pedro to Avalon in about 15 minutes, flying over the same path Kate's family would take in their sailboat but making the trip about 30 times faster. We took a full tour of the Island. Kate was constrained to a wheelchair most of the time, but there weren't that many places you needed to walk. The interior of Catalina was dry and desert like and sported a variety of animals; a fox, raven, and squirrel that were unique to Catalina, and Bison, who had flourished after they had been moved there for filming a movie and then left to fend for themselves. Near the end of the tour, we visited the area that Kate's family had moored in every year when she was younger and scattered Hap's ashes in one of the two coves, called Shark Harbor. Then we drove back to Avalon, had icecream, and took the helicopter back.
| | |
| --- | --- |
| | |
| | |
| Shark harbor on the left of the "whale tail," Little Harbor on the right | Brie and Anne head for a secluded spot to scatter Hap's ashes |
And there was family. Liz Stuart came up with her daughters Caroline and Emily, along with Lisa and Bruce, Matthew, Cindy and Lulu, Anne and Nick. The girls took advantage of the pool; Bill took advantage of his beer. Brie took advantage of being 21 and drank a fruity-little-drink-'cause-she-can't-shoot-whiskey. Kate had to nap a lot and was unsteady on her feet, but enjoyed seeing everyone.
We flew back after a week, but Kate wasn't improving, leading to a middle of the night MRI Wednesday. Friday, the Radiation Oncologist, a very capable women named Dr. McKee who had supervised many of the stereotactic sessions on Kate, gave us the news that there were five new tumors in Kate's brain, and that radiation was no longer an option given the number of sessions Kate had already endured. McKee started weeping when she said that we had a four to six week timeline, which I have to believe is unusual given how many times she must give people that news, and was a indication of how brave Kate had been the entire time and how much McKee thought of her. We had, just a few weeks earlier, been talking about a year or two before anything seriously bad would occur with the head Oncologist, so it was a shock. But that's cancer, a disease that is different for each person and is impossible to predict. Kate took it stoically, and that four weeks gave us a little time to prepare. I threw a surprise birthday party for her on September 2nd, inviting over her DBH tennis friends.
Her family and her cousin Liz, who had been close enough to be a third sister, flew out to visit. Many of her friends stopped by as well, including Wendy Carpenter, Lori Dyre, Chester Li and his children Sabina and Cadin, the Friedman's, Sheryl Fox, Alyssa Held, and Debbie Clough (who stopped over many times, and actually sat with Kate that Friday night to allow Brie, Will and I to have dinner together). Many others brought over food, flowers, and other things to help out. And the minister of Kate's church, Barbara Aiello, stopped by several times as well and established a real bond with Kate even in the short time she had left. And the dogs... Patric in particular... where constant companions.

And then she died, brave until the end. We did a memorial service in Acton on Friday, October 5th. There were well over 150 people from all walks of life. Rensselaer Polytechnic Institute (RPI) rented a tour bus and drove the entire Women's and Men's tennis team down for the service. Kate's Uncle Tom and his wife Elizabeth drove from Minnesota to attend and stayed with us for a few days, which was a real pleasure. My brother Bill and his wife flew in from Abu Dabi, half way around the world. People from work, our neighbors, both sides of my family, and friends of the kids joined those more directly connected with Kate to celebrate her life. We had a slide show, and at Barbara Aiello's suggestion, artifacts from Kate's life, from a few pieces of Katydid's jewelry to some of the shells we had collected at Turks and Caicos islands at the reception.

After the service, family and some friends of Andy, Will and Brie came over to the house to drink and chat for a few hours. We had Saturday to pack, and Sunday, we headed for the airport to fly to CA for the memorial service there, at the church Kate went to as a child, where we were married, where we had our children baptized, and where Kate's mom and stepdad are still very active members.
The service in California was slightly smaller, just short of 100 people, but it included many people from her High School and University days (including Valerie Faris, Renee and Andria Portenier, Lori Ann Badurek Fitch, Janice Johnson, Mark Leamy, and Carolyn Carpentar) with their own stories to tell, along with friends and neighbors from when we lived in Altadena and worked at the Jet Propulsion Laboratory. Afterward the service and reception, we retreated to Janet and Bill Garber's with a smaller group of people, ending the day at Paco's Taco's.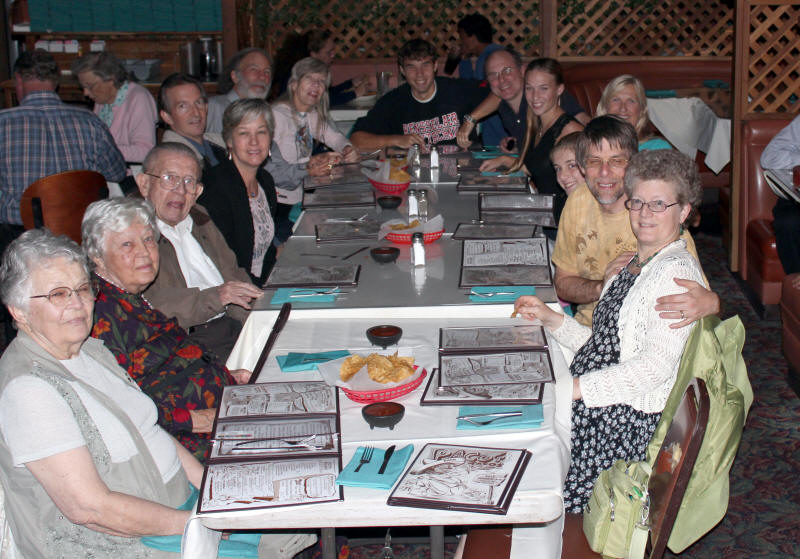 Wednesday the kids and I headed for Catalina island. Kate wanted her ashes spread in Little Harbor near her father's. I wanted to do something to make it more memorable for the kids and decided to camp at Little Harbor campground overnight, despite a rainy, stormy weather forecast. Everyone else was going to join us Thursday for the event. We headed over on the Catalina Express (the size of the camping gear ruled out the helicopter this trip) going ashore at Two Harbors, so named because it's the thinnest part of the island and there are harbors on the LA basin side and on the Pacific side.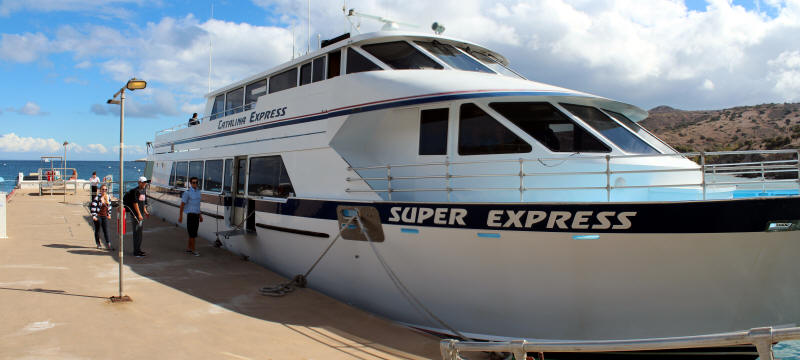 | | |
| --- | --- |
| We climbed out on the rocks to find the spot we would release the ashes the next day. The water at Little Harbor was almost Caribbean blue. I thought it was fitting that there was a small family sailboat moored in the harbor. | The Pacific Ocean side was azure blue once we climbed out past the breakwater. Looking back, the campground was a little oasis in the otherwise rather dry and arid countryside. There was no electricity or water, and I don't know how they kept the grass alive, but it made a pleasant camp. |
That night, we set up the tent, cooked dinner over an open flame, had a huge bonfire... perhaps a little too big... and talked about Kate and life. And it was all topped off by a spectacular sunset.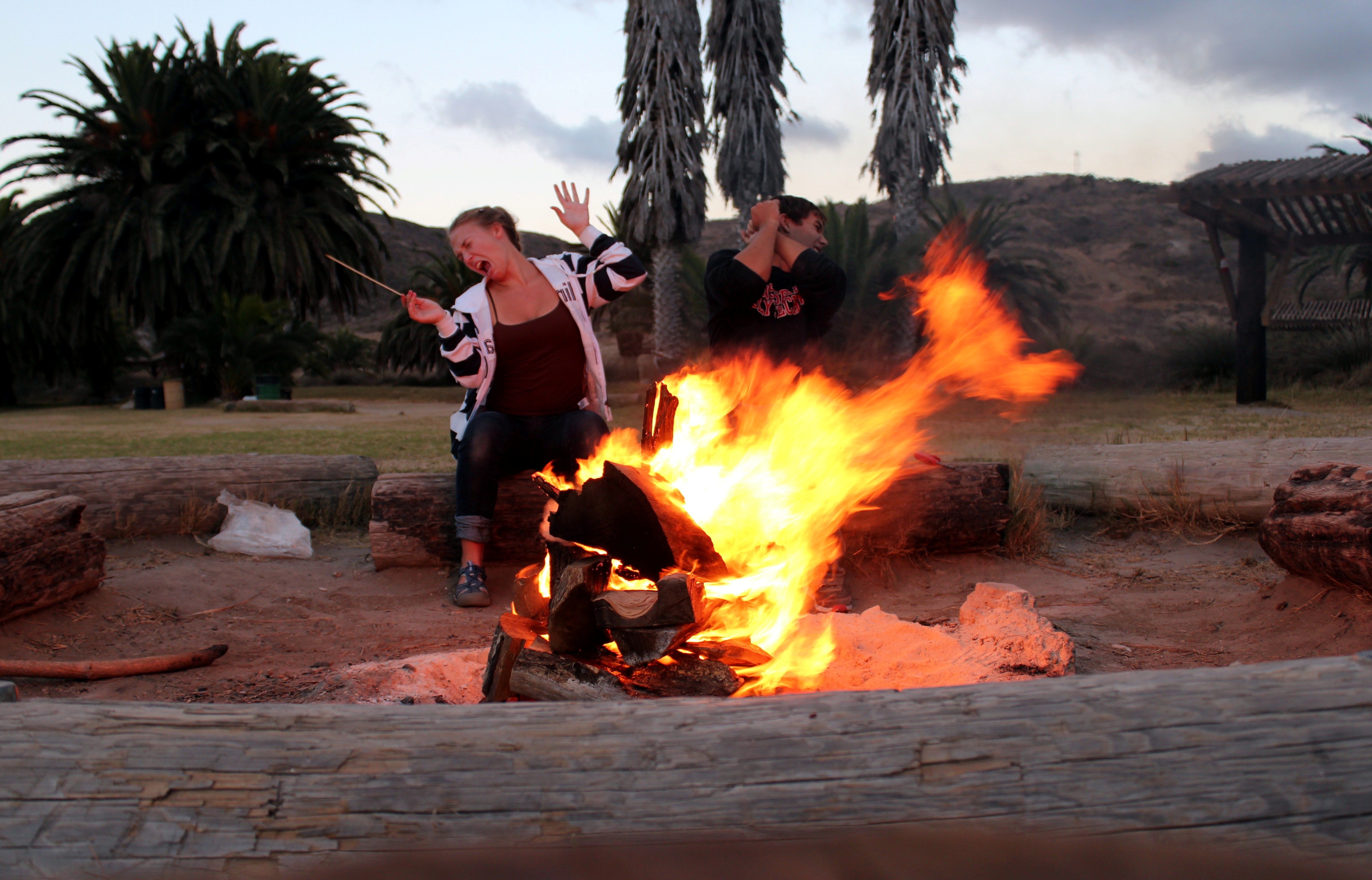 It did rain, but only for a few hours in the early morning, and we did get midnight visits by what the kids were sure was a Bison and a fox (or groups of them), but by the time we exited the tent a glorious day was already underway and no nearby lurking animals we could see. Brie and I went for a swim in Shark Harbor (less kelp), we broke camp, and just about the time we were finishing, everyone else arrived. We went down to the waterside (except for Janet's sister Doris, who didn't feel up to it). There was a new ship moored outside the harbor, adding to the beauty of the surroundings. I released Kate's ashes into the water and there was a long quiet period of reflection. Then we all headed back to Avalon, had lunch and did some shopping, and took the boat back to San Pedro. On the trip back, we saw the most glorious rainbow I've ever seen in California.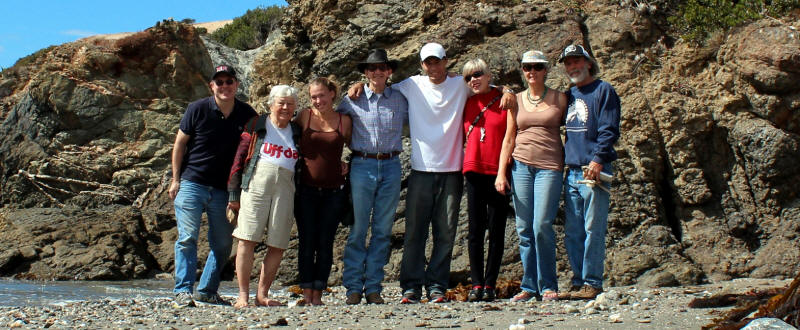 And some photos from one of Kate's childhood trips to Little/Shark Harbor with her family on the family Sailboat with the following commentary from Anne: "The boat in the pictures is actually our Thunderbird named T-Boo and our old Sabot for a dingy. I love that pic of Katie jumping off. T-Boo was a very pretty boat with teak trim and a wooden mast, but was about 5 feet too short when we got bigger and was finished from a Japanese kit. (A number of the Windjammer Yacht Club members ordered kits - and the families built them together in a space - I think at King Harbor.) T-Boo is the boat where Katie eventually asked mom "what are dammit places?" Mom kept hitting her head and saying the inevitable "dammit" and Katie couldn't stand it any longer and had to ask.
| | |
| --- | --- |
| Little Harbor | Shark Harbor |
| | |
| | |
We did a couple more things in California; I visited some of my old RPI/JPL friends on Friday, and Saturday we had lunch at the LA Farmer's Market on Fairfax Ave. with Janet, Lisa, Bruce, Anne and Nick, and then visited the Pederson Auto Museum (which was amazing). Then we flew home. You can see a link to her memorial page here... and if you want to add something, please send it to me and I'll be happy to include it.

Rest in peace, sweetie. I miss you.
http://www.caringbridge.org/visit/kdickie