The Celebrity Equinox is a big ship. Think "visible from space with the naked eye" big. Think "signposts with distance and direction to Rome, Athens, and the dinning room" big. Think "don't forget that cabin is in a different time zone" big. Think "after walking past the helicopter landing area, the basketball court, the health center, the spa, the aquaclass pool, the pool restaurant, and the two outside pools, you're almost half way down the length of the boat" big.

There are 15 numbered decks... well, 14, actually, because there is no deck 13. But there are decks above deck 15, they just can't be reached by elevator and aren't numbered, having names like "Kilimanjaro," with little boxes containing oxygen tanks you needed to wear if you want to climb the stairs and big signs with "beware of low flying aircraft" in reflective yellow paint. And, actually, maybe there are only 13 decks, because the elevators and stairs all ended on deck 2, making deck 1 the sort of place you can only get to in horror movies, like maybe the ship is powered by zombie rowers hidden one level down.

But, hey, we didn't even get to all the places to visit on the regular decks. The point is, the ship is big.




The Celebrity Equinox in Mykonos, Greece
| | |
| --- | --- |
| The outdoor pools aka "commoner's pools," which we didn't use since we had the "Aquaclass" pool. | The lawn on deck 15. Yes, it is real grass. Yes, they do have Croquet matches there. There's a bar on the back side, which we didn't use, preferring the smoking-free "Oceanview Cafe" bar one deck lower down. |
| | |
| --- | --- |
| The Coffee and Tea lounge, specializing in ... well, coffee and tea. This is next to the Gelato bar and the Crepe restaurant. | Kate on the back deck of the "Oceanview Cafe" were we liked to sit when the ship was pulling out. |

There were dozens of shops, seven or eight different restaurants, an equal number of bars and lounges, dance floors, theaters, sports clubs, fitness rooms, beauty salons, "aromatherapy" rooms, acupuncture rooms, three pools, Jacuzzis, the "lawn club" with real grass, libraries, internet access rooms, card and game rooms, a glass blowing studio ... well, the list goes on. A lot of stuff.

The staff was warm and helpful and very good at selling you stuff you didn't need. The spa attendants were all young women with dazzling white smiles, flat canvas shoes, while pants, blue blazers, and hair done up in a bun, making them seem like some kind of para-military cheerleading squad. Except for the acupuncturist, who was a serious, expressionless young oriental women in a white lab coat, who explained in flat, even tones how acupuncture could balance the body's chi, or energy, and help with almost any medical condition. As she held up one of the acupuncture needles for us to examine, she said calmly "the key to acupuncture...", then snapped her fingers, sending the needle flying across the room to pin a fly to the opposite wall and continuing without inflection, "is precision."

Well, OK, she didn't nail a fly to the wall, but you felt like she probably could have.

We had massages and teeth whitening, and Kate had manicures and pedicures and acupuncture sessions almost every day... the acupuncture was too scary for me, and I haven't even seen "Final Destination 5."

We ate most evenings in "Blu," one of the ship's specialty restaurants, and the one we could get into for free as "Aquaclass" passengers. The menu changed every day, the food was always good, the service was excellent, we almost always ended up at the floor-to-ceiling windows looking out over the ocean, and they had a few things that were always available, including the critically important creme brulee. We never ate in the main dinning room, which looked nice but was enormous and had shared tables, and only occasionally at the other specialty places, where were no better than Blu and required paying extra.

Our cabin was small but serviceable, and they left chocolates on the pillows each evening. We had a balcony but ended up not using it much, because our neighbors liked to have visitors come over and hang out on their balcony, with loud conversations about things they clearly thought were hysterical or fascinating but usually centered around the weather or how hairy someone's big toe was getting.

The two nights we didn't pull into a port were black tie nights; you had to wear a tux or a suit. I bought a tux for the trip, and those nights are probably the only two times I'll ever wear it. And it seems kind of silly, but so did the Senior Prom until you got there, and everyone is dressed to the hilt; then it feels like you are all part of a more glamorous, interesting life. I avoided saying "the name is Bond. James Bond," which I consider a win.

| | | |
| --- | --- | --- |
| Dinner in "Blu" | Our Cabin | The Celebrity Equinox from the stern |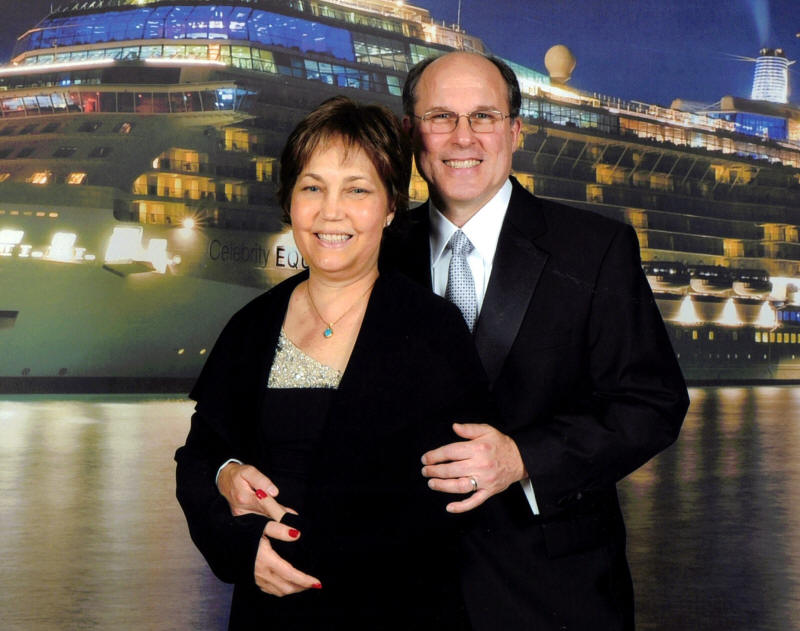 Black Tie Night
And that's all I have to say about the ship.

Turkey
Our first stop after Athens was Turkey; we ported in Kuşadas, which I think roughly translates as "the place birds poop" or something like that. We had a tour guide who told us something about an island with a lot of birds on it, at least, along with a lot of other facts that seemed interesting while he was telling them and which, of course, I couldn't remember five minutes later.

Turkey was a very pleasant surprise. No camels, no turbans, no flute playing snake charmers with cobras rising out of woven straw baskets, no bazaars selling oil lamps. Just a fairly modern city, a well educated populace (Turkey has mandatory education through high school), and, of course, the ever-present McDonalds. We spent a little time there later in the day, but early in the morning we were on a tour bus (#29) headed into the interior of Turkey.
| | |
| --- | --- |
| The island with the causeway just above the second ship is the famous bird island that gives Kuşadas it's name. But there are no birds there anymore. | Downtown LA? You'd think so. But no, that's McDonalds with the famous "Big MaKabob" |
Our first stop was the house of the Virgin Mary. That's not a alcohol free bar in a Muslim country, that's the purported actual final home and resting place of the mother of Jesus. Supposedly, there's some dying nun in Germany that said she had a vision where Saint John built a house in Turkey within three and half hours of Ephesus (there were five different cities named Ephesus at different points in time, but given the three and half hours could have been "walking" or "on the flying saucer", it probably doesn't matter). With rectangular brick walls (because rectangular bricks are so unusual) and a fireplace. In the mountains. And someone found this old
| | |
| --- | --- |
| | house and the Pope visited it... I'm not sure he said anything, just visiting appears to be enough for the Pope-ly seal of authenticity... and there you go, it's a tourist site. One of the tour directors on the ship said, with heartwarming sincerity, that the spiritual energy surround the house was amazing. The tour guide told us how a raging forest fire burned it's way all the way to the house, then just went out, a miracle. We were given small red clay water bottles to fill from the faucets coming out of the stone wall beneath the house. Holy water from a spigot; it doesn't get any more convenient than that. I asked the tour guide if we were going to see spiritual energy raise people into the air, like the Rapture. He said no, but occasionally you'd see some wise ass get a divinely inspired stick upside the head. I decided to keep my opinions to myself. |
The next stop was Ephesus (pronounced "Ephesus"). Or, more specifically, the ruins of Ephesus four, Ephesus five being the current and still occupied final city of Ephesus. We never did find out much about Ephesus one through three. We'd passed Ephesus four (which I'll shorten to Ephesus from now on) on the way up the mountain to the VM house, a short glimpse of a dry, dusty open area behind a chain link fence with a few piles of rubble visible through the links. The bus dropped us off on the opposite side of the road, and despite the bright blue sky and warm golden sun, we trudged gloomily through the turnstiles leading through the fence, ready for another "why did we spend money on this" kind of moment.

Ephesus was amazing.

It started slow, with the tour guide making stuff up about the piles of bricks and shards of marble lying around ("This was a graveyard they converted to a bowling alley; over here, you see the remains of the famous aqueduct water park..."). But not too far in, you started to see more interesting things; an amphitheater, the remains of a temple with partially reconstructed statues of the gods, an archway where they were painstakingly rebuilding the walls around it. And a mix of cultures, Greek gods mixed in with Roman script, Christian symbols, different building styles and materials. And it went on, and on, and on. And, as it turns out, only about 15% of the ruins have actually been excavated at this point.

Above, an amphitheater at the beginning of the tour; below, one of many areas that are closed off because they have just started reconstructing it


Below, you see another one of the hundreds of columned streets that made up Ephesus. This one lead to the harbor, which is five miles inland today. Silt filled the area, bring not only economic ruin, but mosquitos and disease as well, leading to the city being abandoned. It used to be the fourth largest city in the world in it's day, and was the site of the Temple Of Artemis, one of the seven ancient wonders of the world (which means, like the Colossus, that there's an empty field that someone thinks something that was described by someone else as "pretty freakin' spectacular" two thousand years ago once stood, probably because of a vision by a dying nun in Germany).

Well, I could go on, but it was one of the best tours we went on, and an absolutely fascinating glimpse into the life of people who had bathrooms with running water before Christ was born (really). Below, from upper left, clockwise, some of the tile work that stretched for miles along the main road, me in front of the largest amphitheater in the world at the time (seating 44,000 people), the Temple of Adrian, and the Library of Celsus.
We finished the tour with Turkish lunch at a luxury hotel (which apparently runs about $85 a night), a demonstration of Turkish rug making, and buying a beautiful but ridiculously expensive rug that now adorns our family room. Apparently they split the buses up among the different merchants, because our bus was the only one that stopped at Barok rugs and jewelry, but there were still thirty or so people in the room. Which lead me to wonder why everyone else was ushered out for the walk back to the ship while Kate and I were taken by the owner to a private showroom. Where we had three other guys running around bringing rugs of every different size, shape, and material know to Turkish rug weavers to show us. It was like the scene from "Pretty Woman" where Richard Gere tells the sales person he's going to spend an obscene amount of money, so he was looking for some serious sucking up. Except the sales guy didn't tell me how handsome and powerful I looked (big mistake). And I hadn't said anything about spending an obscene amount of money. Then I noticed how, every time the owner looked at Kate's jewelry, there was a little "Ka-ching" sound.

Damn.

But, all things considered, they were polite, the deal didn't have any nickel and diming over shipping, or taxes, or anything like that, and it is a pretty spectacular rug and reminder of the trip. Here is a link to other photos of Turkey.
Capri
Naples was our last stop before returning to Rome for the flight out, but we decided to take a tour of the nearby island of Capri instead. Capri is unusual in that it's a limestone island, which makes for spectacular white cliffs and wildly improbably geography. Unfortunately, the 80-85 degree weather we'd been enjoying for the entire cruise suddenly plummeted to 50, and a wind that was just short of gale force, amplified by the narrow, deep streets, made it uncomfortably cold. Capri has a lot of history ... it was once the seat of the Roman Empire... but, mostly, it's just picturesque, and has the distinction of having the densest collection of high-priced shops on earth, along the with most insane drivers, making for an interesting intersection of high fashion and the need for practical shoes so you can jump out of the way of speeding vehicles. Hence the famous "Capri Sandal." Below, a few shots of Capri, but here's a link to all the Capri Photos.
| | |
| --- | --- |
| This probably doesn't look that exciting until you realize there's less than two inches between these buses, we're travelling at 60 Kilometers Per Hour, and there's a 2000 foot cliff to our other side. | Some of the limestone cliffs of Capri |
| Some of the very-vertical architecture of Capri | Bundled up against the cold |
Below, some of fantastic Capri coastline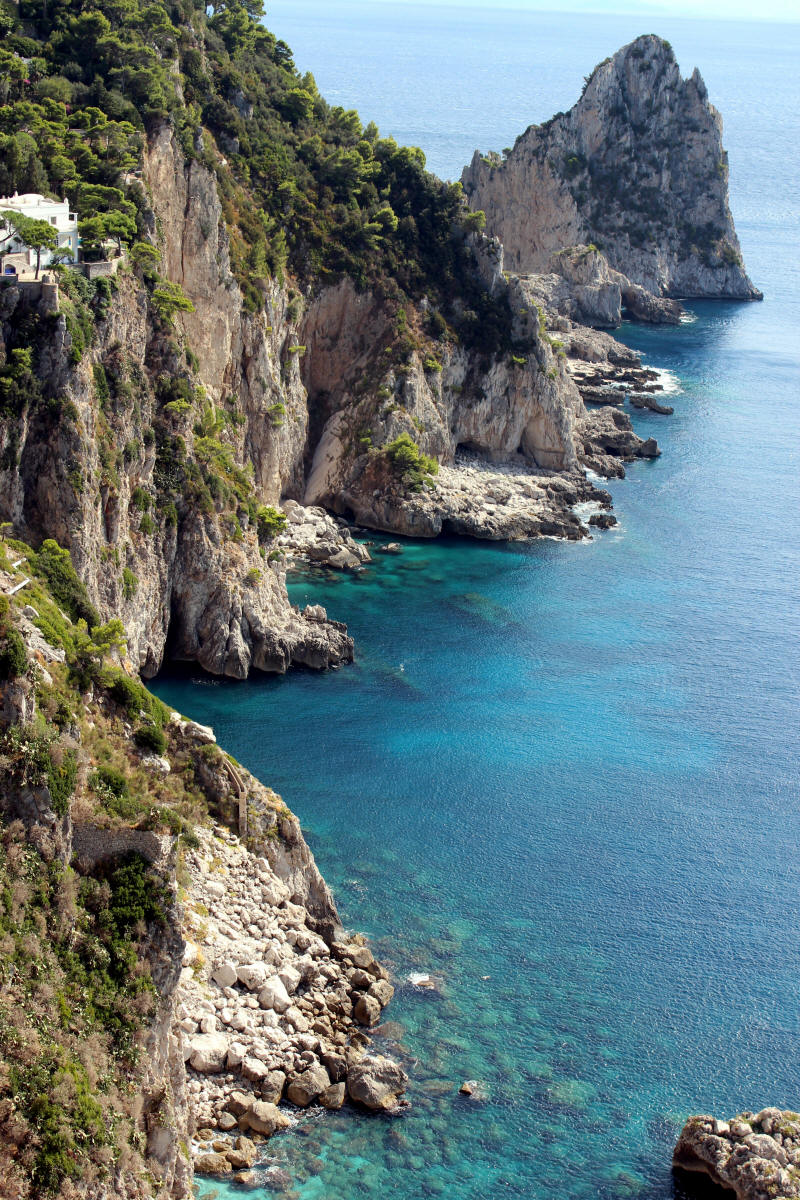 Finale
After flying out of Rome, we did spend a day in London, but the cold weather that hit in Capri remained with us, and other that a short walk to Buckingham palace, we really didn't do much there (although here is a link to the London photos). We flew back to the states on October 11th and resumed our normal activities the next day.

If you missed the prior sections of "European Vacation" you can find section one here and section two here.

And here are a couple of shots of some of sunsets we saw off the back of the Equinox: