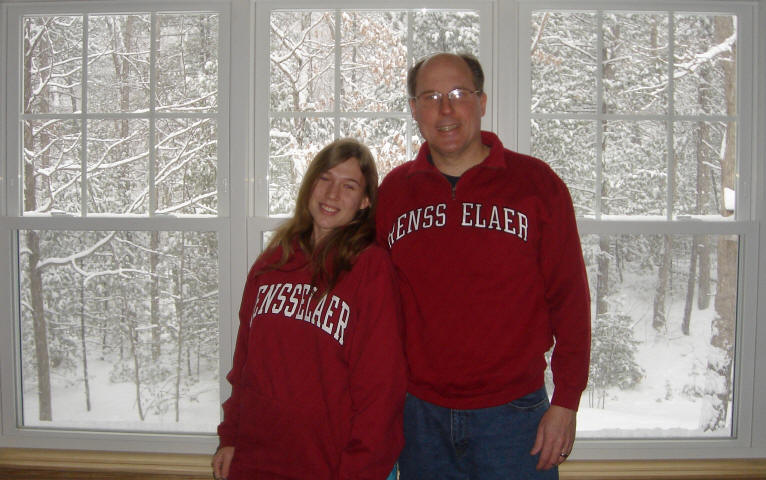 Still celebrating Brie's acceptance into RPI
| | | |
| --- | --- | --- |
| Visiting Gram | Brie with a new haircut | Tasha with a party hat |

Will wins the Level 7, 16 year old tennis match in Nashua, NH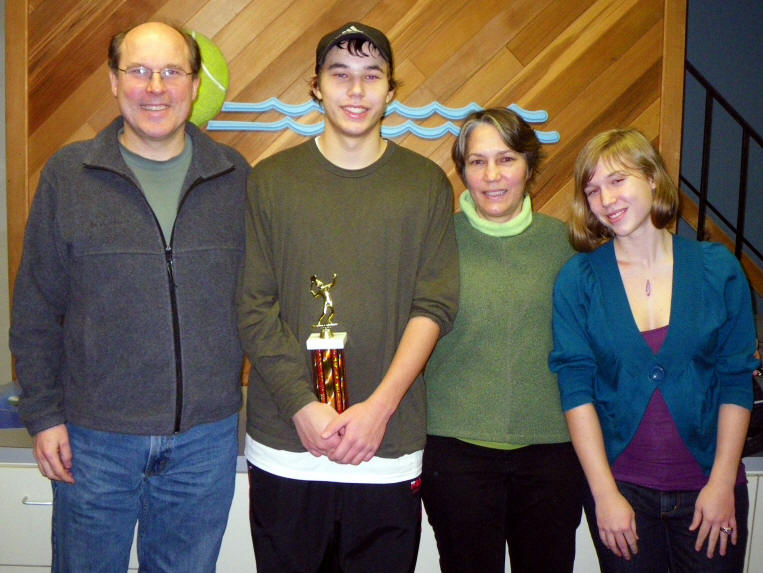 BELIZE
Saturday, Feb 14th, 2009. Out of bed at 3 AM, getting ready for the 6:50 flight to Miami. Visions of past vacation holiday travel disasters danced in our heads. This time, all we had to deal with was a few inconvenient connecting flights. We decided to pay for a one-day "Admirals" club membership in order to pass the time during our three-hour Miami layover a little more comfortably.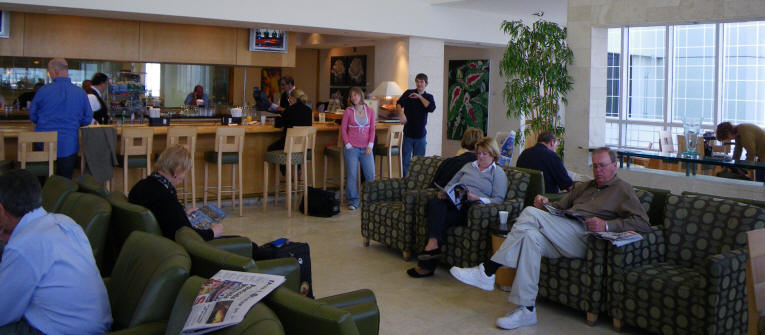 Hanging out in the Admiral's club
We hit Belize City just in time to miss the 3:30 puddle jumper to Placencia, and had to wait for the 4:45. At 4:43, beginning to wonder if it was going to fly at all... but that's just Belize.
| | |
| --- | --- |
| Deplaning in Belize City | In the Belize International Airport |
We boarded a Cessna Caravan a few minutes later and were off the ground moments after that. We stopped in Dangriga, landing on a dirt airstrip, and then we were off again. When flying over Belize, you get the sense that the place is sparsely populated. As in, no roads, no buildings, no people, just rain forest, low brush, and wetlands as far as the eye could see (which, from the air, is pretty far). The only major man-made objects we saw from a few miles out from Belize City until just before Dangriga were huge square pools of water; Kate was guessing sewage treatment, but for who? Turned out they were shrimp farms.
| | |
| --- | --- |
| On the puddle jumper to Placencia | Landing on the dirt strip in Dangriga |
| | |
| --- | --- |
| Flying over a whole lot of nothing | Who knew you could grow shrimp? |
| | |
| --- | --- |
| Top left, Palencia Penissula from the air; top right, deplaning at the Palencia airport; bottom right, Placencia Airport from the outside... where's the road? | |

Placencia Airport
Placencia had a tar airstrip about the width of a postage stamp. Outside the "airport" (read, the small brick building next to the runway) was a dirt road and not much else. A fifteen minute wait brought a taxi, dust from the red clay road billowing behind it. Twenty minutes later, after passing a few construction sites, a few inns, and a small, ramshackle town with houses made from whatever materials could be salvaged from airplane crashes and UFO visits, we were at the Bellamaya Resort on Maya Beach.
Top - Our rooms at the Bellamaya; Bottom - the main lodge

| | |
| --- | --- |
| Top left, the pool; top right, the view from our back patio; bottom right, sunrise over the beach | |

Brie and will take advantage of the kayaks
The Bellamaya Resort continued to reinforce the sense that this place was about as non-cosmopolitan as you could get outside the Antarctic. At dinner, for instance, we asked the waitress, who seemed nice and reasonably intelligent, for the wine list, particularly the white wines. She explained that they didn't have wine, only beer and cocktails. No wine seemed a bit strange. "What are the people over at that table drinking?" Dave asked, pointing to a couple that had wine glasses filled with something that seemed to be red wine. The waitress left to check with the bartender, and returned quickly enough. "They are drinking something called Merlot." "Hmmmm… do you have anything like the Merlot in a different color… same shaped bottle, maybe even the same label, but white or golden instead of red?" "Yes." "We'll have some of that."

Sunday, Feb 15th. Placencia is a dog-friendly place, in the sense that there are a fair number of them and they are allowed to roam haphazardly all over the place. It's also a driver-friendly place, in the sense that there are a fair number of them and they are allowed to roam haphazardly all over the place. While Belize is vaguely British in nature (Queen Victoria on the currency), they drive on the right (that is, US, aka right) side of the road . . . occasionally.

In Belize, "speed limit" is a function of the size of your engine, "divider" is something you learn about in high school, and "safe passing zone" is the equivalent to "the road plus any portion of the roadside not currently occupied by trees."

Visiting the town of Placencia, on the tip of the Placencia Penninsula, twenty minutes south of the Bellamaya was not trivial. We decided to take the public bus in. The bus ride in was like a roller coaster ride at Disney World, except dustier. The bus was an old, beat up school bus, painted green, full of migrant workers and mothers with small children. Dave found himself with the irresistible urge to start asking "is this the bus to Cartagena?" All that was missing were the chickens and goats. Given the dirt roads, other vehicles that were using whatever side of the road seemed less bumpy, and visibility that was reduced to "just in front of you" by the dust, we were all impressed by the driver's ability to fishtail the bus around the curves. Passing other trucks while going around blind corners was another neat trick, although given you could never guess which side of the road someone was going to be on anyway, it really wasn't as outlandish as it sounds.
| | |
| --- | --- |
| Ready... | Set... |
| | |
| --- | --- |
| Almost... | OK, it's time to start swerving back and forth to avoid potholes, and maybe pass someone! |
Placencia, and Belize in general, brings to mind the lush tropical countryside associated with Juntas, Banana Republics, and guerilla armies in smelly, sweat stained military fatigues speaking with bad Spanish accents, but in fact only has one thing in common with the archetypical Caribbean/South American third world nation, and that's the grinding poverty of the local population. The resorts are beautiful and there are, if not mansions, at least well kept private houses; but outside of that, it's a patchwork of decaying buildings made out of leftover construction materials, heaps of trash, scrawny, feral cats, and very few old people (other than tourists). The people seemed happy and friendly, but the beautiful surroundings were a stark contrast to the shantytowns that made up most of the local residences.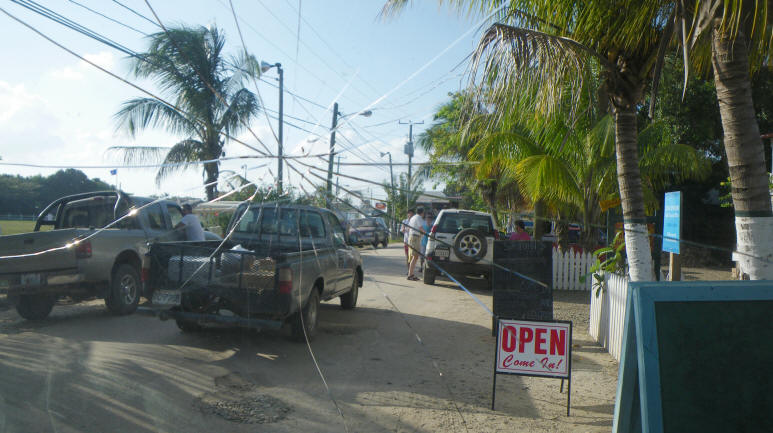 Above, the main street of Placencia through the cracked windshield of our taxi. Not all taxis had broken windshields, so we don't think it was required... more like a mark of distinction. Below, more views from Placencia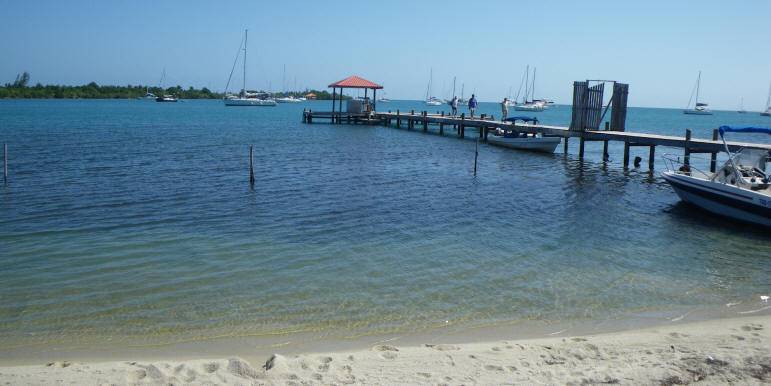 Monday, Feb 16th and Thursday, Feb 19th. Day 2 was the combined snorkeling / scuba diving trip; Brie and Kate snorkeling, Will and Dave diving. Will, uncertified, required a private instructor. Dave, being certified, but having last dived in 1993 and, even then, not sure he still had his NAUI certification card, had to say "yeah, I'm a certified diver." Thursday was a pure snorkeling trip for everyone, and is being combined with Monday since a lot of the details were the same. Both trips were provided by the Seahorse Dive Shop (highly recommended).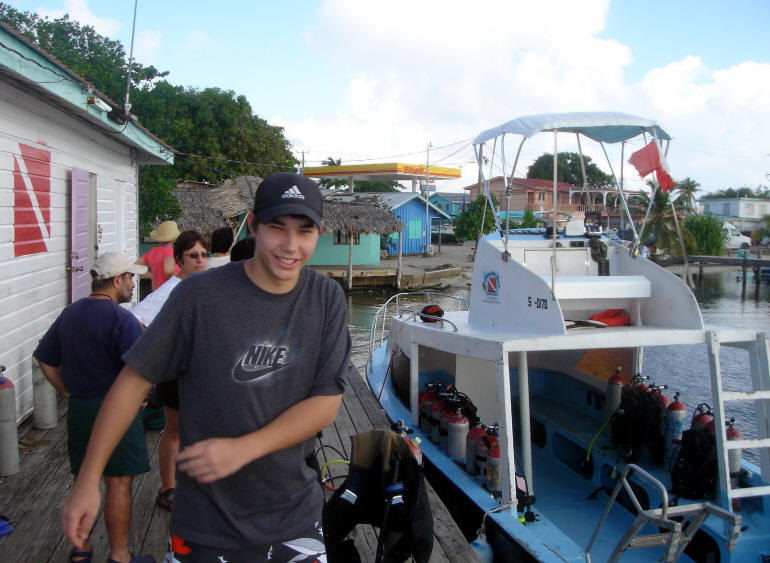 Boarding at the Seahorse Dive Shop pier
Monday, we took a 45 minute boat ride to Ranguana (pronounced "whatevertheheck") Caye, a small, private island about twenty miles offshore. The snorkelers (including Brie and Kate) and Will and his instructor jumped off the boat (Will's first dive was an island dive), while the certified divers, including Dave, headed out a couple of miles off shore. They dropped off the back of the boat, went down forty feet, and started a truly spectacular dive; Coral… pink, yellow, deep purple, scarlet red, brain shaped, tube shaped, staghorn… every color, shape and size you can imagine. Brilliant colored fish every hue of the rainbow, moral eels, lobsters, a sea turtle, the reef turning into a cliff that dropped into a deep blue that surface light couldn't penetrate (Dave was down 120 feet before he knew it).

Will joined the boat divers for the second dive, which was nice but not as picturesque as the first one.
Above... left, the dive boat, right, Will doing his first dive (a shore dive) with the instructor; below, Will and Dave heading out for the second boat dive
Brie and Kate snorkeled around the island, seeing a sting rays, eagle rays, barracuda, a large variety of fish, coral, starfish, and other things, until a jellyfish wrapped itself around Brie's head like the face hugger from "Alien." Well, that might be a little exaggeration, but she did run face first into a "red" that stung her on the lip, face, neck and shoulder (we know it was a red because the snorkeling guide said if it was a Portuguese Man of War her face would explode with large blisters and she'd be screaming at the top of her lungs instead of just feeling like someone branded her face with a red hot iron). A little vinegar help reduce the pain but she has welts that took days to heal. Of course Dave wishes he'd been the one stung and thinks that Brie gets all the cool stories to tell her friends.
Day four was Silk (pronounced "Silk") Caye. We added a couple of nurse sharks, one weird fish that changed color like a chameleon when it went from coral to sand, rock fish, fire coral, a funky looking crab, tiger fish, saw backed ratchet jaw fish (OK, that name is made up), and other tropical varieties to the list. The water was incredible calm, the sea was a perfect Caribbean turquoise, and the weather was a perfect 80 degrees. It was a great day.
Above, approaching Silk Caye; below, a panaroma of the island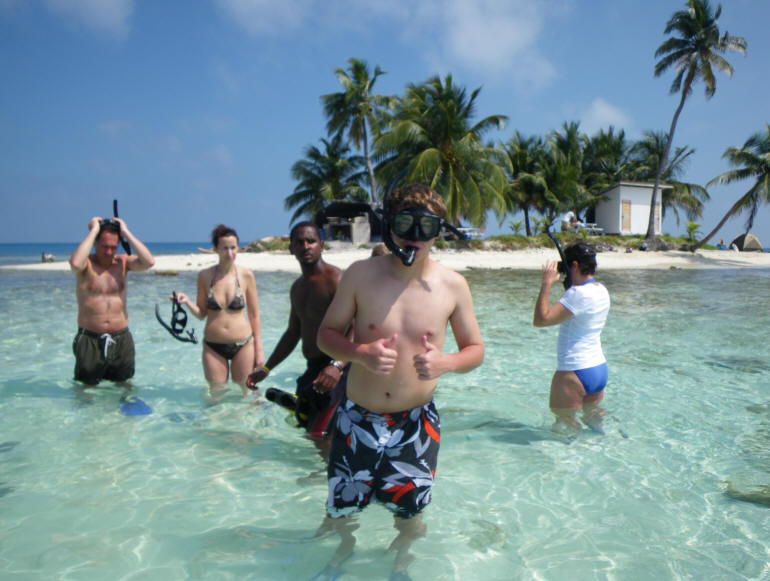 Prepping for the first snorkel expedition. Below, shots from the trip (except for the Eagle Ray, which we grabbed off the internet as our photos didn't come out too well)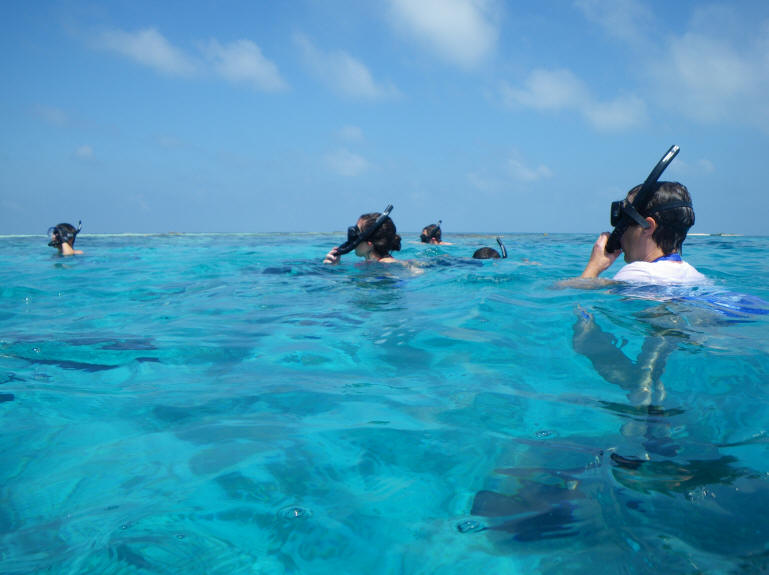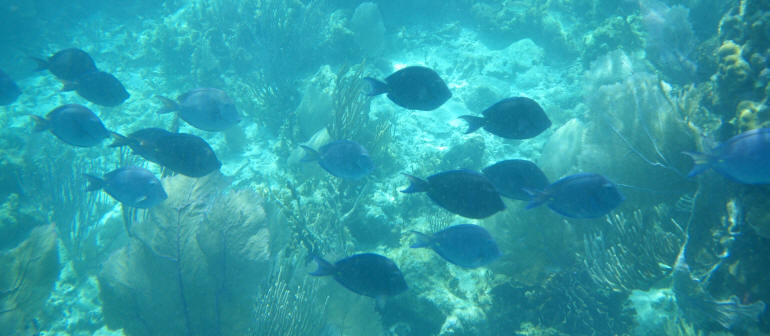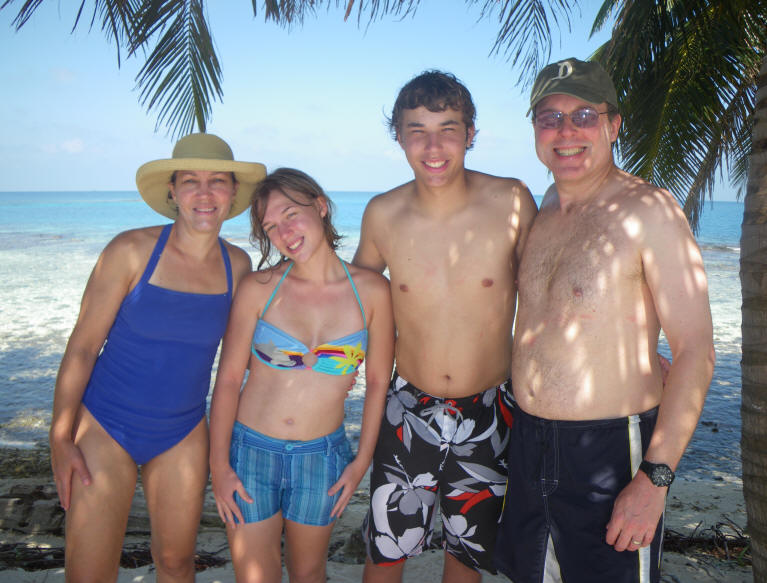 Tuesday, Feb 17th. Day three was the Monkey River tour. Monkey River is so named because it is the natural habitat of the Howler Monkey, whose shrieks are so loud it puts the loudest amps of the hardest heavy metal bands to shame, all in an itty bitty fuzzy tree climbing package. The trip began with a boat pickup on the lagoon side of the peninsula; the Bellamaya actually stretches from the seaward side (where our room was located) to the lagoon side, where the main lodge was located, which can't be more than a quarter mile across. Heading south down the lagoon we found ourselves caught in a rather sudden and intense rain (and /or hail) storm. The canopy over the boat quickly soaked through and the driver decided to punch through at high speed, removing any vestige of protection the canopy might have afforded. It also resulted in the most amazing rainbow we've ever seen.
| | |
| --- | --- |
| The sudden rain storm took us by surprise... | But it looks like Brie is enjoying it! |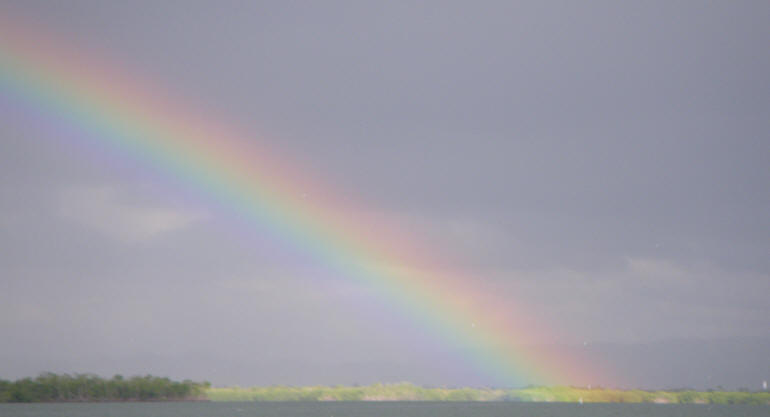 Every dark cloud has a silver lining... and in Belize, every rain storm has a rainbow

The sign says it all... and below, some of the many birds and animals we saw along Monkey River, or hiking through the rainforest.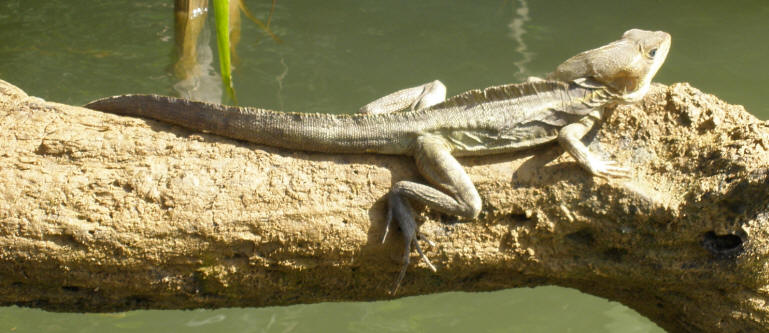 Wednesday, Feb 18th – a day of rest. Brie came down with a fever and cough on Tuesday evening, and rather than push it, we decided to take a day off. We did go into Placencia for lunch at "Wendy's" (no relation to the US chain), and Gelato at "Tuttifruiti," both places that we had visited on our first day in Palencia and liked, but otherwise did nothing special. So it's time to talk about some of the other funny things that happened and / or about Belize.
The most immediate thing that makes Belize seem exotic are the bird calls; not that there aren't bird calls in Massachusetts, but these are different bird calls and, therefore, exotic.
We went to the desk and asked for Motrin for Brie's fever, and the woman at the desk asked us to hang out for a moment, then returned with Dramamine. Dave: "She has a fever, not motion sickness." Desk person: "I can give you two of them."
Will was eating two breakfasts every day, to the point where it's become a running joke with the waiter. One night when we ate dinner at the main building, Will got a pepperoni pizza that was close to full sized, almost finished it, pretended he was finishing the last couple of pieces when the waiter came by and asked for a second pizza… and the waiter believed him.
There's a gray fox that runs down the beach every once in a while.
Will, who gets a tan standing in front of the toaster oven and never uses sun screen, actually managed to get a sunburn on his back snorkeling.
There are no squirrels, or for that matter, rodents of any kind that we've been able to spot, although there seem to be a fair number of feral cats.
The entire peninsula lost power for most of a day at one point.
Belize has really good salads (a big change from the Bahamas).
The only thing about Belize that is unpleasant is that there are tiny, invisible flies with pretty nasty bites. Will was bit around twenty or thirty times around his feet, which look like they have poison ivy, but we've never seen the actual insect.
Friday, Feb 20th – The Nim Li Punit Mayan Ruin site is located about 25 miles north of Punta Gorda (which is located hell-and-gone from Boston, MA) along the top of a rise in the foothills of Maya Mountains. It's from the late classic period… that's something like 800 AD… and has the tallest remaining carved Stela (large stone monoliths that open holes in space-time… oh, sorry, that was 2001: A Space Odyssey… that is, large stone monoliths that have pictographs carved into them) in Belize. This one shows ancient Maya rulers being eaten by Dinosaurs.

They didn't tell us ahead of time, however, that the Min Li Punit Ruin site was full of ruins. It was interesting, but not the huge stone pyramids of Tikal we were expecting. On the other hand, we did see a boa constrictor dragging a frog up a tree, which was kind of cool.
Our tour guide, Zeferino Mes (or "Zef"... highly recommended) did a great job of describing the site, and for that matter, a lot of the general history and current status of the region and Belize in general. The ride to the site was, in some ways, more interesting than the ruins themselves since it was the first time we had an opportunity to see the Belize mainland (other than Monkey River, and that was a preserve). It was a two hour drive, most of it over dirt roads. Many of the houses we passed had thatched roofs; apparently, many of them do not have electricity. We also passed a small community Zef called Mennonites, Mesklinites, or Miskatonics, that is, German Amish, small intelligent caterpillars from Hal Clement's "Heavy Planet," or disciples of Cthulhu. Based on the horse and buggy sitting at the entrance, probably the first one.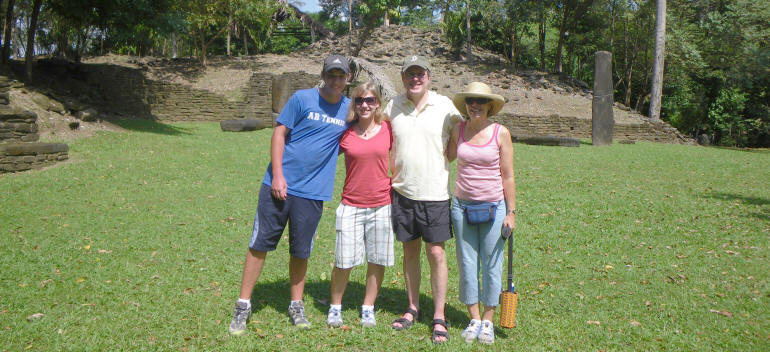 We stopped for lunch at "Coleman's" a cafe in the middle of nowhere with a rather nice patio, decent food, and friendly people, then continued on to Blue Creek Cave, which was a heck of a lot of fun and a good way to end the Belize Adventure. There's a standard tourist outing in Belize called "cave tubing" where you float down a underground river in a tube. This was the extreme version, fighting your way upriver from the mouth of the cave by swimming (or dragging yourself along the rock walls if you can find a hand hold) upstream.

It started with a hike up into the foothills, which was in many ways more interesting than the rainforest hike from Monkey River. The variety of plants was much greater, for one thing, and we saw groups of leafcutter ants stripping away the vegetation, orchids, bromeliads, ferns, palms, and a variety of birds.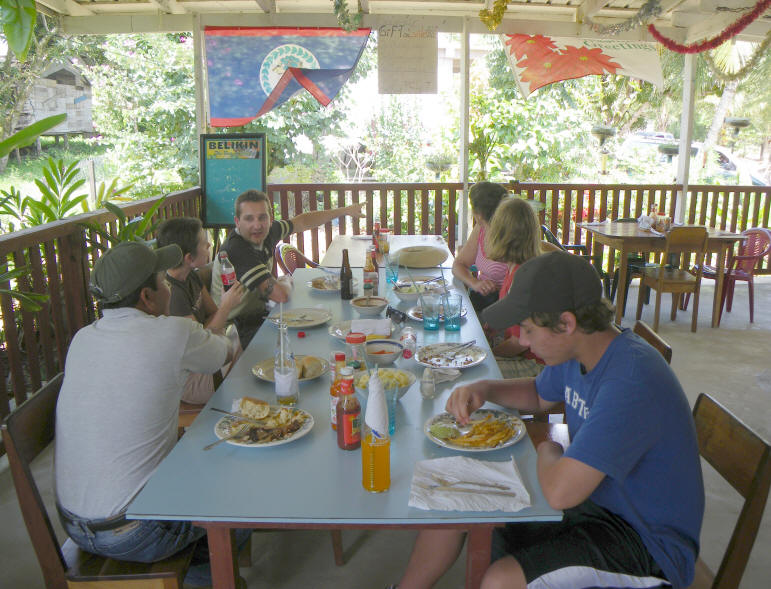 Lunch at Coleman's Cafe
| | |
| --- | --- |
| Typical thatched roof building on the drive to Blue Creek | At the starting point of the hike up blue creek to the cave |
Some of the plants we saw on the hike up the river
At the mouth of the cave, we stripped down to swim suits, donned headlamps, and headed into Blue Creek, so called because the limestone carbonates the water and makes it a deep blue-green. The cave has four rapids, ending in a cavern with a waterfall that you can't get past. How far you can go depends on the water level. We made it through three sets of rapids, but the dry season was just beginning and the fourth rapid was too powerful (Dave actually got flattened by the second rapid by not crossing fast enough and had to fight his way back for a second try, so the first three were not easy). It took more than an hour to make it to that point, however, so we were pretty deep in the cave complex. The water is thirty or forty feet deep at points, and swimming against the current was exhausting, particularly for Dave, since he was, of course, trying to video the experience with our new waterproof camera while we swam upriver.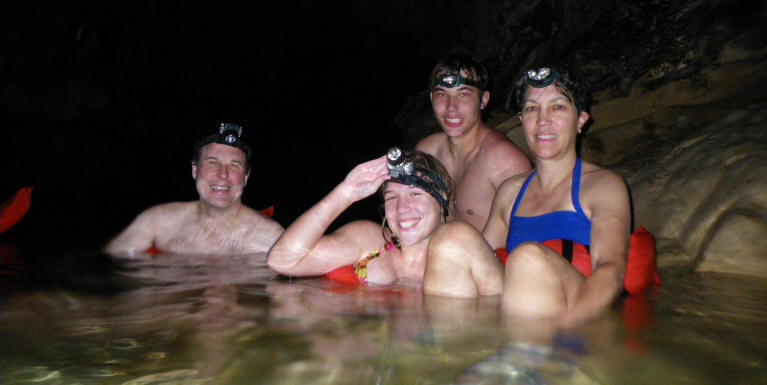 In the caves; below are stills from video footage, but the low light conditions make it a little hard to get good shots; this was trying to cross the second set of rapids, where you had to jump across or get washed downstream to try again.
Heading downstream was pretty much just letting yourself float down river, although the rapids were reasonable intense, and it didn't take more than a quarter hour… a lot faster than going up.
We hiked back to the van and headed for the Bellamaya, a two hour trip than ran more like two and a half because of road construction (although we found it amusing that two out of every three vehicles we passed was a construction vehicle working on the road). Dave chatted with Zef on the way back and he talked about growing up in Belize; how people sometimes die of snakebites because they try to use a local shaman instead of a doctor, that the government doesn't fund excavation of Mayan ruins, only economic projects like road and dam construction, how Belize City is actually below sea level and floods quite frequently, the series of tests he had to pass to become a certified tour guide, that Belize was part of the Caribbean community, not the Central American community, and Honduras actually did not recognize their independence, how they were still closely tied to the European Union (for instance, all the good bananas are shipped to Britain, and only the rejects are sold inside the country). All pretty interesting stuff.

That evening, we had our final dinner in Belize at the Maya Beach Hotel restaurant, The Bistro, an absolutely fantastic restaurant within walking distance of the Bellamaya.
Saturday, Feb 21th ... we unfortunately returned home. Brrrrrr.
The End