You're probably thinking, that doesn't look like Fall or Winter in New England, and you would be correct. That looks like February on Singer Island, off of West Palm Beach in Florida. Which we will come to at the end of the newsletter.
In late October, Dave had arthroscopic knee surgery, which put a bit of a damper on activities during the next few months. Kate was in the middle of her big end-of-year Katydids shows, and Brie and Will did tennis, tennis, tennis. Will's muscles have finally stretched to match the 8 inches he grew in the last year and he's back in good form and participating in USTA matches. Brie, in the meantime, continues to play her normal solid game (and also participates in USTA matches, making to the finals on one match).
Brie also managed to score 96% on math in her PSATs, and is now getting flooded with letters from colleges for early admittance. We would be ecstatic if they also came with tuition pre-paid, but we are proud and happy regardless.
Below, Tasha and Patric during the fall, looking cute/handsome respectively and getting a ton 'o love from the Family.
Winter time fun with Brie and Will
| | |
| --- | --- |
| Direct hit | Wwwhhheeeeeeee! Thud. |
| | |
| --- | --- |
| We call Tasha the "snow dolphin" | Kate enjoys our new snow blower |
Below, Christmas with the traditional tree, freshly made cinnamon buns, visits from family, tons of presents, and the opportunity to torture the dogs. We went to visit Great Gram in January as well, where Patric and Tasha lavished attention on her (and the doggy treats she keeps in her room).
Below, a shot of Dave and Kate that Dave liked, and a shot of Tasha's blue butt. Will left a hunk of turquoise colored silly putty lying around, and apparently Tasha decided it must be food, 'cause she ate the entire pile. Needless to say, it worked its way through her eventually, but the dye they use seems to be rather permanent.
And, finally, our winter break vacation to Singer Island (off of West Palm Beach in Florida) at the end of February. We stayed at the Resort on Singer Island (the panoramic shot at the beginning of the newsletter is off of our balcony, where we spent a lot of time reading and enjoying the warm tropical breezes).
| | |
| --- | --- |
| The Resort at Singer Island | Kate on our balcony |
It wouldn't be a tropical vacation without some outdoor tennis; here we have doubles, guys verses the gals. The gals won. It was all Will's fault.
Another outside activity, using "The Wave," which Bill and Janet Garber gave Will for his birthday, and which Will brought with him. This thing is kind of a cross between in-line roller skates, a skate board, and a snow board, and it works extremely well. Even Dave managed to get on the thing and cruise with five or ten minutes of practice. Unlike a skate board, it is propelled by twisting the front and back in different directions (the two are connected by a pipe that allows them to pivot independently); Will rode it a couple of miles on one outing. And on a hill, it acts like a snowboard, where you can lean into the turns and really control your speed and direction.
Out big outing was a trip to the Central Florida Everglades and a ride on a fan-boat. Pretty cool opportunity, with a lot of alligators, birds, turtles, lizards, and other wildlife throwing themselves out of the way as we crashed through the saw grass.
And, of course, there was the beach. We spent a lot of time on the beach outside the hotel, and did one trip via Kayak to Peanut island, where we did some snorkeling and shell collecting. Not as spectacular as the coral reefs off the Bahamas, but fun none the less.
Peanut Island Kayak / Snorkeling trip
The beach off of the Resort at Singer Island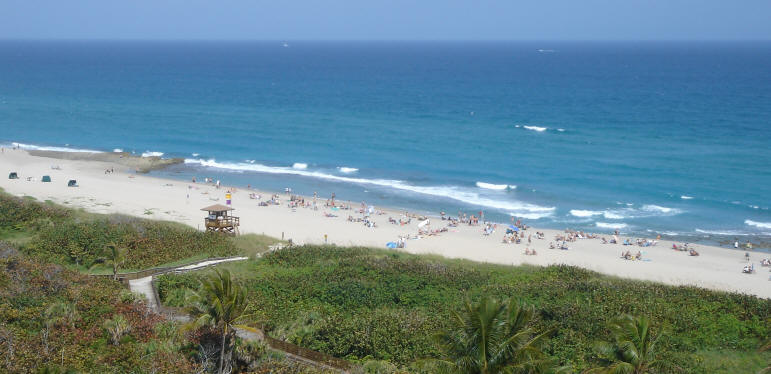 Sunrise off of Singer Island

Our return, of course, was just after a new snowstorm hit the Northeast, and temperatures plummeted to 15 degrees.