This spring & summer, it's been a little Brie centric. Starting with getting a combined 1480 out of 1600 on the two SAT tests colleges look at, which had Brie dancing around the house going "I'm smarter than you are, I'm smarter than you are." Dave handled it in the appropriate mature, sensible fashion ... "Brie, you know SAT scores have been going down for years, and they needed to do something about it... it's not that you did better than me, they just lowered the bar." But joking aside, we are very proud of her.
Then it was the girls' tennis team putting Acton-Boxborough on the map by winning not just the Division 1 North finals, but the Massachusetts state championship. Along the way, Brie and her partner were named Boston All-Stars for the Dual County League.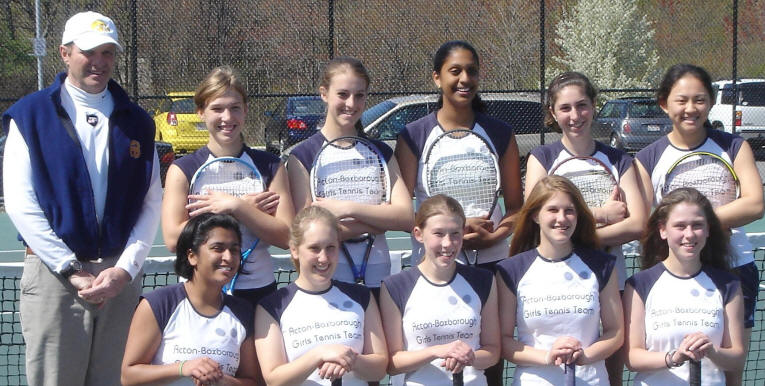 The girls' tennis team with Coach Mike Garnder


First doubles match at the Division 1 North finals against Lincoln-Sudbury.
Brie and her partner, Laura, on the right.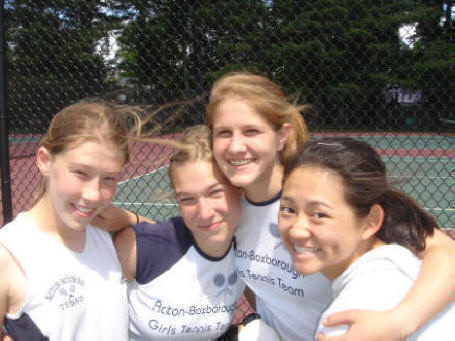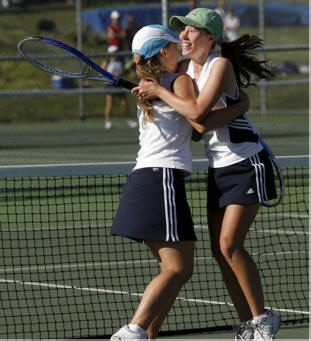 Semi and quarter finalists at the All-Star competition The point that won the state championship
was taken by Brie and Laura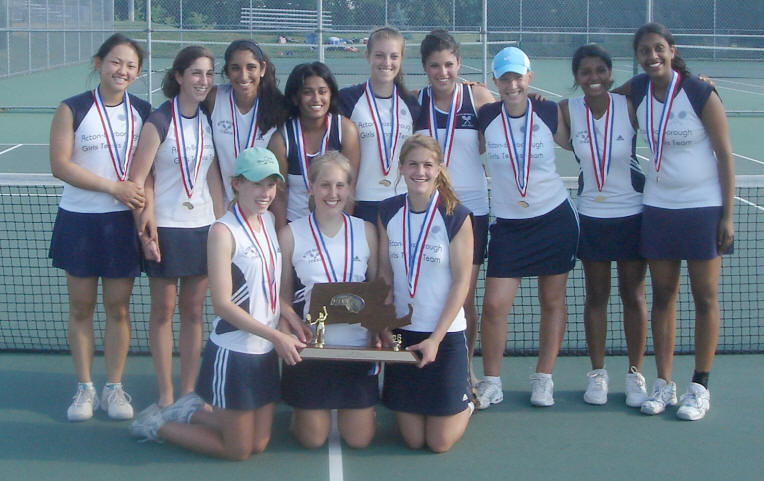 The team accepts the Massachusetts State Championship trophy
| | |
| --- | --- |
| Brie wins the state finals movie 1 | Brie wins the state finals movie 2 |
Not that Will was a slouch... the boy's team didn't fair as well. Will and his partner were the second doubles team; as freshmen, on a very strong team; it's almost unheard of.
Below, the end-of-year team dinner with the full line-up. Will is 6th on the left in the brown shirt.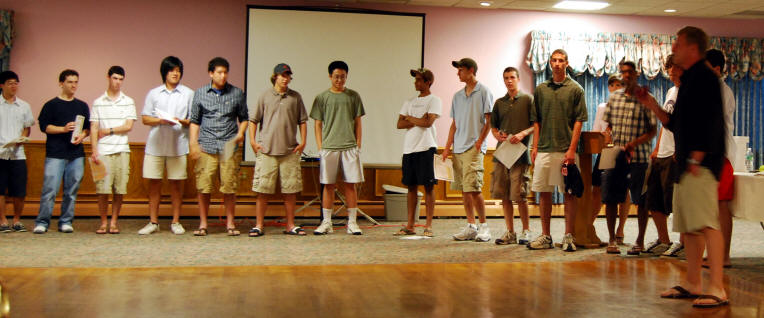 And there's been a few non-tennis related things as well. Kate had a anti-mosquito system installed that sprays some kind of toxic gas (actually organic pyrethrins) that kills everything in a twenty foot radius and it make sitting out on the deck in the early evening a bite-free event, which we take advantage of almost every day.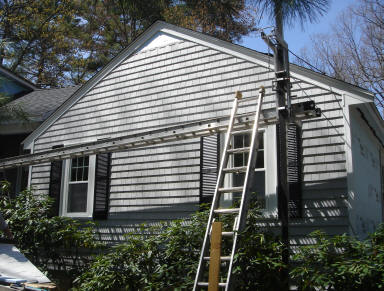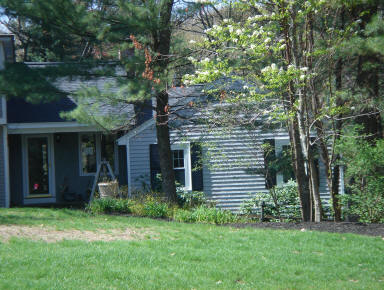 And the newly insulated and vinyl clad family room adds a certain flair to the house... perhaps distracting Brie a bit with her new drivers license....
| | |
| --- | --- |
| Yes, Brie excels again... most new drivers hit other cars, or maybe a pedestrian. Brie thinks big and hits the house. | On the mosquito free deck, enjoying a glass of wine and the savage chipmunk slaughter (more about this later) |
| | |
| --- | --- |
| My new 12 gauge over-under shotgun | Brie with the 22 |
| | |
| --- | --- |
| Will with the new 9mm S&W Sigma | Adrian (Brie's boyfriend) with the AR-15 |
| | |
| --- | --- |
| A visit by Janet and Bill Garber, part of a trip to go to the conference for the National Association of Congregational Churches in Plymouth. | Bill and beer are like peanut butter and jelly; they go together so well. Unfortunately, so do Bill, flying and pneumonia. But he did get better with antibiotics. |
| | |
| --- | --- |
| In Plymouth having lunch with the grands. | Out and about in Plymouth. |

And above, the second annual Bob Willis get together at RPI in Troy, NY. Ahhh, Troy, the crackle of distant gunfire in the air, the police cars zooming by with lights flashing and sirens wailing, the SWAT teams doing door to door searches with vicious German Sheppards. Some things never change. Brie is thinking of attending RPI. With luck, she will not read this.
| | |
| --- | --- |
| Fourth of July fun with sparklers | And Brie actually gets hers lit |
And Kate continues another annual tradition and attends the Boston Lobster's party... heading down on the alcohol laden bus with other tennis gals from the Acton area, singing "100 bottles of beer on the wall," and watching an exhibition match between one of the team members and Venus Williams...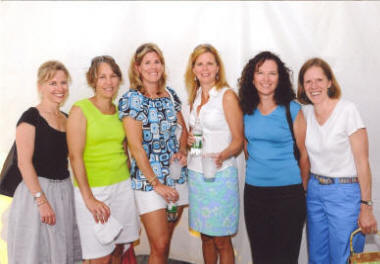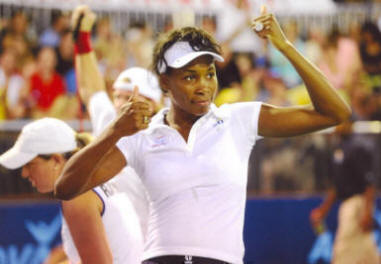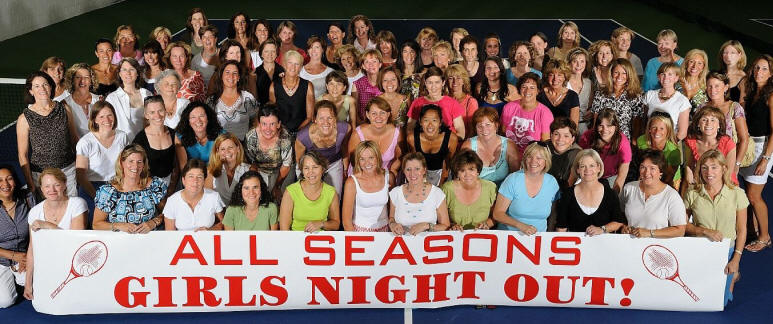 Wildlife abounds during the summer; birds nesting in the Rhodies outside the house, foxes, turkeys, deer, polar bears... ok, we didn't see any polar bears but that doesn't mean they aren't there. The amazing variety of fungus that spouts in the yard, a few examples of which are below. And, very cool, a trio of owls that are decimating the chipmunk population in the yard. They sit a dozen or so feet off the back deck where we are sitting, snatch up the scurrying rodent snacks from the yard and rip their little heads off. Quite entertaining.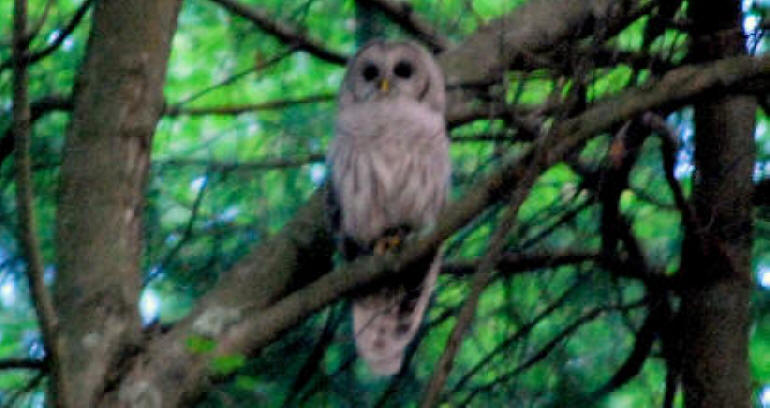 Will and Brie are both attending Nike tennis camp, Will as a student, Brie as a counselor. On weeks off, Will is an assistant at a local tennis program, while Brie sleeps a lot.
| | |
| --- | --- |
| Above, Will checks into the rehab clinic... I mean, Nike tennis camp; to the right, his room, right bottom, Kate and the Boy's Tennis team coach and assistant head of the tennis camp, Kevin Curly | |
The annual pool party at Bill's, this time a graduation party for Andy as well as a general get-together. Three dogs and food around = lot's o' begging

| | |
| --- | --- |
| | Pig pile of teenagers. Brie on top. Will bottom right. Cousin Andy bottom left with cousin Dani second row on left. The other kids are friends of Andy and Dani. |
We threw a small surprise birthday party for Brie. Kate took her out to lunch and shopping for the afternoon while a few of Brie's best friends gathered at the house. Tasha didn't seem to like the ribbons too much.
With the kids both in Tennis Camp, Kate and Dave had a chance to go out a few evenings, once to see Shakespeare On The Common, where we saw a modernized "As You Like It;" and once to see Daby Toure, which is one of the best concert's we've ever been to. It was part of a set of summer concerts put on by the Museum of Fine Arts. We had a table with a friend from work, Jim Everett-Wilson, so we could eat dinner in the courtyard while we waited for the concert to start.
Daby's music was phenomenal. It was a very intimate setting. But the best thing about it was Daby. With his translucent white linen shirt, uncuffed and half open in the front, Bob-Marley looks, and winning smile, he was one cool cat. If he'd been on the Titanic, it wouldn't have hit an iceberg 'cause the Atlantic would be one big sheet of ice kind of cool. The first thing he did on stage was to look around with a big smile and say "This is not the Cinema. Come up here; gather round!" And everyone did. He was great, and you should go and buy his albums from Amazon or iTunes. You can see a little clip from the concert here.

On the Boston Common waiting for the play to start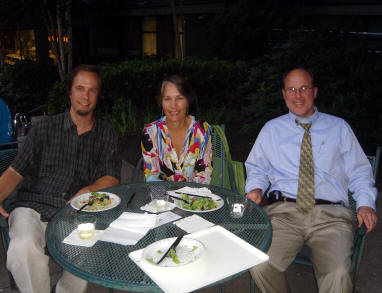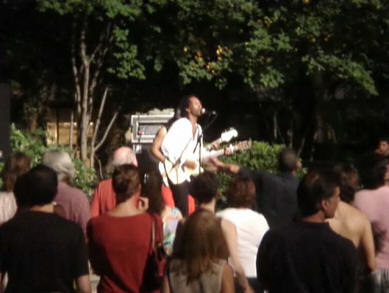 Kate, Jim and I at our side table Daby Toure singing his heart out
And the obligatory shots of Patric and Tasha, the snuggle bug and the sweet muffin. The cute names are almost enough to make you gag, aren't they?