You can see the full set of pictures in the photogallery. Some video is available below... it's MPEG 4, so you will need Quicktime to view them.
You can see the 4 minute vacation video here (also in Quicktime)
We did the annual pilgrimage to South Cal for two weeks at the end of August to spend time with Kate's family. Unlike prior visits, we didn't do any of the high profile theme parks, museums, aquariums, or other activities. This was about spending time with family, preferably while lounging at the pool.
| | |
| --- | --- |
| Nothing is quite as fun as cannon-balling Uncle Nick | Whereas Girls just want to have fun! |
| | |
| --- | --- |
| Jacuz... | or pool lounging, that is the question. |
Anne and Nick have two horses, three cats (one psychotic), and a dog. It was pet heaven. The horses were the big attraction; Brie and Will enjoyed horseback riding while Dave, who is deathly allergic to the beasts, spent a lot of time in the front yard. Brie had a chance to do a more lengthy ride while Dave and Will went to the shooting range with Barry.
Video: See Will and Rosie, Will horseback riding, or Will and Brie horseback riding
| | |
| --- | --- |
| The girls curry favor with the horses | While Will plays with Rosie |
| | |
| --- | --- |
| Up and riding! | A longer trip for Brie |
We had dinner at Paco's Tacos with Rich and Terri Boyle. Paco's is one of the ten best reasons to live in Los Angeles.
| | |
| --- | --- |
| Janet is looking happy... and she has a Margarita. Kate and Rich are looking happy... and they have Margaritas. Bill is not looking happy... and no Margarita. There's a lesson in there somewhere. | Terri, Brendan and Bridget. And Brie. Will ran off camera to hide. |
Geeky boardgaming night(s) at Jeff Goldsmith's place. Below, he proudly displays a bottle of liquor I remember from the last party days of the Rensselaer Games Club... circa 1981.
| | |
| --- | --- |
| Will there be enough alcohol for games night? Kind of iffy, I think. Jeff has the most extensive collection of Whiskey I've ever seen in a private bar. Time to start sampling. | Jeff, Bill, Barry, and DJ learn how to play a Game Of Thrones. Oddly enough, this picture looks pretty crisp but I recall it as being a lot more blurry at the time. |
Kate's 50th Birthday party was a low key open house at her Mom's. In attendance, Liz, Emily and Caroline Stuart, Jeff, Alision and Maddy Stern, Anne and Nick Krall, Tom and Judy Wolfe, Alex and Koreen Simons, Dee-Dee and Ariel Carpenter, Janet, Bill and Lisa Garber, and Nick's sister, her husband, and their three children. The kids enjoyed the pool, the adults enjoyed the conversation and food.
Video: Watch Kate's college roommate, Dee-Dee, try to recall what they did in college for fun, or Nick's song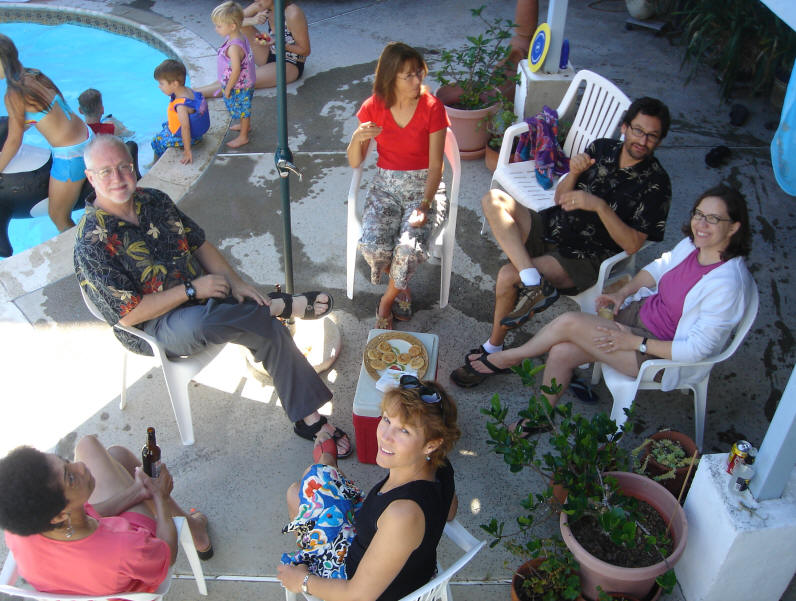 Now if only Will avoids doing any (!!!SPLASH!!!) cannonballs... sorry about that, Judy!
| | |
| --- | --- |
| Janet and Lisa... Lisa needs to catch up, food wise. | Nick shows Koreen some pictures on his phone. Alex seems a little suspicious. |
| | |
| --- | --- |
| Emmy is ENJOYING the FOOD alot... a whole lot.. MORE THAN ALOT! | Anne in a moment of perfect glee |
| | |
| --- | --- |
| Caroline and Brie get reacquainted after a year | Kate opens cards, very few of which involve the "you are so old the glow from your candles can be seen from space" kind of jokes we give to Bill Garber every year |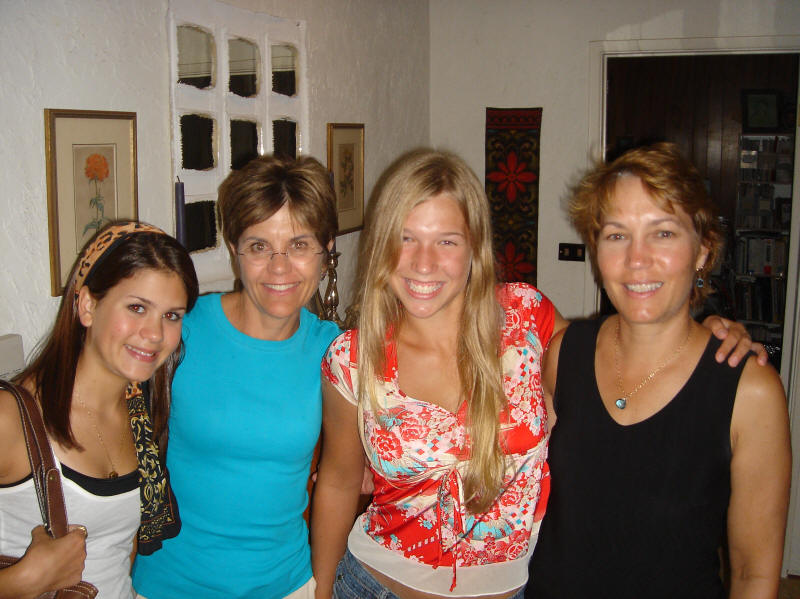 Dee-Dee, Ariel, Brie and Kate. Mothers and Daughters together.
Dave and Will go shooting with Barry. The big question was, with only four hours on the range, we had to restrict ourselves to only eight different weapons... decisions, decisions. We finally settled on a 22 cal, a 25 cal, a 380 (which I think is really a 38 cal but it's called a 380 because it sounds cooler), two different 9 mils, a 40 cal, and a .357 Mag for pistols, a 12 gauge shotgun, a .223 carbine and a .308 assault rifle. Well, OK, 10 weapons, but who's counting?
Video: Barry talks about the guns we fired, Will wounds himself with the shotgun, Dave fires the 38
| | |
| --- | --- |
| Dave with the S&W 40 cal semiautomatic. | Will fires the .357 Colt Python. Dave was deadly accurate with it. Will could hit somewhere in the shooting range. Most of the time. He didn't wound anyone, at least. |
| | |
| --- | --- |
| But Will did kick butt with the .223 Carbine, hitting targets at 400 yards with iron sights. This is the only muzzle flash recorded with a serious amount of videotaping by the way... so much for Hollywood. | Barry lets off a round from the shoulder-bruising 12 gauge shotgun |
| | |
| --- | --- |
| Will with the equally shoulder bruising H&K .308 | Dave sights in |
| | |
| --- | --- |
| Dinner was always a favorite... | Miniature golfing with Anne and Nick. Nick won by an embarrassingly large number of points but only because he cheated by being really good at it. |
| | |
| --- | --- |
| The boys bike on Venice Beach... | While the girls shop |
| | |
| --- | --- |
| Dave spends most of the vacation refurbishing Janet's smoked motherboard with a new Pentium Dual-core CPU and Windows XP... | While Kate painted Bill's office, repotted hundreds of her mother's plants and refinished a beaten-up patio table converting it to a work of art using sea shells, rope, primer, white paint, grout, acrylic sealer, and a lot of elbow grease. |