Will rediscovers the fun of model rocks.
Will: "Dad, what would happen if I put one of these rocket engines on my little toy skate board?
Dad: "It wouldn't be heavy enough... it would just fly off."
Will: "What if I taped a rock to it?"
Dad: "I guess that depends on how big the rock is."
Will: "Can we try?"
Dad: "Sure."
(Whoosh as rocket engine rips free of the rock-slash-toy, flies into some bushes and explodes).
Will: "COOOOOOOOLL!!!!!"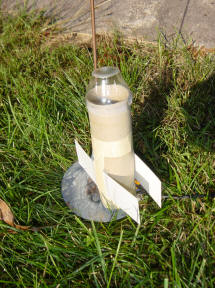 The "Doomed To Crash And Burn" built by Will out of paper towel rolls, egg cartons, masking tape, and cardboard.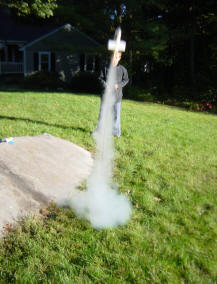 Whaddaya know... it actually flies! Well, for a while... it was too heavy, crashed back to earth, and burned a hole in the lawn when the parachute deployment charge blew....
Will: "COOOOOOOLLL!!!!!"