26 Jan 85
I'm at Eric's in Ithica right now, spending thre day weekend relaxing in the more or less college town atmosphere. It's been fun- alot of fun at times. Nothing spectiaular - we saw a couple of movies (STARMAN and REPOMAN), played video and board games, talked alot. Eric called me stupid for loadning $1,500 to Margarelt, $300 to Bob Willis, and $1,000 to Bill, with $1,500 in Christmas presents as well, but I've go so much money socked away from the Navy, who cares?

Spent the first and most of the second week in Decmeber with Bill. I dropped him off at Dover Air Force base in New Jersy and said goodbye; he's off to Korea again. Stopped off to see Marty Connell for a while, which was fun but short.

Christams sucked. First, I got pulled out of Engineer's school to work on board the sub for the Tactical Readiness Exam (TRE). I spent the day bfore Chrismas,Eve, part of Christmas Eve day, Christmas day, New Years Eve and New Year's Day on the Sub. New Years Eve I got off the sub about 10:00, went home, drank five beers in five minutes and passed out. Shiela tried to get me up at midnight to celebrate but I was too far gone.


25 Feb 85
We spent the first half of February out at sea, working 18-20 hours days for two weeks, preping for the TRE. On return on the 15th, I went on leave, driving to my Aunt and Uncles. From tehre they drove me to Anthoney's Pier 4 in Boston, where we met Beth and my Parents. It was fun.

After dinner the enitre group drove me to the Marriot Copley where I met Eric, Marty, Keith Kendal, Mario, Paul Regan, and Flint Webb for Boskone and Recon-3. Recon 3 was fun, but it was more about getting reaquinted with everyone. The SF convention neded sunday night - I spnt Sunday night and most of Monday at Chris Keavneys, where he was more animated and talkative than I expected, since he's so tacturn on the phone.

I flew out of Boston Monday for LAX, arriving at 11:00 pm local time. Jeff Goldsmith picked me up. The entire last week was a complete and utter blast. We didn't get out very much, but I met alot of really nice people (at JPL), played a few games, spent a lot of time with Al Barr at Caltech, played around alot at JPL. Just a fantastic time.

Spent the last couple of days with Tom Gage. We've been girl watching at UCLA and USC, walking along the beach (Tom's staying at a beach house in Malibu), and drinking at the local bars.


15 March 1985
Reading "The Bridge Across Forever" by Richard Bach. Neat quote... "Hi there, miss, Remember me? Since consciousness isn't limited by space or time, you'll recall that we're old friends." What a pick up line! It occurs to me that I like to learn new things; I've done sailing and scuba... why not flying?


19 March 1985
I've joined the Navy Flying club. One step closer to a private pilot's license. I spoke with Mario. It's Europe in September. The grand tour... five weeks, England, Netherlands, France, Germany, Italy. Alaska in August, California in July. Fast-paced – lots of people to see, lots of things to do. Korea in two weeks!


21 March 1985
A very strange dream the details of which are already fading. My father was hooked on cocaine by a neighbor who is also the local priest. All the neighbors were hooked. Things deteriorated from there – I do remember that Deirdre Gage was the only one that was trustworthy (other than my parents, who were drug addicts but nonetheless maintained the honesty and integrity that are their trademarks). I thought about it when I woke for a long time, and my final conclusion really had nothing to do with the dream. I take my parents too much for granted. I love them and owe them a hell of a lot.


1 May 1985
I'm back from Korea but I have documented that trip in letters. Last weekend was my first flying lesson! I got massively airsick. That's depressing. And the weather wasn't bad at all. I may not have what it takes for flight.


10 May 1985
Last weekend was something of a high, this weekend so far as been a low. Last weekend included my third flight lesson (I did not get sick!) and a visit to Rensselaer with Jeff and Chris Backman and Rob Hendrie and others. Just fun, relaxing. Even if was only for 24 hours. This weekend was supposed to be a three-day weekend. Now due to unbelievably useless meeting on Saturday on the sub, it's a one day weekend.


19 May 1985
The weekend did get better; I did spend Sunday with Jeff, Ilse, Stephen, Jimmy, and Jerry. It was fun. Sheila graduated this weekend. Today actually. I went to the University of Connecticut to see it.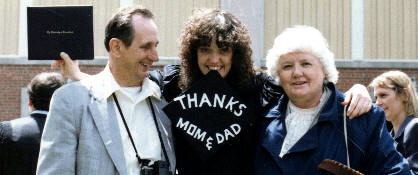 8 July 1985
Moving everything up to New Hampshire and the general hustle and bustle on the submarine for the NWAI preps kept me busy. Lots has happened. Dad has been in the hospital (New England Medical Center in Boston) for a week or so, waiting to undergo open heart surgery. The weakened kidney makes it a risky operation. Sheila is back from Ireland, having had a great time and she seems much more relaxed. And I am out of the Navy! Started terminal leave on five July. Thank God. The Europe trip is getting closer. I don't know if I will make it to California this month for SIGGRAPH or not, it depends on dad. In the meantime it's nice just to stop thinking for a while and kick back and relax.


15 August 1985
I have been blessed, I think! Things are going so fantastically well. I have a new girlfriend, Bronwyn. I spent a lot of time at home with Bill and Sheila. It was wonderful just hanging out with people my own age. My father pulled through the open-heart surgery. There seem to be no glitches and he is recovering. I left for San Francisco shortly thereafter.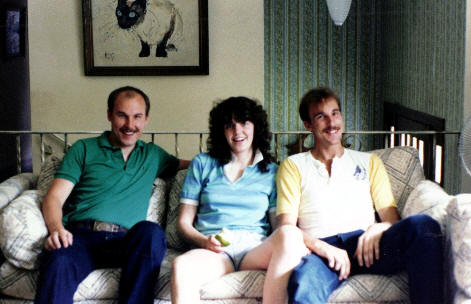 San Francisco was a wonderful time. The work is a student volunteer at SIGGRAPH was not difficult (20 hours). The convention itself was interesting and the people were great. I was surprised at how many people I knew from JPL, Cornell, and of course RPI. Jeff and Linda, Tom, Sue Rueff, Jim Brinn, Eric, Pete Siegel, Larry, Lisa, Chris. Interesting things to do and see, interesting conversation, just like the old college days with lots to do and lots of people to do it with. I had some interesting talks and times with everyone. Friday night was the party at Larry's – more fun and a chance to talk, dance, and drink. The appearance of Neil Swanson and Alex Simmons at the party (Alex with a girlfriend!) added considerably to already brilliant evening.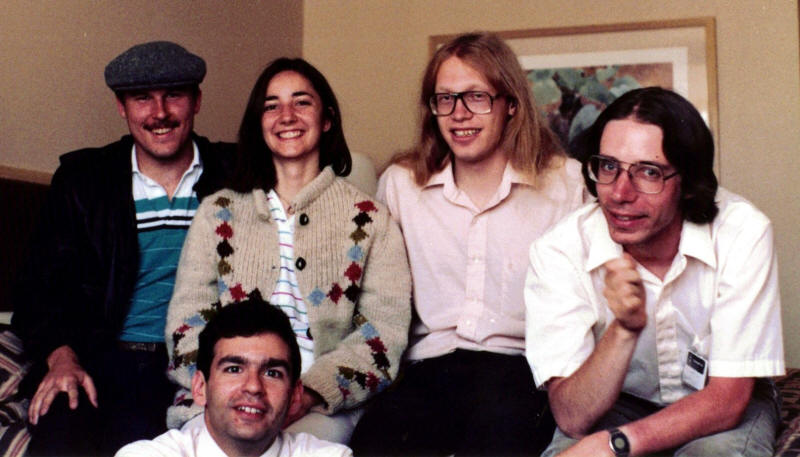 Saturday was a visit to Muir Woods (the redwoods) and seeing the sights with Eric, Chris, and Pete Siegel. Chris was quiet, Pete was less so. Sunday we packed up said goodbye to Chris, and headed for Niels, where we stayed for the next two days. Lots of games (Alex came over regularly), time in San Francisco walking the city, just a generally relaxing time. I did get the impression Alex is feeling slighted because we never went over to his place; I'll have to make that up to him sometime.

Wednesday morning Eric headed back to Ithaca and I flew down to Los Angeles to be picked up by Jeff. It was a good time – seal Beach, frisbee golf – but the highlight was getting an interview at the Jet Propulsion Laboratory (JPL) resulting in an almost certain job offer. Jeff concurs that getting a house together would be a good idea.

I returned to New Hampshire the 11th. Unhappily dad is not doing very well, and major operation or not I am getting very concerned. He should be doing better by now. Nonetheless anticipation of the JPL offer and the Europe trip has me very excited.


4 October 1985
Back from Europe. The trip was fun despite a certain amount of friction with Mario. Mario is more image-conscious than anyone I know and has developed the fine art of looking "in." I and Eric a little less so. Taking one and half hours for showers and an hour to pick clothes started to drag. When I returned to the US I found that my father was back in the hospital recovering from a second major operation. However the prognosis is good. I am still planning on moving to California barring any further developments with his health.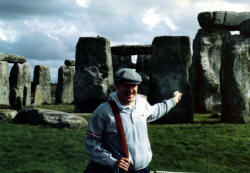 7 October 1985
Started the cross-country trip today in the Firebird with all my worldly possessions (whatever could fit in the trunk) – 7 1/2 hours of driving to arrive at Eric's house, and the scum's not home! I am an hour early of course. Gives you to to think about what you're doing – finally saying goodbye to way of life – headed into the twilight zone of California. I'm very excited now. A day ago I was nervous. A week from now I'll probably be terrified.


14 October 1985
After being rudely interrupted by Eric, I finally got my chance to sit down and finish writing. Wow a lot has happened since Monday. The visit with Eric was fun as always – he did most of the talking, because I felt burnt out after all the driving. Plus I was feeling a little defensive as I drove to Troy on the way and didn't even stop off to visit RPI. Not that I think Eric would have cared.

Next up was Princeton Indiana. Meeting with Karl was a little strained. Weird, I've never been consciously aware of how my position as an officer played any role in our friendship. Yet I was suddenly aware of how little I and Karl had in common. The stop at Lou's house was much more relaxed. Where he lives in Colorado is impressive as is Colorado University. I see why he likes the place!

Driving through the badlands was very interesting; some of the most fantastic landscape, all visible from the highway. I have to get back there sometime.

I arrived in California on Friday. Games Friday night and on through Saturday (along with polishing off six pitchers of gin and tonics with 95 proof Tangarauy between six people), went rock climbing on Sunday with Jeff Stern (having an excellent time), and started work today. Looks like a great bunch I will be working with, even if I still don't have much of a feel for what I'll be doing. But I think it will be fun.


20 November 85
California is devastatingly fun as I'd hoped. Games, bridge, dancing at nightclubs (Popcorns the current favorite), racquetball, karate, everything else… My major problem is lack of sleep from over socializing. The big story is that I and Jeff are closed on the house in less than a week. I joined the YMCA. Margaret is coming up for a visit sometime. So is Sheila. I'm spending a lot of time with Alice , a nice woman with a firm belief in faith healing. I do find that a bad sign (the faith healing part).


29 December 1985
I'll never complain about my friends not writing again. Now that I have a social life writing letters is become something of a problem for me. A recap of the past month. I've been spending a lot of time with Sandy and Frank Nagy, old friends of the family. Sandy's incredibly nice and a lot of fun to talk to. Frank is nice is somewhat weird or at least says some pretty weird things. In the meantime, I've been reintroduced to Laura, my old childhood friend. I'm going down to San Diego to visit her in the relatively near future.