The following is excerpts from my diary back then... eliminating all the whining and complaining about the Navy.


Thursday, 6 Jan 83 - I had a long two hour phone conversation with Mario. He feels melancholy as do I. We both miss the RPI days and friends. He is psyched to have a few mutual visits at science-fiction conventions and the like. I miss Bob and Mario ( and Gus and Khan, their D&D characters from RPI). Had an outstandingly good time in New York City for New Year's with Larry Jeff Allen Stein and Olivia( Debbie weeks). The dinner in Chinatown was fun; dinner in little Italy was fun; the party we crashed was fun. I got to Jeff Goldsmiths at five o'clock in the morning and spent the weekend there.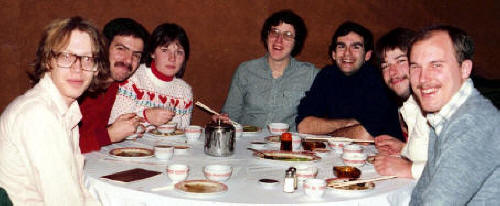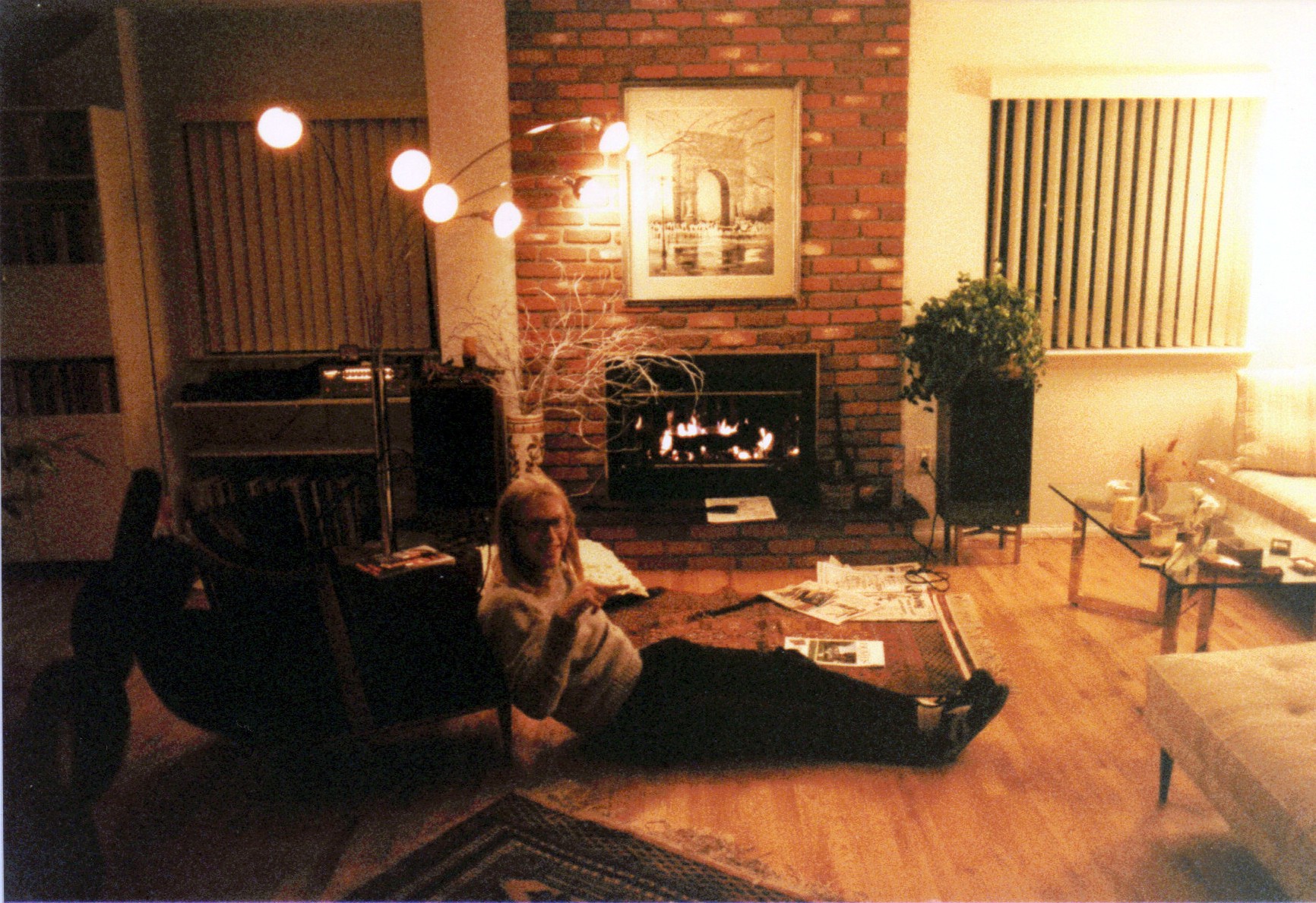 March 24, 1983 - The highlights of the visit to Corpus Christi, Texas, the namesake city for SSN 705, was a cruise on a millionaire's yacht, amazing night clubs (all crazy about the C-cubed) and a chance to read byte magazine and work on my galactic conquest program.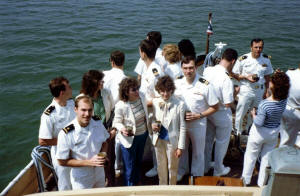 10 Oct 83 - Long time since I've last written. Nothing abuot RPI, the Brooklyn Bridge Celebratin, the second Persieds party at Princeton. Met Mario, Bob, Paul, and Flignt Webb(!) at CONSTELLATION, the World SF convention in Baltimore. Fun... we all bought memberships to the 84 World Con in LA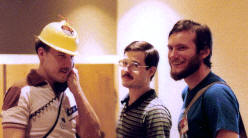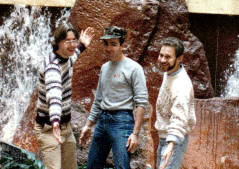 6 Nov 83 - The end to a long and painful week. We followed a Vicotr III soviet sub for a hundred and thirdty miles... turned out to be a oil derricl off the coast of NJ. it was enough to keep us from getting in on Thursday and I have duty Friday ( fun after 30 hours without sleep). I didn't get off until four in the afternoon Saturday and were off again this Monday. ***Sigh*** I look forward to seeing Mario in Florida; seeing Jeff and Al, Eric, Keith, Paul, Chris Keavney and Matt Harris and meeting Linda and ... well, just had a great time RPI last weekend; maybe a Masters degree after the Navy... I'll think about it.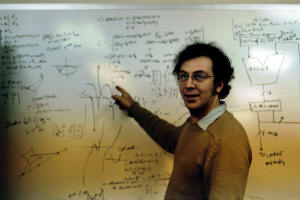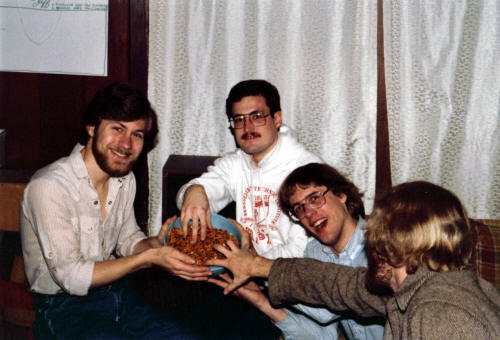 12 Nov 83 - Three days of Mario. We arrived in Port Everglades Thursday. I've spent next time within since then. It's been fun and sometimes frustrating sometimes mellow. Actually today parentheses my duty day on the Saab) was good we talked a lot nothing fantastically important but he did say that he thought much of my complaints were due to curb bad attitude on the other hand can I make the best of the bad situation if I do all things get better?driving around Mario's RX seven music cranked up not saying much but feeling, all a sharp contrast to the subway dinner Benihana was a fancy Japanese restaurant dancing at the pet they and expensive nightclub all a lot of fun going to back streets Mario's gay disco was even more so enjoyable but somewhat nerve-racking. Epcot Center tomorrow.

16 N0v 83 - Epcot Center was intense is only an hours or so we missed half if not more the exhibitions but we went through the dome with its history of communication through the universe of energy with its bizarre triangle segmented screen and animated dinosaurs the world of motion with its history of transportation to the Chinese and American displays( with a short stop in Italy); to a small shop. Japan and through journey into imagination with the best 3-D movie I've ever seen we ended with dinner at "The Land" probably one of the best meals of my life.

the last couple of days have been spent recovering with got back at 4 AM Monday morning and we both had to be at work. But I did get a tour of IBM fantastic. I love high-tech. In many ways IBM was more impressive than Epcot Center is real.

Now that my time here is coming to a close have I any conclusions to draw? It definitely was not a high-intensity week. More mellow than anything else. But it was a week with a friend and it was fun and I wish there was more.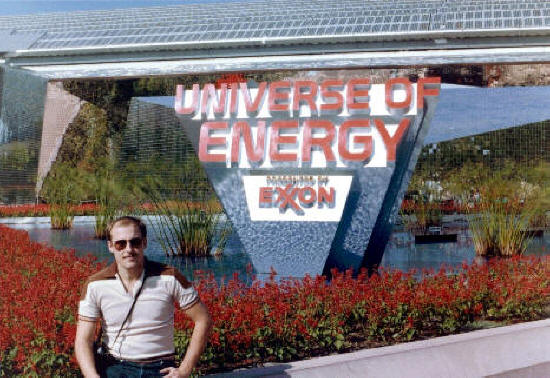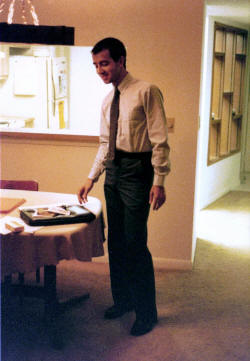 22 Dec 83 - I've been visiting eric at Cornell. A good time except for the cats living in the house he occupies. He has a eight roommates altogether nice people. Sasha the Russian Jew, Terry the Frenchman( and his girlfriend Katie), Kathy the freshman a ROTC, Dave the IBM nerd, Jim the bizarre physicist. And the unknowns Dave Brian Ellen and "X" who I had little or no chance to talk to. I also stopped in to see also Ilse Goldsmith who was very glad to see me. We didn't do much at Cornell; went to a party in a renovated barn( interesting place from the inside of the of the efficient modern apartment with the exception of the old wooden timbers projected out at odd angles into the walls). Met more nice people. They had a bring a Christmas gift something you already own that have been used for and will swap it at the party. It was fun with the exception of the cats ( everyone in Ithaca has a cat). We spent some time in shops and that the graphics lab where Eric works. Neat stuff. On the 21st and left for New Hampshire stop to New York to visit RPI friends for a while. I missed Al Bar and Sherilee but spoke with keith Kendell and Rob Hendry and Ric Shetron.
29 Dec 83 - Had a visit by Chris Keavney, Paul Regan, and Mario.